Love. That four-letter word that evokes varying degrees of feelings and meaning for every person. People talk about it, write about it, search for it and desire it. St. John the Apostle he experienced firsthand the purest form of love this world has ever known: Jesus Christ, the Son of God.
In 1 John 4:7b–10, he wrote, "God is love. In this the love of God was manifested toward us, that God has sent His only begotten Son into the world, that we might live through Him. In this is love, not that we loved God, but that He loved us and sent His Son to be the propitiation for our sins."
This Apostle saw real love lived out. He saw the compassion that motivated Jesus Christ to bring new life to those around Him. It was love that compelled Him, and it's His love that compels us.
The strongest motivator for Gospel for Asia-supported workers to do what they do is love. Dr. KP Yohannan Metropolitan recently talked about this in one of his blog posts. He mentioned how a national worker was once told by his enemies that he would be torn in half if he ever visited their village again. But the missionary returned because he loved them and had good news to share with them! For him, perfect love casted out fear and drove him to risk his own life for the sake of others—much like his Lord.
This national worker is one of many who are willing to put everything on line for the sake of Christ because they love.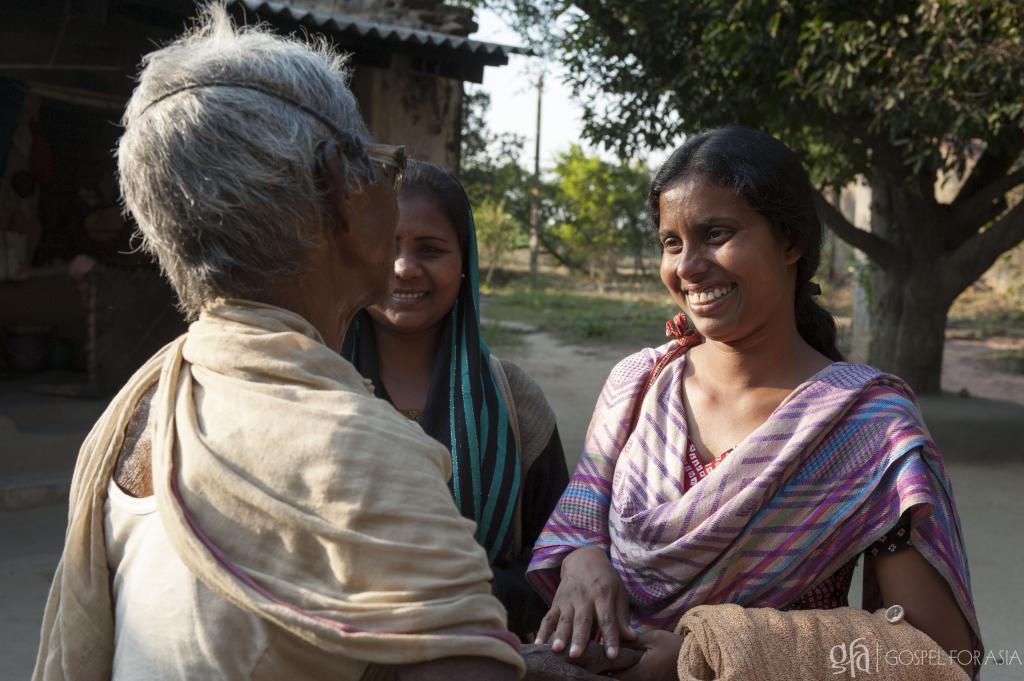 The story below is about another national missionary named Myo Zaw who exemplifies the heart of our brothers and sisters in Asia well.
Love on Fire

A fire burned inside Myo Zaw. It was lit the day the Lord redeemed him, and it grew hotter and more intense every single day. He was like the prophet Jeremiah, unable to keep the love of Christ hidden within himself. If he tried, he felt restless, he felt sick.

Weary of holding it in, Myo Zaw shouted from the roadsides and in market places, "Christ [redeemed] me, and He will [redeem] you also!"

People thought he had gone mad. Those in his community already knew him as a hot-blooded drunkard who fought with people and beat his wife and children, and now he proved his insanity.

"But I knew I was not mad," Myo Zaw says. "The love of God just would not simply keep [quiet] in my heart. I wanted to pour it out and share it."

Independently Ministering

Consumed by a fire that could not be put out, Myo Zaw traveled throughout his region, walking from place to place, sharing the Word of God. He told people "how a sinner like me was found by God." In three years, he visited 100 communities. His wife, Shway, sent him letters while he was away to encourage him.

"If your life can change by Christ, there is no one who cannot be changed by Christ," she'd say. "So wherever you are going and sharing the Word of God, we are here to pray for you. I believe people will be changed by the love of Christ."

And people were—350 of them. They heard of His great love and saw it lived out in His child, and it changed them.

Following Like Jesus

Not long after, a man visited Myo Zaw's village and shared about the different places in their country and how Jesus went to a foreign land, though heaven was His home.

The fire inside Myo Zaw intensified. He knew without any doubt that his life needed to be about sharing the Lord's love with others. It was a powerful love that transformed him, and he knew others needed it, too.

He told himself, "It is better that I go and give my life for the people in foreign lands." So he and his wife prayed and prepared themselves to live in an area where people were unfamiliar with the Lamb of God.

Nearly 10 years later, God sent them to the southern region of their country as GFA-supported workers.

Gospel for Asia-supported pastor Myo Zaw with his wife and youngest son.

Forced Out of Community

In their new community, people quickly realized Myo Zaw and his family were Christians and decided they would have nothing to do with the new arrivals.

"We were [forced] out of community," Pastor Myo Zaw says, "and it is very difficult to live without community."

But Myo Zaw, Shway and their children trusted Christ throughout the hardships, and with the Spirit's fiery love pulsating within them, they learned how to love the people in their new community.

They cared for the sick and took people to the hospital when needed. When floodwaters destroyed homes and livelihoods, they and other Gospel for Asia-supported workers helped provide relief. The community watched how they cared for them and their children and wondered why this man and his wife loved them so much.

After 14 years of displaying Christ's love, people feel and understand Myo Zaw's love for them and many return it.

"What I have found in my life," Myo Zaw says, "is that love is the most powerful weapon we have from God."
Love. It's what changed the hearts of those who had once excommunicated Myo Zaw and his family. It's what helped Myo Zaw persevere. It's what will change the world when the source is Christ.
"Let love be genuine. Abhor what is evil; hold fast to what is good." —Romans 12:9 (ESV)
=====
Click here, to read more blogs on Patheos from Gospel for Asia.
Go here to know more about Gospel for Asia: GFA.net | GFA Wiki | GFA Flickr