Gospel for Asia (GFA) News, Wills Point, Texas
I never knew worship like what I experienced at GFA's School of Discipleship (SD).
Before coming to SD in 2015, I had a pretty small vision of what worship was. I saw it as only singing and maybe some instruments playing, and it had to be a certain way mainly on Sundays.
During my time in SD, I learned a variety of ways to worship with the community at Gospel for Asia. Whether it's singing, playing instruments, doing lawn work, preparing food, serving in campus work days, listening to others' struggles, or cleaning up after roommates, I learning to bring Christ into everything.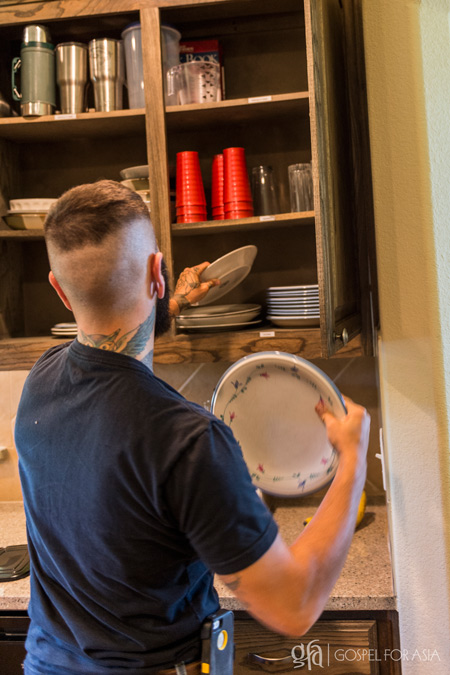 Brother KP often refers to a little booklet written by Brother Lawrence called "Practicing the Presence of God" and how important it is to invite God into everything and live your life for Him. Throughout my two years in the SD program, I learned that everything I do in my life can be an act of worship unto God. I could experience His presence not only in corporate times of worship, but also in private times, and throughout my day. He became more real to me as He showed me that I could wash dishes unto Him as an act of worship.
I found my heart longing to draw near to Him constantly. I read the book during my first year and have read it again every year since.
"Think about God as often as you can, day and night, in everything you do. He is always with you. Just as you would be rude if you deserted a friend who was visiting you, why would you be disrespectful of God by abandoning His presence?" Brother Lawrence
I love the many ways I got to join with my classmates and the GFA staff in worshiping Christ. It was amazing to not only be a part of it, but to help lead worship and bring others into the Lord's presence. Every time of worship was a little different, it was beautiful to see different elements of worship through these gatherings:
Prayer meetings: The staff and students on GFA's campus all come together for morning prayer three times a week, Tuesday nights from 7-9, and once a month for all-night, five-hour prayer vigil on Friday night. These times of worship are wonderful opportunities to get our eyes fixed on how great God is (both before and during our times of intercession). We get distracted so easily, I learned to train your heart to keep my eyes on Him. Even just letting the words of the songs sink in and really thinking about them instead of just mindlessly singing them was huge for me.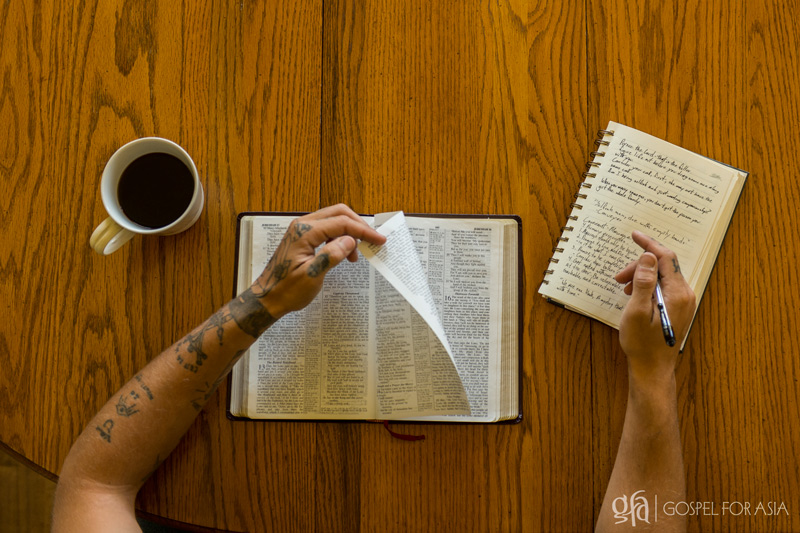 "Prone to wander Lord I feel it
Prone to leave the God I love
Here's my heart Lord take and seal it
Seal it for Thy courts above"
Kyrie Eleison: Once a month many students and staff gather together for this service of worship. It is a very intimate and sweet time to meet with the Lord. The chapel is lit with candles only and we get to have a scaled back time of worship. We will often start off by watching a worship service from the field. Seeing our brothers and sisters in Asia worshiping the same God we serve is beautiful. Some of the songs are in their native language and it reminds me of how large the body of Christ is. We end it with live but quiet music.
Praise Time: Students often gather together to worship and praise God. The focus is on praising the Lord through Scripture, song, prayer and testimony. This birthed a great heart of thankfulness. Who is God that He does all this for a sinner like me? Seeing Him show up not only in my life, but in the lives of everyone around me is truly amazing.
Brother Lawrence says, "What could please God more than for us to leave the cares of the world temporarily in order to worship Him in our spirits?"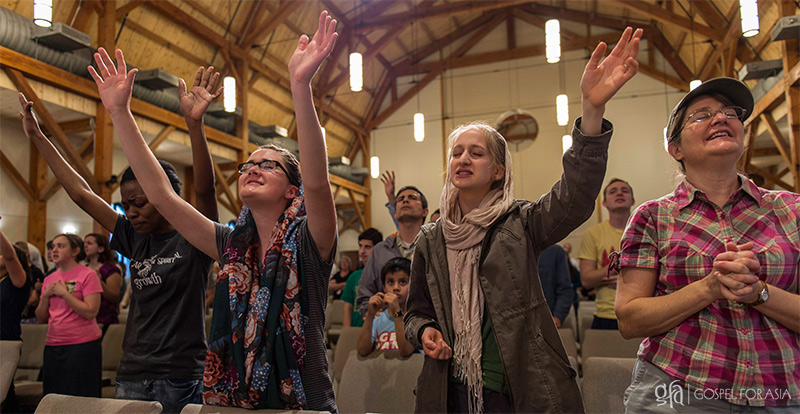 Worship in the Fellowship Hall: My favorite thing to do as a student during my second year was to join with other musicians in a room inside the fellowship hall on campus where the acoustics sound fantastic. There were so many different instruments as classes came and went. Acoustic guitars, a mandolin, violins, an upright bass, and a cajon were the ones that were consistent. Most Tuesdays between work and prayer we'd gather together and just lay aside the burdens all of us were carrying that day.
"We cannot show our loyalty to God more than by renouncing our worldly selves as much as a thousand times a day to enjoy even a single moment with Him." Brother Lawrence
I found much joy in running to Him often as I went through the SD program and even today as I serve on staff. He is continuing to show me what it means to worship Him with every aspect of my life.
=====
For more blogs on Patheos from Gospel for Asia, go here.
Go here to know more about Gospel for Asia: GFA.net | GFA Wiki | GFA Flickr