Gospel for Asia is in the business of providing answers. Providing answers to questions like:
"Does my life have any value?"
"Does anyone care about whether I live or die?"
"How can I find peace for my restless heart?"
To those questions, our workers can say confidently, "Yes, your life has incredible value; God cares so much about you that He sacrificed Himself in order to make a way for you to live with Him for eternity; the longing in your heart is met through relationship with Christ."
Gospel for Asia (GFA)-supported workers help provide other answers too—like the solution for a family trapped in poverty or for a community battling illnesses due to impure water. Just in the last 10 years, hundreds of thousands of families have received clean water and income-generating gifts, such as livestock or sewing machines, through the ministry's community development initiatives.
But what answer is there for a pastor who doesn't have a way to visit all his congregants or neighboring communities for prayer ministry? Or for the farmer who struggles to carry his produce to market, or for the child whose legs ache from the long walk to school?
For these problems, we rejoice in the simplicity of the answer: bicycles!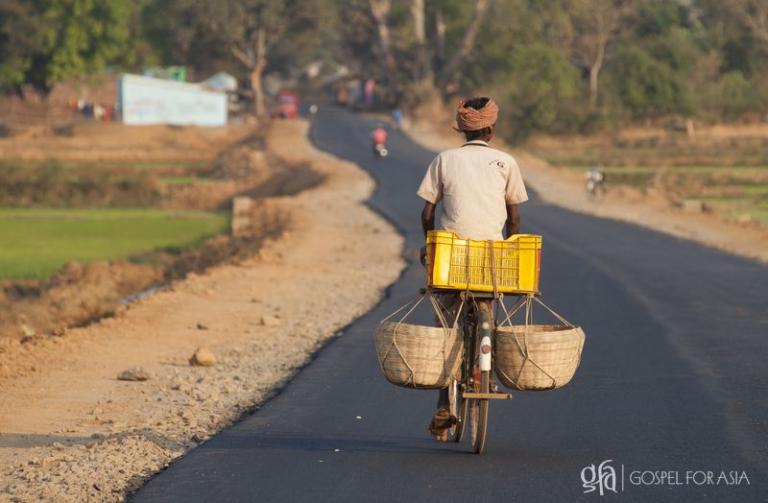 Imagine trying to do all your daily tasks without owning any form of transportation. Your job options would be severely limited, and you would spend precious time walking from place to place instead of working, caring for your children or studying.
Yaswar's job was arduous: providing water for the laborers in the tea garden. He owned no form of transportation, so he had to carry heavy water pots on his shoulders. The long walk to the nearest water source wearied the 51-year-old's body, but if he was ever late in bringing water, his co-workers grumbled and scolded him. Yaswar never said anything back, even though their words greatly discouraged him.

As a believer in Christ, Yaswar spent time with other Christians. He shared his problem with his pastor, Gospel for Asia-supported pastor Kundan.

"I am facing a problem in doing my duty [at the tea garden]," Yaswar told Pastor Kundan. "Because I have to carry water pots on my shoulders and walk for a long distance, I find it so difficult to do this job. I need time, but all the workers are asking me to come on time. Because of this hard work, my whole body is weak and tired. But I have no other option."

"Don't worry," Pastor Kundan said, encouraging Yaswar. "God will do some miracle for you."

Sometime later, Pastor Kundan organized a Christmas gift distribution program, and he put Yaswar's name on the list of recipients. Understanding Yaswar's need, Pastor Kundan gifted Yaswar with a bicycle he could use while he fetched water for his co-workers at the tea garden. Yaswar could finally relieve his weary body by carrying the heavy water pots on his bicycle as he rode the long distance.

"I am very glad," he said. "Our church has great compassion for the downtrodden community."
We rejoice over stories like Yaswar's. What a joy it is to be part of providing the answers to people's problems! Yaswar—and the thousands of others who have received bicycles over the past 30 years—received a physical answer to his physical problem, as well as a reminder that Christ is the God who sees us in our need and moves on our behalf.
=====
Click here, to read more blogs on Patheos from Gospel for Asia.
Go here to know more about Gospel for Asia: GFA.net | Wiki | Flickr