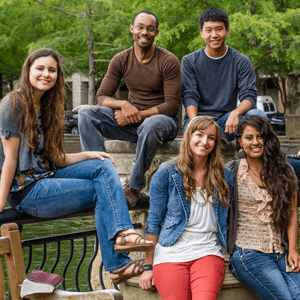 Gospel for Asia (GFA) News, Wills Point, Texas — Every institution, organization or program claim they exist because of differences that make them distinctive. The rationale is reasonable. The significance is not the difference. It is the distinctives.
There are two Scripture verses that eloquently describe what makes GFA School of Discipleship (SD) distinctive and, therefore, different.
John 3:30– "He must increase, but I must decrease."
Matthew 22:37-39– "'You shall love the Lord your God with all your heart, with all your soul, and with all your mind.' This is the first and great commandment. And the second is like it: 'You shall love your neighbor as yourself.'"
Though not officially parts of a motto or tagline, these texts are existential explanations for the School of Discipleship. They also represent the day-to-day value in the year-long discipleship program designed to train young Christian people who are hungry for God and who desire to serve Him.
More of Christ. Less of Me.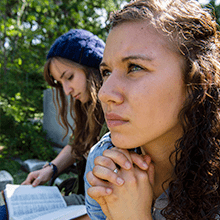 True discipleship happens in a relationship where self is set aside to follow the Master. This is exactly what happened when Jesus called His disciples to follow Him. They immediately left their vocations, homes and opportunities to "hang out" with Jesus. His invitation was, "Follow me," which they did. Peter left his fishing boat. Matthew left his tax collection table. They all left their proverbial plow in the field to become disciples of Christ.
The path to genuine discipleship always begins with more of Christ and less of me. "He must increase, but I must decrease."
Learning to Love Jesus with Every Part of Your Life
The Christian life is not divided into the secular and the sacred. For a Christian, all ground is sacred ground. Everything in which we engage our heart, our soul and our minds must center on Christ. Whether it is our emotions, our will or our intellect, all must belong to Christ. It is a discipline not easily learned in the 21st century.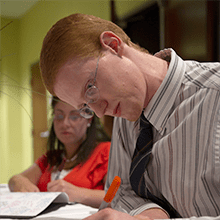 By the way, did you notice the word, "discipline?" It's practically the same as "disciple." You might say that becoming a disciple is learning the disciplines required to be one. In fact, the GFA School of Discipleship is geared to help students build spiritual disciplines, such as making prayer part of our lifestyle. When we do that, we begin to see the Lord at work in our lives in everything we do. That's what Solomon meant when he said that when we acknowledge Him in all our ways, He will direct our paths (Proverb 3:6). And we will see Him doing it.
One of the ways we see Him directing our paths is when we selflessly yield ourselves to serving others. The passage in Matthew explains this. We love Him first. When we do, we will be abled to selflessly love others.
"Serving the Lord at GFA is a privilege I do not deserve, yet by God's grace, He has given me the opportunity to be part of this community of believers to bring Him glory. I am an unworthy servant." –Billy, SD graduate
Experience Authentic Christian Community
Can you imagine what it is like to live amidst a group of authentic Christians, all loving Jesus with every part of their lives? That's what Heaven will be like–everyone who loves Christ serving Him together.
Jesus taught His disciples to pray, "Thy kingdom come; Thy will be done on earth as it is in Heaven." That is what the experience of living in an authentic Christian community looks like:
learning from people who love the Lord and have served Him for years.
laboring together through difficult and complex issues in a patient and godly manner.
living with people who love you with Christ's love for now and eternity, no matter what.
At GFA School of Discipleship, students learn how to love their neighbors by observing how their neighbors love them both in and out of the classroom. You won't just learn from people who teach it. You will learn from people who live it.
"K.P. Yohannan and the other leaders desire to build up the Body of Christ, and also to build up the lives of the staff and students. In my own life, I can say that I am so grateful for their godly example and their love for the Lord—and for me." –Elicia, SD graduate
Becoming Part of Something Bigger than Self
Discipleship is not limited to learning. It is lived by doing things that would be impossible without the love and power of God working through us.
You may think of yourself as just an ordinary person, but one who wants to do more for the Lord. You may think God can't use you to do mighty things, or you may not know how. Gospel for Asia (GFA) School of Discipleship was established to demonstrate how God uses common people to accomplish uncommon things.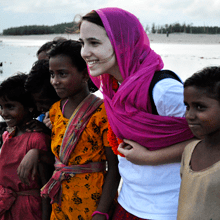 Students in the School of Discipleship become part of one of the world's largest mission organizations. You will see your life make an impact on others who are in the 10/40 window halfway around the world. Gaining a global perspective on helping others know the love of Christ will open your eyes to understanding that the Lord can–and wants to–use you wherever you go and in whatever you do.
"It has been a joy to serve with GFA, and I can't wait to see what other adventures the Lord gets us into. It will be a blessing to see what God will do through each individual here as we work with the rest of the Body of Christ to see people transformed." –Sharlena, SD graduate
Early Enrollment Incentives Available
If the distinctive differences of GFA School of Discipleship are what you have been seeking, now is the time to save by taking advantage of our early enrollment incentives. Applications for the term starting August 2018 must be completed by June 15, 2018. Or, you can save by being
An Early Bird – Apply by April 15 and save $300!
Ready to Apply?
You can submit your application online right now. There is no application fee. However, you will be asked to create an account and log in. You may also start your application, pause and return to complete it later.
Want to Learn More?
Request a School of Discipleship Information Kit online.
Still Have Questions?
We are available to help you if you have any questions or problems with the application. Feel free to call the Student Recruitment department at 972-300-3314 or email at school@gfa.org.
=====
Click here, to read more blogs on Patheos from Gospel for Asia.
Go here to know more about Gospel for Asia: GFA.org | Facebook | Youtube