Wills Point, Texas – GFA (Gospel for Asia) – Women hold up half the sky, and other mother's day topics from Karen Mains, Gospel for Asia blog contributor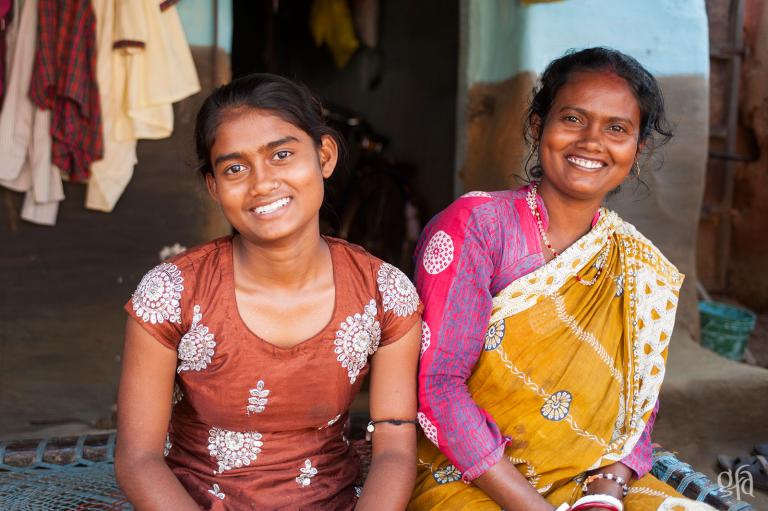 The recent death of Barbara Bush—a consummate mother and grandmother—reminded me of learning plug-ins that can also dramatically shift the future trajectory of others. There have only been two women who have been both the wife of a President of the United States and a mother of a President of the United States. Abigail Adams was one; Barbara Bush was the other.
The news media has spent an amazing amount of time in tributes and testimonies of friends and political associates about this woman who died at age 92. In fact, I can't remember another president's wife (not even Jacqueline Kennedy) who, upon death, has received so many accolades. Most comment on her warmth and hospitality, her acerbic wit, her political instincts, the way she "called it as she saw it," and the long love affair with her husband of 73 years, George H. W. Bush.
Some have dubbed Barbara Bush "America's Matriarch." When asked why she had gained America's favor, she replied, "My mail tells me that a lot of fat, white-haired, wrinkled ladies are tickled pink. I mean, look at me—if I can be a success, so can they." When the Bushes left the White House, she had an astonishing 86 percent approval rating.
The recent death of Barbara Bush…reminded me of learning plug-ins that can also dramatically shift the future trajectory of others.
What impresses me about Barbara Bush is the interest she had in illiteracy before she came to the White House, during her time as the president's wife, and after he lost the election for a second term. This would be an example of a "plug-in" educational issue, learning not demanding formal schooling but absolutely essential for the future success of a growing child. One needs to know how to read.
Bush helped to pass the National Literacy Act, which focused on teaching millions of American adults to read, and she also founded the Barbara Bush Foundation for Family Literacy, which encouraged reading and writing in low-incomes households (for both child and parent). Partnering with local organization, more than $110 million has been made available for the purpose of expanding literacy programs across the country. According to ProLiteracy, just in the United States:
36 million adults cannot read or write above the third-grade level.
68 percent of literacy programs are struggling with long waiting lists, and less than 10 percent of adults in need are receiving service.
Children whose parents have low literacy levels have a 72 percent chance of being at the lowest reading levels themselves. These children are more likely to get poor grades, display behavioral problems, have high absentee rates, repeat school years, or drop out.
Low literacy costs the U.S. $225 billion or more each year in non-productivity in the work force, crime and loss of tax revenue due to unemployment.
43 percent of adults with the lowest literacy levels live in poverty.
75 percent of state prison inmates did not complete high school or can be classified as low literate.
One needs to know how to read. Using the local church again as a baseline because of its parish membership consisting predominately of people who are concerned about the good and about doing good, what if five volunteers from each church in a town or village or rural hamlet or big city would seek to take tutoring training for helping parents (and their kids) develop reading skills—what could happen? What if that team of five people found out what kind of waiting list existed in their communities and then began to recruit reading tutors from their social affiliations to reduce the list? What if . . .?
Ten years ago, David and I received a letter from a friend, an M.D., who with his wife, a nurse, returned home from Africa where they had been working in the HIV/AIDS epidemic to co-lead Medical Ambassadors International, a faith-based, world health organization. The letter read: "We are wondering if either Karen or David would be able to serve on the board of MAI. Particularly, we are wondering if Karen would be able to serve because our board of directors is all men, and we need to find capable women who are experienced and qualified to work along with them."
Well, who could resist an invitation such as that? I gladly agreed to serve on the board of MAI. Every year, the International Council (IC), field leaders from all over the planet, of all nationalities, gather in the States to confer with one another, visit their supporting donors and attend an international health conference that has value to all. At the very first IC gathering I attended, preceded by a directors' meeting, I chatted with the woman who had graciously opened her home to our group of about 35 people and was also, with a team of volunteers (some wives of the board members), providing our meals.
"Oh, I want to show you something," she said and pulled her laptop computer to a clear spot in her very crowded dining room. It was a home video of a teaching in another country involving local women.
"This is the Women's Cycle of Life teaching unit," she explained.
I knew some things about MAI, but my learning curve was to be long and arduous in the days ahead. I knew that Medical Ambassadors had moved from the clinic-treatment model to a preventive-health care model that prevented some 80 percent of the diseases before they became clinical. I had even taken a week-long training of trainers session that exposed me to the non-lecture teaching methodology that had been developed, field tested across the world, enculturated and, at this time, was present for the taking-down off the web free to all—some thousands of lessons. I also knew that the teaching model was based on a participatory model, not a lecture model, incorporated dramatic enactments by the students, was designed using orality principles because many of those being trained were either illiterate or semi-illiterate.
Using a system of questions, the trainees discovered answers to the health lessons for themselves. This process gave them a heightened sense of ownership. Charlene, the designer of the Women's Cycle of Life (WCL), had been a former public health nurse and had adapted many of those lessons she taught in her California job to the Medical Ambassadors teaching formula, called CHE (Community Heath Education). In essence, WCL was everything a woman needed to know about her own body, her own health, her own reproductive system from the womb to the tomb.
"How much is this being used internationally?" I wondered and gathered from her response that the answer was, "Not much." My next question was: "What does this need to go international?" We talked about it a little and decided that a WCL international director funded full-time would give the program the boost it needed, at least as a start. At the next board meeting, I spoke to my new friends around the table, who indeed, were all men, all well-meaning, intelligent and good hearted.
Women hold up half the sky according to the Chinese proverb.
"Do you know what we are sitting on? I mean, after all, women hold up half the sky according to the Chinese proverb."
It didn't take much advocacy, and in an amazingly short time, a director was hired: a nurse who had a Ph.D. in community health. She launched the WCL training of trainers and started pushing the Women's Cycle of Life program outside its U.S. confinements.
I had nothing to do with developing this program, knew nothing about the program, but was in the right place at the right time to become an advocate for the program. Women's Cycle of Life has gone worldwide. Men from many countries watching their wives learning from WCL have requested something similar: a men's cycle of life.
I'm proud of the gentlemen sitting at that Board of Directors table who so quickly responded to my prodding. Being an advocate for the Women's Cycle of Life program is one of the best things I've done in my whole life.
Being an advocate for the Women's Cycle of Life program is one of the best things I've done in my whole life. As WCL was launching, the field director in Ethiopia, a woman—whom I told rides her motorcycle through traffic in Addis Ababa—along with the wife of the executive director of MAI trialed a program for women. In two sessions, some 42 women were invited for a week-long WCL training. For many, this was the first time they had left their homes, had someone else cook their meals or stayed in a dormitory setting with other women. They gobbled up the training, and because they were Christians, they were impacted by the Scripture integrated into each unit of teaching—childbirth, for instance, conception, hygiene, etc. After four months, oral interviews were conducted (many on camera) with those who had received the WCL training. Those 42 women had taught a cumulative total of some 1,600 lessons to other women.
Now, if I were going to radically transform Mother's Day (which realistically, I know I probably won't be able to do), I would ask some well-meaning families who love their moms to reconsider taking some of that $23.6 billion retailer's spend on Mother's Day and use it in a way that really, really, really makes a difference for other remarkable mothers, or remarkable mothers-to-be, or the mothers who want to be remarkable all around the world.
I'd encourage a look into literacy training in an interested party's home town.
I'd check out Nicholas Kristoff and Cheryl Wu Dunn's book, A Path Appears, which in 315 pages gives examples of ordinary people doing extraordinary things in the States and across the world. Pages 316-317 list "Six Steps You Can Take in the Next Six Minutes", one of which is "Consider supporting an early childhood program. That might mean giving to Reach out and Read, which for $20 can take on a new child and introduce him or her to the joys of reading." Then, this husband and wife writing team provide comprehensive lists of organizations they trust as suggestions for further involvement (other than just Mother's Day).
You know, there are other possibilities we might explore as a family this Mother's Day.

Or a woman might say to herself, You know, there are other possibilities we might explore as a family this Mother's Day.
Go to the Gospel for Asia website, www.gfa.org and order a free copy of the book No Longer a Slumdog, which tells the incredible story of India's neglected and forgotten slum children. Reading this book is a means of educating yourself as far as the incredible difficulties of slum children in India and the possibilities that exist to sponsor one of these desperate children who have little hope and a very bleak future without intervention through education in a Bridge of Hope center.
I will never forget the day, visiting in Calcutta, walking down the busy streets and seeing a boy, about eleven years of age, sleeping alone on the hard, concrete sidewalk. I promise you that this book, written by Dr. KP Yohannan, will give you a heart of passion for the "slumdogs" of the world.
Then map out a Mother's Day plan. Figure out how you or your friends or your women's group or your mother and your daughter who is also a mother can transform this day so that it is really special.
Let me know what you do.
Let me know what you think.
=====
Click here, to read more blogs on Patheos from Gospel for Asia.
Go here to know more about Gospel for Asia: Facebook | Youtube | Twitter | GFA Reports
Read my prior two blogs on this topic: Part 1 | Part 2