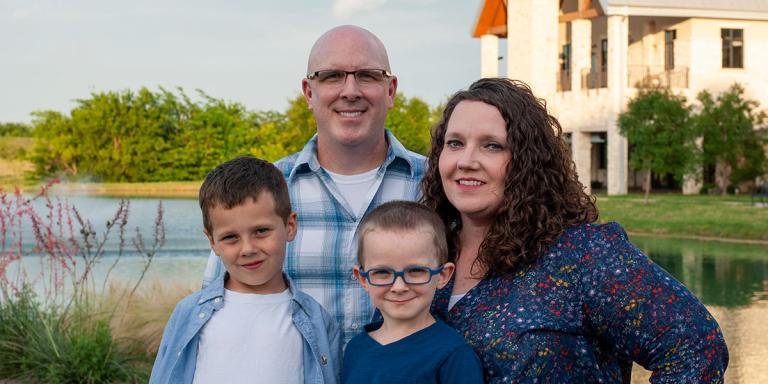 I remember the first time I met Tony. It was late at night, and I had just arrived at the Dallas/Fort Worth International Airport. I was standing at the arrivals curb waiting for someone I had never met to give me a ride to the GFA campus in Wills Point. (I could almost hear my mother's voice telling me to never accept a ride from a stranger—especially in the dark of night.) Fortunately, the first and only person to offer me a ride was the one GFA had asked to take me to Wills Point.
Turns out that Tony is a member of the GFA Mission Support Team. The drive to GFA provided plenty of time to get to know him. You see, I had thought that Wills Point was a Dallas suburb. But it's not. I don't even know for sure how long the ride was or how far we traveled. I'm not saying that the GFA campus is at the end of the world, but in the daytime, you can just about see it from there. I'm almost positive that I saw a sign on the highway that said, "End of the World – 5 miles."
Back to my story. Tony became my first in-person impression of GFA. He still is. He always will be. From my brief stay at the GFA campus, during which I met many staff members, I learned that Tony is an accurate representation of members of the Mission Support Team. You can read his GFA bio at this link, but the three things I learned about him are far more important than a bio on a website.
He is humble. Those three words will embarrass him if he ever reads them. The first evidence of his humility was his response when I asked him what he does at GFA. I realize that is a common question. I learned many years ago to ask more for personal insight than for information.
The most common response to that question is usually naming a job title—often with a pinch of pride. I still have no more idea what Tony's job or job title is than what is published in his Mission Support Team bio. He did share some of the various things that he does, including material support and communicating with ministry partners to keep them informed and encouraged. His answer told me less about the specifics of what he does and more about who he is.
He is not ashamed of the Gospel of Christ. Somewhere out in that dark night, we stopped to eat at a world-famous restaurant. Actually, we didn't go in. We used the drive-thru. When Tony paid for our meal, he handed the gentleman a Gospel tract, told him it was about Jesus Christ and asked him to read it. It was so natural, it was as though he had done it hundreds of times before, which he likely has.
What did I learn? Tony is not just a supporter of missions nor is he just a part of the Mission Support Team as a job. He is doing the same ministry as national missionaries on the field.
He is willing to do whatever is asked of him
. That ride took a good-sized chunk out of Tony's evening. Two days later, he returned me to the airport, keeping him from doing whatever was on his agenda to accomplish that day.
In fact, Tony left the car with me when he dropped me at the guest house. I offered to drive him to his home, but he would have none of it. He grabbed his backpack, and off he went. Early two mornings later, he was standing outside the door with his backpack waiting to return me to DFW.
He is a man of prayer. I can tell when someone is accustomed to talking with the Lord. You probably can too. We prayed together on at least three occasions, according to my recollection. Clearly, our conversation was with the Lord, not with each other, nor were those times meant to impress each other. We did it because that's what we do.
That's what I know about Tony. I don't need to know much more than that. He loves the Lord, and he and his family have denied themselves of many of the so-called pleasures of life in deference to serving our Savior on the GFA Mission Support Team.
I was touched by Tony. That's the reason that, once I submit this story for publication, I am going to begin contributing to Tony and Kelly's support. We need more men like Tony serving the Lord like Tony does. I want to help to ensure that Tony and Kelly and their boys are able to continue their ministry with the GFA Mission Support Team.
Perhaps it is time you prayed about supporting a team member as well.
---
To learn more about the GFA Mission Support Team, visit this page on the GFA website.
To read more on Patheos on the GFA Missions Support Team, go here.
---
Image Source: Gospel for Asia, Sponsor Tony and Kelly
Click here, to read more blogs on Patheos from Gospel for Asia.
Go here to know more about Gospel for Asia: GFA.org | Wiki | GFA | Facebook | Youtube