Gospel for Asia (GFA World), Wills Point, Texas – Discussing the life-changing impact of Bridge of Hope centers on the lives of thousands of children.
When you are a child of the slums, every day may be a repeat of the last. Life is about staying alive. If you do not scavenge or beg or become entrapped in bonded labor and a pantheon of dismal circumstances, you will not survive to see tomorrow. Even worse, tomorrow holds no promise of anything better than yesterday or today.
Think for a minute what it is like to lay your head down at night in a dirt-floor hut built from scrap materials, perhaps alongside a railroad track, in a garbage dump or near a red-light district. There are no visions of sugar plums dancing in your head with joyful anticipation of what will happen when you awake in the morning.
Millions of children in abject poverty in Asia close their eyes at night, knowing for certain that tomorrow holds no more hope for them than the day that has passed.
Perhaps it is too much to ask that we imagine a situation so desperate. Most of us have not, as the old saying goes, "Been there; done that." It is far beyond the scope of our own reality. But for these children, it is reality.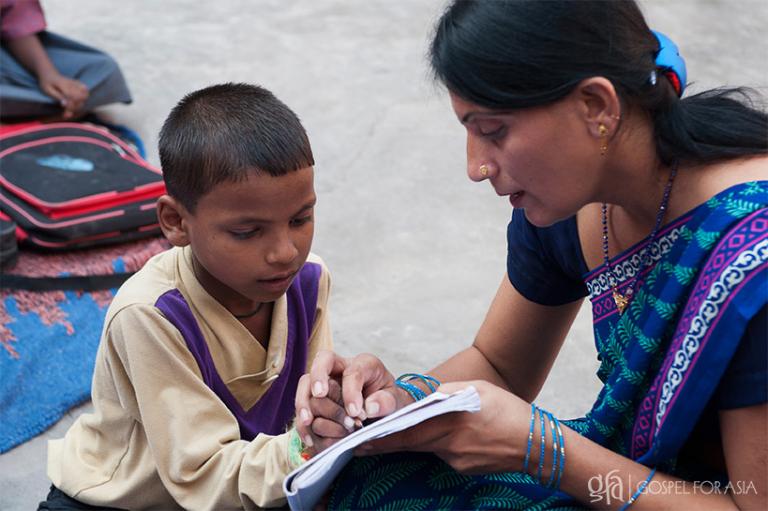 When the Lord gave GFA's founder, Dr. KP Yohannan, the vision to start Bridge of Hope centers, little did he realize that these centers would eventually be leading tens of thousands of children to see that their tomorrows can be filled with hope exactly as our loving God has planned.
For those of us with a Western mindset, we may be inclined to see supporting a child to attend a Bridge of Hope center as "a good cause." We can become accustomed to having a small sum drawn from our bank account as a token gesture of an "obligation" or commitment.
But for these children, the result of our support is life-changing.
Through our support, these children begin to see that there is hope for tomorrow and the tomorrows that follow—even tomorrow's tomorrow.
They discover they have potential.
The tutors at Bridge of Hope centers help children to grasp the world of opportunities that exist outside of their previously dismal days and teach them skills essential to stake their claim on a hope for that future.
More than providing an education for the children, Bridge of Hope tutors promote each child's potential and encourage them to reach the opportunities that will become available to those who apply themselves.
Tutoring, nutritious meals, health care and learning to serve others become regular components of a child's day. But it is none of those that build the bridge from despair to hope. It is the love and care demonstrated by their tutors and the other Bridge of Hope staff members that make the difference.
One GFA-supported Bridge of Hope tutor explained,
"Besides Bridge of Hope, there is no one at home or school or even in the community where they live who would encourage them to excel in their studies or talents . . . No one is ready to help them. No one is willing to teach them. But these children are [dear] to us."
When you think of Bridge of Hope, think of a ministry based upon caring for the least of these just, as Jesus does. Whether you're a center's director, tutor, cook or a donor, let us each do our part of the ministry with the same objective. Let us be the providers of hope in whatever way the Lord has provided for us to participate.
Let us pray together for the tens of thousands of children who, because of Bridge of Hope, lay their heads down at night with a hope and a dream of a better tomorrow.
Pray for the staff members who are the hands and feet of the work.
Give thanks for the lives we have been able to help thus far and that the Lord would continue in them the good work He has begun.
---
Learn more about how you can help support the Bridge of Hope program.
Click here, to read more blogs on Patheos from Gospel for Asia.
To read more posts on Patheos on Bridge of Hope centers, go here.
Go here to know more about Gospel for Asia: Twitter | GFA Reports | GFA.net | Instagram