Wills Point, Texas – GFA (Gospel for Asia) – Discussing the most essential gifts the Lord God has given Christians everywhere for use in His service.
"We could read every book ever written on prayer, but that won't make us people of prayer. We learn to pray by doing it." —Dr. KP Yohannan, "Learning to Pray"
The Bible is very clear in 1 Corinthians 12 and Ephesians 4 that the Lord has given all believers gifts to use in His service. The gifts He gives us are chosen by Him to equip us for sharing the His love with people who need to know of His love and sacrifice and for building up the body of believers.
What an honor and privilege to know that the Lord God has given you and I individually selected gifts for use in His service!
Without a doubt, however, He has given each of us at least three gifts that are more important and far greater than all those listed in 1 Corinthians and Ephesians. These gifts are given to every believer. They are essential to our relationship with the Lord and to our effective service.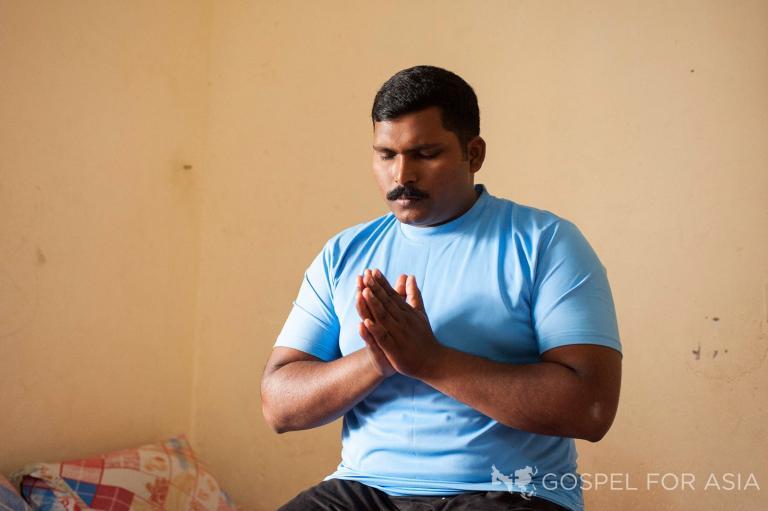 Because these are essential gifts, the extent to which we embrace them often determines the extent to which the Lord is able to use us to bring glory to Him.
For that reason, they are the most essential gifts to be embraced by Christians everywhere, including those serving as indigenous missionaries like those supported by Gospel for Asia.
Christian's Essential Gifts #1 — Prayer
Several years ago, GFA World, GFA's ministry magazine, published a series of articles about the remarkable things that have been happening through the ministry of Pastor Kantilal.
I could not help but be captivated by the obvious key to the Lord's effective use of this humble pastor. It is repeated over and over again.
He and a fellow Bible college student knew only one thing to do . . . pray.

Through his prayers, the Lord healed her.

Kantilal had recently started seeking the Lord earnestly through prayer.

After spending 10 days in prayer . . . the Lord used [them] to heal, deliver and redeem person after person.

He leads the young men . . . in going out, praying for people, and ministering to them. When they return . . . they pray for the people they met.

The work God is doing through Kantilal and the men he's leading is unexplainable. The men are men of prayer.
Kantilal explained that the miraculous numbers of people who have come to know the Lord through Jesus Christ is not possible, humanly speaking. "I know it's all because of prayers," he said.
Prayer is the reason so many wonderful things happen through the ministry of national missionaries like Kantilal. It is not Kantilal. It is because the Lord is listening to the conversations He has with Kantilal.
Christian's Essential Gifts #2 — Presence
Prayer works because of God's presence in us. The Holy Spirit dwells in every believer to seal us for the day of redemption, to comfort and encourage us, and to direct our paths.
Moses understood the need to have the presence of the Lord with Him because the task was too great for a man. When God appeared to him in the burning bush, Moses said, "Who am I that I should go?" The Lord responded, "I will certainly be with you" (see Exodus 3:11–12).
Moses had a similar conversation on the other side of the Red Sea recorded in Exodus 33. As Moses faced another difficult task, the Lord told him "My presence will go with you." Moses replied that he was not willing to go anywhere without the Lord's presence.
Anything that is possible, even the impossible, is possible for Christians because of the Lord's presence—if we submit ourselves to Christ and walk where His Spirit leads us.
Before Jesus ascended into heaven, He told His disciples that all power had been given to Him in the earth and in heaven and that He would be
with us
.
Mighty things happen when we let the Lord work through us.
The Apostle Paul assured the Galatians that Christ lives in those of us who are crucified with Christ (see Galatians 2:20).
The writer of Hebrews reminds us that Jesus has said, "I will never leave you nor forsake you" (see Hebrews 13:5).
Christian's Essential Gifts #3— Power
The power of God and the working of His good pleasure is seen in us when we clearly recognize that it is "not I, but Christ" and live accordingly.
Those national missionaries who embrace the Lord's presence and who pray without ceasing for the Lord's direction and plead for God to make Himself known to the people around them are able to share stories of "the incredible work God is doing through them [that] cannot be accounted for by any human reasoning." Kantilal expressed it this way:
"When I see the people coming to the Lord like this . . . when I see people being healed and delivered, all glory goes to God. It is not I who did it, and it is not that I deserve to be used by God, but it is all for God's glory and for God's name."
Now we must ask ourselves why we do not experience the same power in our own lives.
We have the same calling as our GFA-supported national missionaries: to share God's love with the people around us. We have the same presence of God in us. We have the same opportunity to talk to the Lord God at length about the souls of others and all the other issues of life.
The question is, "Do we?" The follow-up question is, "If we do not, why don't we?"
Let us not be numbered among those professing believers in the world who evidence little or no power in their lives simply because we do not embrace the presence of the Lord and the precious gift of being able to speak directly to the Living God who answers our prayers.
Would you make today one of renewed commitment to pray and to walk in His presence? If you would, we would love to hear from you so that we might pray with you and encourage you to live the incomparable life the Lord has prepared for you.
We encourage you to download a free PDF copy of K.P. Yohannan's book, Learning to Pray.
Dear friend, as I share with you these guidelines on prayer, I know that they will do nothing for you or the kingdom of God unless you start to enter warfare and begin praying.

You will see victories won that you never even dreamed were possible.

May the Lord bring you to a place in your life where your prayers will help change the course of a lost world.

— Dr. KP Yohannan
Read more posts on Patheos on the essential gifts of Prayer, Presence, and Power.
Click here, to read more blogs on Patheos from Gospel for Asia.
Go here to know more about Gospel for Asia: Flickr | GFA | GFA.org | Facebook | YouTube
---
Sources: