The first time Tanul tried alcohol, it must have burned his throat and boiled in his belly. Unpleasant as it was, it would not be the last time he put his lips around the bottle. In fact—like the poverty he was born into—it became his constant companion. By the time Tanul was a teenager, he drank regularly. Like most young men in his rural village, Tanul filled his body with alcohol to erase the shame of poverty from his heart and mind. This destructive habit would follow Tanul as he began to build a life for himself.
When Tanul married, he did not lay aside his drinking. As the burden of caring for a family increased, so did his time with the bottle. Children came, and Tanul was unable to provide adequate food for his family or cover school fees—making a hopeful future for them impossible. Tanul was stuck in a vicious cycle, and the more he drank, the less hire-able he became.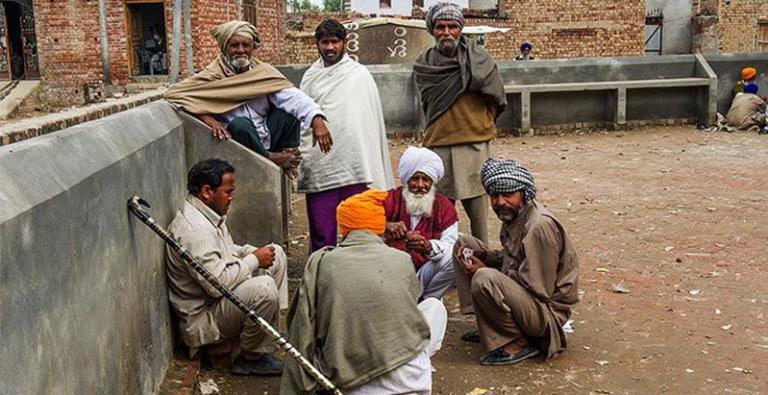 Tanul's journey is not an isolated incident. It's a problem all over the world; alcoholism and poverty go hand-in-hand. Though it is not proven that one always leads to the other, there is an ugly, symbiotic relationship. As alcohol consumption increases, employability decreases. While employment dries up, many use drinking to ease the shame, which exacerbates the cycle. Often, the only work left for alcoholics in Asia is manual labor for which they are hired on a day-by-day basis. Because of the difficulty—and sometimes the impossibility—for the poor to rise above these employment options, many turns to alcohol to ease poverty's sting. The stress of not knowing if you will find work each day inflates the problem.
Abuse Multiplied: Poverty, Alcohol, and…
As Tanul's family fell apart, another near relation to the twin problems of alcoholism and poverty arrived: domestic violence. Coming home intoxicated and angry, Tanul began abusing his wife and children daily. The little money he earned went to supporting his addiction. This family, plagued by poverty, alcoholism and domestic violence, was living out the well-worn path blazed by many of the world's extreme poor.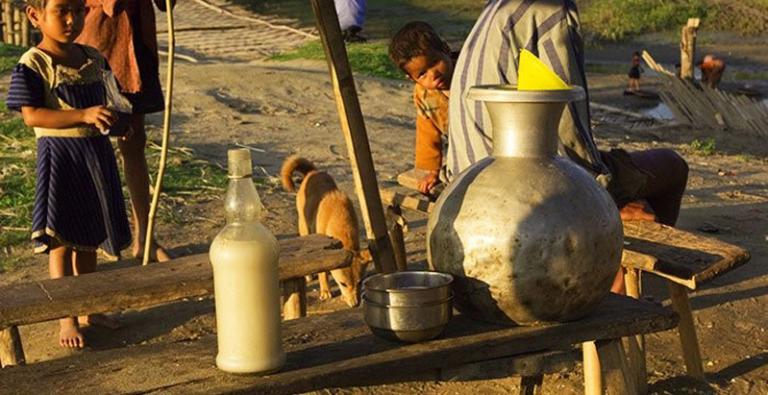 Step One on the Road Out of Poverty
Pastor Teja, who has a church in a nearby village, met Tanul's family one day when he was offering prayer for families in need. The Gospel for Asia (GFA)-supported pastor saw the pitiful condition of this family, and his heart was heavy. The family invited him back to pray for them, and a friendship began. Tanul's family began to attend Pastor Teja's church. Then members of the church continually prayed for Tanul's deliverance from alcohol—the thing that bound them to the poverty they lived in. Through their faithful prayers and Pastor Teja's counseling, Tanul overcame his addiction to alcohol. The Lord completely transformed Tanul's heart!
For the first time, Tanul's family experienced freedom—freedom as a gift from God above that trickled down into their hearts and flowed toward each other in love. This freedom from bondage gave them hope for the future. But in the present, they are still stuck in the poverty trap.
This predicament of the extreme poor—not being able to find work that will support a family's daily needs—is one of the basic issues addressed by world leaders and organizations dedicated to alleviating poverty around the globe. One expert working with the Borgen Project, a non-profit dedicated to fighting global poverty, is convinced the first step[1] in reducing extreme cyclic poverty is helping the poor create their own businesses. This is the very thing many Gospel for Asia (GFA)-supported pastors and missionaries can do with income-producing gifts provided by donors all over the world.
Pastor Teja knew that Tanul needed a way to earn enough income to support his family. He arranged to hold a gift distribution and presented Tanul with a rickshaw—something he never could have afforded on his own. Tanul was overcome with gratitude at God's provision.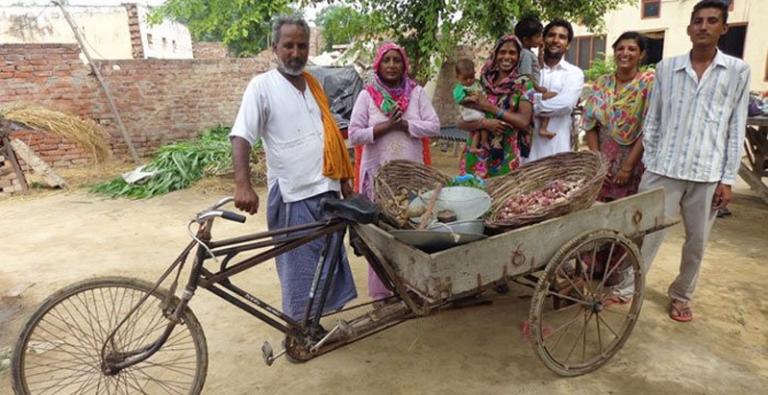 A New Reputation
With his new gift, Tanul loaded vegetables onto his rickshaw and began selling throughout the village—even delivering produce to customers' homes. God blessed Tanul's diligence and hard work, enabling him to earn a good income selling vegetables. Setting his own prices and being able to keep all his earnings, Tanul had enough money to send Maahir to school to learn a skilled trade. Maahir completed his education and started working as a carpenter. The two men now adequately support their growing family, including Maahir's wife and two children.
Self-employment frees those trapped in the cycle of poverty from discrimination, unfair business practices and job insecurity — circumstances to which the poor and uneducated are vulnerable. Gifts like rickshaws, sewing machines and water buffalo are the means to break free from the bondage of poverty and to set thousands of families on a new course of self-sufficiency and hope for future generations.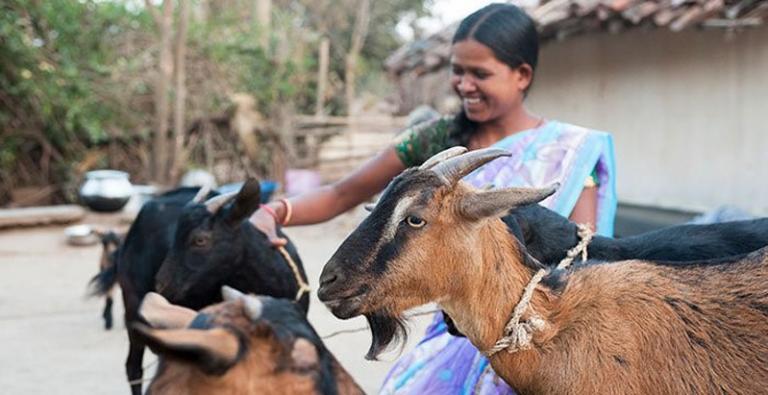 Join the Global Effort to End Extreme Poverty
The fight against extreme poverty is not finished—736 million people in 2015 were still living on less than $1.90 a day.[2] Almost half of these people reside[3] in the countries where Gospel for Asia (GFA) supports national workers. Gospel for Asia (GFA) believes that together, we can make a lasting difference in the lives of those caught in the extreme poverty trap.
Join GFA in providing pastors, missionaries and other national workers with tools to lift those in their communities out of the harsh poverty trap.
---
[1] The Borgen Project, Top 10 Facts about Poverty in India
[2] The World Bank, Decline of Global Extreme Poverty Continues but Has Slowed: World Bank
[3] Our World in Data, Tree Map of Extreme Poverty Distribution
Source: Gospel for Asia Features, Rickshaw Unlocks a New Path
---