WILLS POINT, TX – Gospel for Asia (GFA) – Discussing the crippling poverty that families like Aashna's experience, the helplessness they face especially in medical situations, and the medical camps which offer the poorest of the poor possibly their only chance to receive medical care for their ailments.
Aashna squatted on a dirt floor beside brightly clothed women all waiting to see a doctor. Each had different needs, different concerns. For Aashna, this was her only opportunity to help her baby boy. Aashna's 3-year-old son, Prajivan, stood safely between his mother's crossed arms. Across his forehead, a cloth bandage covered a bulging "boil-like thing," as Aashna called it. She wasn't sure what was growing on her little one's forehead. For a month, she watched the small bump become larger and larger, while Prajivan complained of his forehead hurting and cried because of the pain. Aashna and her family were poor. Too poor to visit a doctor. Too poor to figure out what was happening to their youngest child. The income she and her husband earned as daily wage laborers cultivating fields didn't provide enough for "extra fees" such as doctor visits. They made just enough to eat and survive another day. Even if they did have the money for medical care, the nearest hospital was about 43 miles away.
"To go and see the doctor, I would need money, which I don't have," Aashna says.
"My husband and I would have to go to the money lenders or landlord, whoever is willing to lend to us. … But then to pay back that borrowed money would take a lot of time. Sometimes it could take more than a year, because with the income we make, we [also] have to run the family. We have five of us, and we have to meet all the financial needs. So that may take a lot of time."
When Aashna heard about the free medical camp organized by GFA-supported pastor Ganesh, she walked three miles, carrying Prajivan, to attend.

Helping Prevent Curable Illnesses
Pastor Ganesh has been serving as a GFA-supported pastor for almost 14 years. In the remote villages where he ministered, he'd see people suffering with various sicknesses, such as malaria, cancer or typhoid. He'd discover that men, women or children had died prematurely because they did not have access to any medical facilities. It tore at his heart, and he knew that with the support of the church, he could help these people.
Pastor Ganesh worked diligently to set up a medical camp, which would offer the poorest of the poor possibly their only chance to receive treatment for their ailments.
"Most of the people where I work are from very poor families," Pastor Ganesh says. "They have no resources to go to any medical care centers where they can get treatment. When I see this, I feel that by conducting such kind of medical camp, which is free, it is going to benefit the poor."
Pastor Ganesh sought permissions from the local authorities and the village chief to organize the camp. He connected with the government hospital to acquire free medicine for the poor. He talked with doctors to see if they would be willing to see patients living in remote villages. He encouraged the youth of his church to set up the tent for people to sit under as they waited to see the doctor. And he asked the women of his church to help serve the patients when they arrived at the camp.
Then Pastor Ganesh went from village to village, handing out flyers that informed people they could get medical care for free.
Receiving Medicine, Medical Care and Love
Aashna was one of 210 people who showed up at the medical camp.
Doctors examined people with stomach problems, tuberculosis, gynecological disorders, fevers and colds. Some, like Aashna's son, seemed to have more serious illnesses that needed to be treated at a hospital with better facilities. They believed that little Prajivan could have a tumor.
"I feel so bad that because I don't have money I wasn't able to take my child to the doctor," Aashna says. "Sometimes I feel like crying [because] I cannot help my son. I see him in pain, and I feel really bad about it."
Aashna and Prajivan went home with medicine that would help ease his pain. And now, with the knowledge and direction from a doctor, she and her husband know what can be done for their little one.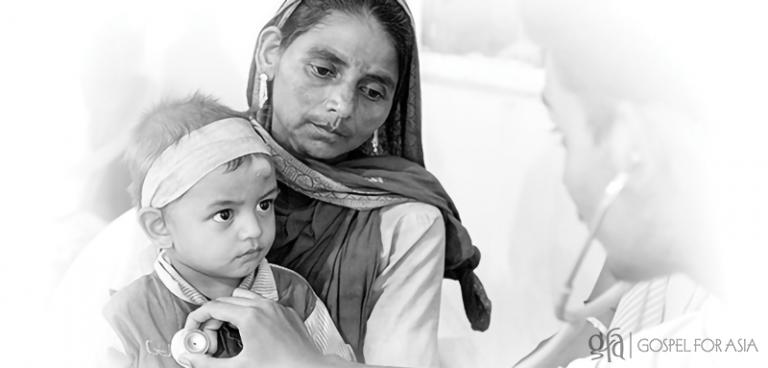 Through this medical camp, hundreds of people received the medical care needed to live healthy lives. And many left with the reassurance that they had people who were there for them in their time of need and who would pray for them and their healing.
"People like us, we are not able to save money for medical expenses," Aashna says, "so we cannot think of going to a private doctor and spending money for our children's treatment. This kind of medical camp, which is free and meant for everyone, was a great help and great blessing to us because we are getting everything free … [and] good treatment."
Pastor Ganesh plans to follow up with those who attended the medical camp to let them know that in sickness and in health, he cares for them in Jesus' name.
"Pray that through medical camps," Pastor Ganesh says, "organizing these kinds of camps and bringing awareness and medical help to people who are sick will ultimately touch their heart, so that they will see how God loves them and how Jesus loves them."
Give to families in need in Asia
---