WILLS POINT, TX – Gospel for Asia (GFA) – Discussing Ponnan and his family, who came from a long line of sorcerers, his inability to cure himself of sickness, and his pursuit for healing which can only truly be found in Jesus.
People were gathered in Ponnan's home—the home that was formerly known as the dwelling of a respected and sought-after sorcerer. Instead of seeking a man who would perform magic to heal their ailments, they now gathered inside Ponnan's opened doors to worship the Healer of souls.
Heritage of Sorcerers
Ponnan came from a long line of sorcerers. Respected by his fellow villagers not only because of his profession, Ponnan was also known for his genuine kindness to all. But life was far from perfect.
As Ponnan's son, Jairaj, started to learn sorcery, something changed inside him and Jairaj became proud. Because of this, he frequently ended up in fights. Ponnan often had to pull his son out of trouble, risking his own reputation to help Jairaj. Ponnan sacrificially helped his son sort out his predicaments time and time again.
There was no peace within Ponnan's home. Though Ponnan could heal others through his sorcery, his own family was always struggling with illnesses, and eventually Ponnan began to have health problems too.
Life gradually became more difficult as Ponnan suffered from severe neck pain that over time left his neck immobile. The sorcerer's inability to cure himself embarrassed him greatly. Desperate for healing, Ponnan sought after other magicians and doctors.
Ponnan exhausted all his resources. Nothing cured his suffering, and he experienced near-death instances twice during his pursuit of healing.
But there was hope.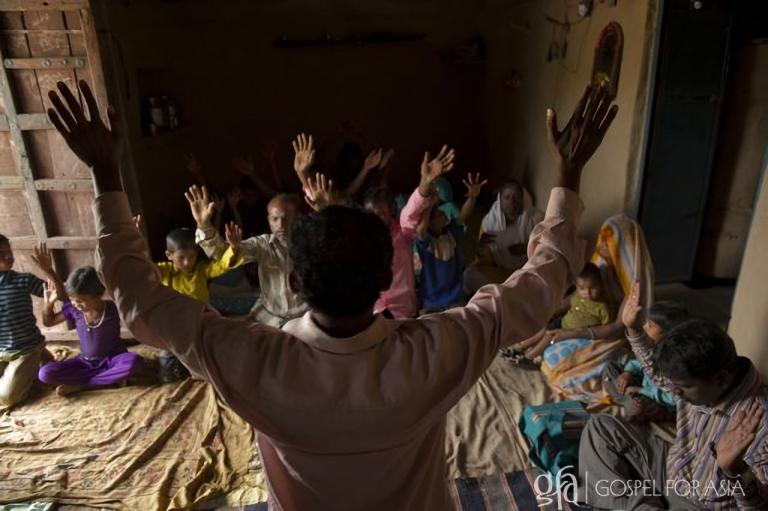 A Cure for the Sorcerer
One day, as Ponnan traveled to a hospital, he met a stranger and took some Christian literature from him. He listened intently as the stranger shared a message of hope with him. Ponnan learned about a man named Jesus who had the power to heal.
With faith budding in his heart, Ponnan carried this good news with him the rest of the day. That evening he shared with his family about his encounter with the stranger. He declared interest in finding out more about this powerful God named Jesus.
Days passed and Ponnan couldn't get Jesus off his mind and heart. He wanted to believe in Him for healing. Instead of going to another hospital or sorcerer, Ponnan went to the local church, which was led by Gospel for Asia (GFA)-supported pastor Maha, and asked for prayer. Pastor Maha prayer for him, and believed along with Ponnan for the Lord's complete healing.
Ponnan's faith became real that week, after he received complete healing from Jesus. The sorcerer who couldn't heal himself experienced a miracle that would change the course of his life for the generations to come.
A New Path for Healing and Hope
Impacted by the transformation in his father's life, Jairaj, Ponnan's troublemaking son, began to attend church along with his father. Gradually, Jairaj's heart and actions began to change. Instead of being led by a prideful spirit and hanging out with corrupt company, Jairaj asked Pastor Maha to pray for him to overcome his struggles. Soon, Jairaj trusted in Jesus too and dedicated his life to following Him.
After some time, Ponnan saw each of his family members decide to accept Christ's love and hope. Ponnan's daughter decided to serve the Lord, one of his sons is active in the church's ministry, and Jairaj joined a Gospel for Asia-supported film team. Today, this family is bringing healing and hope to people in deeper ways than they ever had before.
Ponnan leads a prayer and worship service in his home for believers in his village, as Pastor Maha's church is a far distance for the villagers to travel weekly. Every week, believers gather in Ponnan's home to worship together. Ponnan's home is now a place of worship instead of magic.
Find out how the Lord healed Seon from kidney failure.
---
*Names of people and places may have been changed for privacy reasons. Images are Gospel for Asia stock photos used for representation purposes and are not the actual person/location, unless otherwise noted.
---