WILLS POINT, TX – Gospel for Asia (GFA World) founded by Dr. K.P. Yohannan – Discussing Shway and the isolation and persecution she experienced, even a house on fire, and God's divine appointment through Gospel for Asia (GFA)-supported pastor, Kyaw.
"Lord, help me!" 60-year-old Shway cried as she ran from her burning house.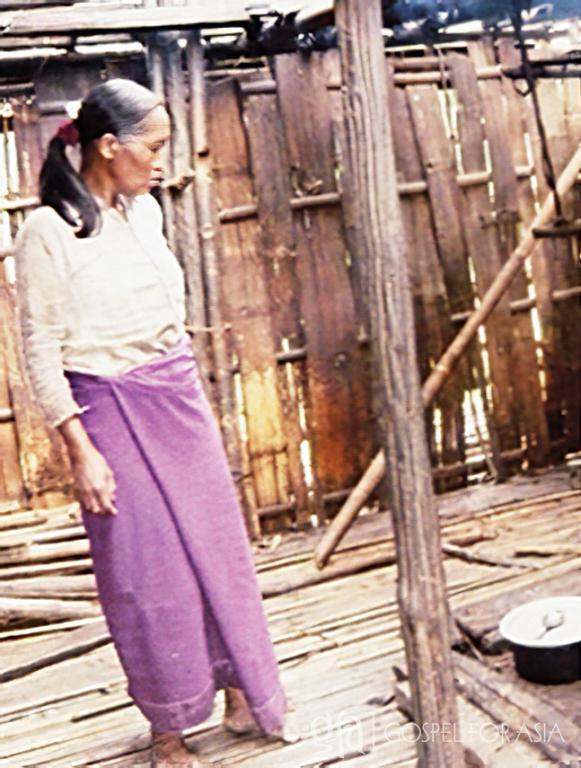 The people in her village didn't like Christians and threatened any who became one. "If you do not forsake Jesus, we will send you out of the village," they warned her. But Shway was not shaken, so a group of drunken men set fire to her house.
The flames licked the walls and thirstily consumed the roof. Days later, Shway stood in the middle of her roofless home surrounded by charred bamboo walls.
"I never thought this would happen to me," she said.
Familiar Territory
Shway's situation wasn't new for her Gospel for Asia (GFA)-supported pastor, Kyaw. Since moving to the village four years earlier, Kyaw's house had been set on fire three times and vandalized with rocks on multiple occasions.
Despite overwhelming opposition, the Lord is using him and his wife, Cho, to bring many into His Kingdom. There are 82 believers who regularly attend their Sunday services, and Shway is one of them.
A Divine Appointment with a Gospel for Asia-supported Pastor
Shway first met Pastor Kyaw in the midst of a moment of despair. She had been collecting firewood in the forest when the weight of her loneliness became too much to bear. She sat under a tree and cried. She thought about her husband, whose intoxicated body was found drifting in a river, and her two children, who died in a bus accident.
She was alone, left to care for herself, until Pastor Kyaw and his wife found her. They listened to the older woman pour out her sorrow and then offered her the reassuring love of the Savior.
"This is my first time hearing this kind of encouragement and sweet words," Shway had told the pastor.
Pastor Kyaw began visiting her and comforted her with God's Word, which helped Shway see she was not alone. She started attending prayer meetings and church services, and the Lord touched her heart. She began to trade her sorrow, anxiety and loneliness for joy as she put her trust in Him.
"Jesus always loves me in the time of my sorrow and difficulties … By praising God, I have joy even though I do not have anything," Shway said.
Shway's church family has been a great encouragement to her. They even replaced her roof after the fire and continue to visit her to pray and share Scripture with her.
The opposition has diminished, but even if it hadn't, Shway now knows the joy of the Lord, and nothing can take it away from her.
View the article as part of GFA World Magazine
---
*Names of people and places may have been changed for privacy and security reasons. Images are GFA stock photos used for representation purposes and are not the actual person/location, unless otherwise noted.
---