WILLS POINT, TX – Gospel for Asia (GFA World and affiliates like Gospel for Asia Canada) founded by Dr. K.P. Yohannan – Discussing the difficulties of people afflicted with leprosy, the rejection and isolation, and the GFA leprosy ministry and the GFA Compassion Services that helps leprosy patients understand how much God loves them and values their lives.
Serving others in Jesus' Name takes on many different forms. For many of our workers, their ministry is focused on bringing God's love to people afflicted with leprosy.
One national missionary, Sakshi, experienced firsthand the difficulties of leprosy. She contracted the disease as a teenager, and although she eventually was cured of leprosy, Sakshi didn't forget the rejection she experienced from her community.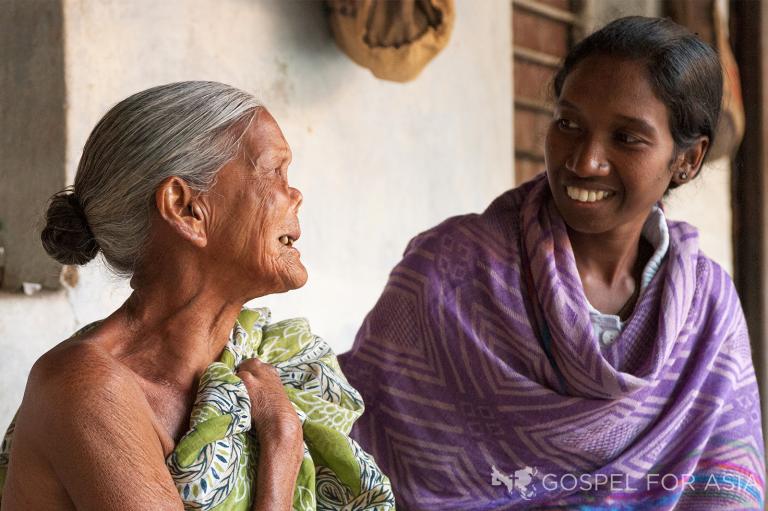 Later serving as among leprosy patients, Sakshi noticed, "Nobody is there to comfort the leprosy patients and to give any kind of encouragement. Nobody wants to love them, hug them, or to come near to them to dress them."
"I will become their daughter," Sakshi decided. "I will become their grandchildren, and I will help them and encourage them, and I will love them."[1]
Leprosy imposes an extremely heavy burden on its victims. News sources share story after story of the struggles people face after contracting leprosy.
Here are just a few stories of what some have had to go through as a result of their disease:
"Basha is 65 years old and told me he was thrown out of his family home when at 20 he started to develop small patches of numbness on his skin. This can be a symptom of leprosy and is what brought Basha to the colony, where he's lived ever since, and although he told me he has several brothers and sisters, he said he's never seen them again."[2]
"Anjana is 45 years old, but easily looks a decade older with deformed hands, feet, and eyes, due to late diagnosis and treatment. She was abandoned by her own family, and now counts the community as her family. 'I need bandages for my hands and eyes, but the government clinic keeps running out of them, so I have to buy them. Where will I get money to buy them?' she asks."[3] Adding insult to injury (which, in itself, is the story of what it is like to live with leprosy), Anjana has difficulty withdrawing her monthly pension ($4.21US) because her government requires a fingerprint verification—and her fingers are too marred to provide a fingerprint.
Ashok contracted leprosy when he was 10 years old. Cured of the disease but permanently deformed by it, Ashok, now 52, was forced into more than 40 years of begging to sustain himself.[4]
"Nagama is in her 20s. She does not have leprosy, but her mother and grandmother do. Because they are blind and incapacitated, Nagama could not care for them in her own home without raising the rejection of family and friends. So, she moved to the leper colony to look after them."[5]
Nagama's story is significant because she has demonstrated compassion toward her mother and grandmother—something too few leprosy patients receive.
Leprosy can be a devastating disease. Left untreated, it often renders patients physically disfigured and dependent upon help from others. The life-altering effects of leprosy cause others to fear catching the disease, even though it is not easily transmitted. That leads to the worst part of leprosy: the rejection leprosy patients typically receive from other people.
Because of the breadth and intensity of the ostracism they face, people with leprosy are often forced into isolated communities of leprosy patients, or they move to one voluntarily. The settlements are typically the only places where people with leprosy can obtain a feeling of peer acceptance.
Dr. K.P. Yohannan, the founder of Gospel for Asia, began our leprosy ministry over a decade ago. What he started as Reaching Friends Ministry is now a significant part of GFA's Compassion Services initiative.
God does not reject people afflicted by leprosy. Instead, He loves them and offers them adoption as His sons and daughters. National workers demonstrate His love to leprosy patients and help them learn about the eternal life found in Christ.
Our workers, such as Sisters of Compassion, care for leprosy patients in many ways, such as by distributing food, providing medical aid, teaching health and hygiene programs, facilitating adult education, and tutoring children who live in the colonies. Each worker also provides encouragement, comfort and prayer, helping people afflicted with leprosy understand how much God loves them and values their lives.
When leprosy patients learn Jesus cares about them personally, many want to put their trust in Him and be defined by what Jesus says they are: treasured.
Ask the Lord to burden your heart for people living with leprosy. Pray for GFA's Compassion Services and for the workers who minister within leprosy colonies, and ask God to bring relief and eternal hope to people affected by leprosy.
---
Learn more about the leprosy ministry, or the Reaching Friends Ministry, helping remind people affected by leprosy that, despite the stigma of leprosy, they have dignity and are valued by God.
---
[1] "I Will Be Their Daughter". Gospel for Asia. https://www.gfa.org/news/articles/i-will-be-their-daughter January 2017.
[2] Gap Year, India's Forgotten People: Visiting a Modern Day Leprosy Colony
[3] The Hindu, A dying disease, but leprosy colonies still face stigma, shortage of funds
[4] https://www.livemint.com/news/india/life-after-leprosy-india-s-untamed-disease-1553164760394.html
[5] Gap Year, India's Forgotten People: Visiting a Modern Day Leprosy Colony
---
Sources:
Image Source: Gospel for Asia, Photo of the Day
Learn more about how to bring practical help in Jesus' name to the suffering and needy, relieving the burdened, rescuing the endangered and revealing God's compassion to the people of Asia through Gospel for Asia Compassion Services.
Learn more about the GFA-supported national workers who carry a burning desire for people to know the love of God. Through their prayers, dedication and sacrificial love, thousands of men and women have found new life in Christ.
Read the GFA special report update on the leprosy problem where global leprosy-elimination leaders are making exciting advances both medically and socially that are worth noting: Progress in the Fight Against Leprosy: Leprosy Prevention is Key to Elimination
Click here, to read more blogs on Patheos from Gospel for Asia.
Learn more about Gospel for Asia: Facebook | YouTube | Instagram | LinkedIn | SourceWatch | Integrity | Lawsuit Update | 5 Distinctives | 6 Remarkable Facts | 10 Milestones | Media Room | World Water Crisis | Endorsements | 40th Anniversary | Lawsuit Response |
Notable News about Gospel for Asia: FoxNews, ChristianPost, NYPost, MissionsBox