WILLS POINT, TX – Gospel for Asia (GFA World and affiliates like Gospel for Asia Canada) founded by Dr. K.P. Yohannan – Discussing a despised widow Bidya and her daughter, the disaster that rendered them utterly helpless, and the Gospel for Asia Compassion Services teams that displayed Christ's love in action.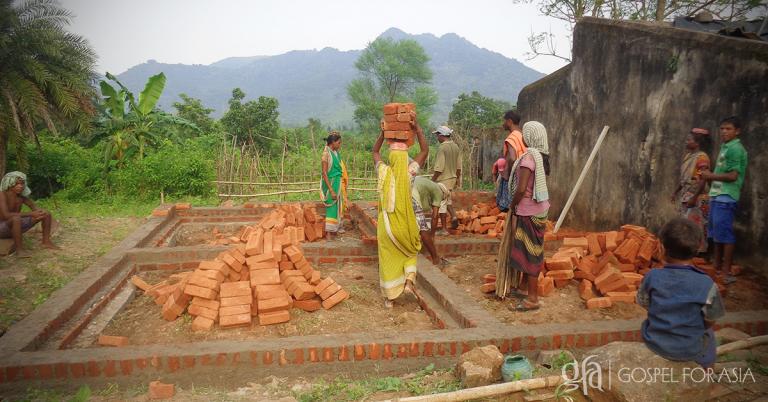 Wind and rain swooshed across the Asian landscape, as a fierce cyclone raged through the village. A small bamboo hut collapsed. Now the poor and despised elderly widow, Bidya, and her unmarried daughter had less than they ever had before. Just as their dignity left them years before, now their shelter disappeared, too.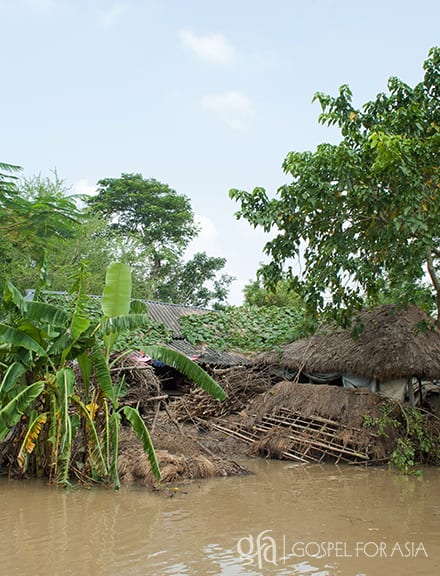 Living Through the Worst Storm
In 2013, Cyclone Phailin devastated the southeast region of India. Around 38 people lost their lives and it left another million people wondering about their future. Cyclone Phailin was the worst storm the people of this region had seen in 14 years, but its destruction left a pathway of God's mercy behind as Gospel for Asia (GFA)-supported Compassion Services teams ministered to the suffering.
Workers provided cyclone survivors with food rations, clothing and cleaning supplies. They stayed behind for many months to help rebuild thousands of homes that were lost or greatly damaged. Together, they strived to bring relief to the victims of the disaster—people like the widow Bidya.
Rejected Widow Receives Aid
The villagers despised Bidya after her husband died. Impoverished and alone, she had to earn her living by working as a daily wage laborer. Because of her situation in life, no one would marry her daughter. They both toiled hard every day, finding whatever jobs they could to simply keep themselves alive. When Cyclone Phailin roared through their village, their bamboo house couldn't withstand the high-speed winds. After it was destroyed, Bidya and her daughter were helpless. They had no means to build a new house for themselves.
Surprisingly, when a Gospel for Asia (GFA)-supported Compassion Services team surveyed their area, the entire community, even the leaders, requested that Bidya have her home rebuilt. The team went to work and built Bidya a more substantial home than she had in the beginning—a cement one.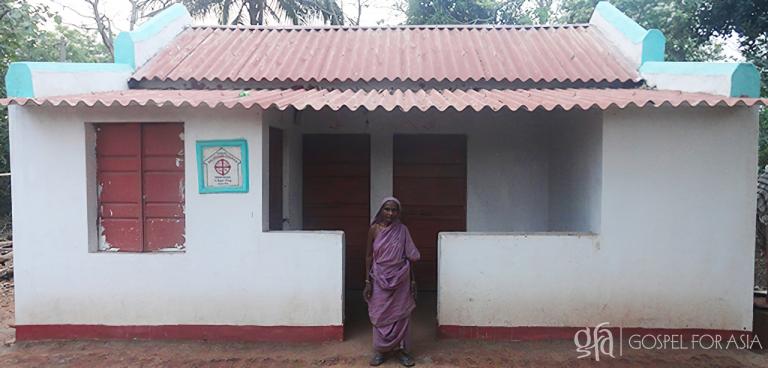 Villagers are Blessed by Gospel for Asia Compassion Services
When the villagers saw what the believers had done to help the poor widow, their minds began to change. Before, they strongly opposed Christians and were very unhappy when a church was built in their area. But now, they thought maybe Christians weren't so bad after all. Maybe the God they worshiped really cared for the world, and maybe the church building in their village wasn't the curse they once thought it to be.
Maybe Christians weren't so bad after all. Maybe the God they worshiped really cared for the world.
Bidya and her daughter were so blessed by the new house. After her home was constructed, the villagers grew to respect Bidya, and her daughter has even received a marriage proposal. Bidya and her daughter also have grown curious about Jesus, and have attended special services at a local Gospel for Asia (GFA)-supported pastor's church. They are learning more about the compassionate God who provided them with shelter and a sense of worth.

Christ's Compassion Put in Action
God is using Compassion Services to extend hope to those who have endured much destruction and heartache. Just like Bidya was helped and the villagers were impacted through the love of Christ, many others in desperate need have observed the gentle and practical love our brothers and sisters pour out in Christ's name to help alleviate their suffering.
Recently, Gospel for Asia (GFA)-supported Compassion Services teams provided food, pots and pans, cleaning supplies, tooth brushes and soap to flood survivors in Sri Lanka. You can be part of helping in times of crisis like this. By giving of your resources and by praying, you can be the hands and feet of Christ in troubled times.
---
Learn more about how to bring practical help in Jesus' name to the suffering and needy, relieving the burdened, rescuing the endangered and revealing God's compassion to the people of Asia through Gospel for Asia Compassion Services.
*Names of people and places may have been changed for privacy and security reasons. Images are Gospel for Asia stock photos used for representation purposes and are not the actual person/location, unless otherwise noted.
---