WILLS POINT, TX – Gospel for Asia (GFA World and affiliates like Gospel for Asia Canada) founded by Dr. K.P. Yohannan – Discussing how receiving a blanket once seemed impossible for women like Nidhyana, or this woman pictured who suffers from leprosy, until the local Gospel for Asia supported church visited.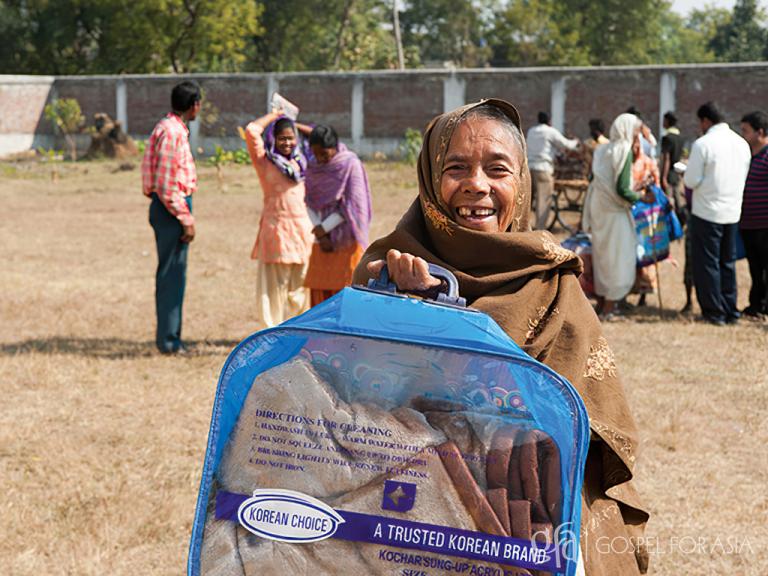 N
idhyana couldn't stop shivering. With no blanket to retain her body heat, the 65-year-old woman found it difficult to stay warm when the winter weather blew in. She thought of her two sons, for whom she had cared all these years. Surely, they would remember their mother now.
But as the sharp wind cut into her skin, Nidhyana knew better. The children she loved had forsaken her. She was alone.
Abandoned by her sons, Nidhyana lived her days in sadness until some Gospel for Asia pastors visited her village. The believers distributed blankets to the poor and elderly, sharing with them the love of Christ. Nidhyana eagerly responded when she realized how much Jesus loved her. She thanked the pastors for their kindness among the downtrodden.
"My two sons did not give me a blanket in my old age," she says, "but [the church] provides me with a blanket."
Nidhyana knows she is loved because the Lord used someone like you to provide for her basic needs. Thank you for being a blessing to the people of Asia!
---
Learn more how to help GFA workers give a warm blanket in Jesus' name to someone whose life is in jeopardy communicates a message of love, honor and hope.
*Names of people and places may have been changed for privacy and security reasons. Images are Gospel for Asia stock photos used for representation purposes and are not the actual person/location, unless otherwise noted.
---