WILLS POINT, TX – Gospel for Asia (GFA World and affiliates like Gospel for Asia Canada) founded by Dr. K.P. Yohannan – Discussing the Gospel for Asia workers who care for the least of these amidst the threat of starvation and the COVID 19 pandemic.
Jarbai spent a typical day catching fish and crabs from the local river to sell at market. Her son worked as a daily laborer, supplementing the money from Jarbai's daily catches. While meager, the earnings they pulled in were just enough to survive—at least until the COVID-19 pandemic.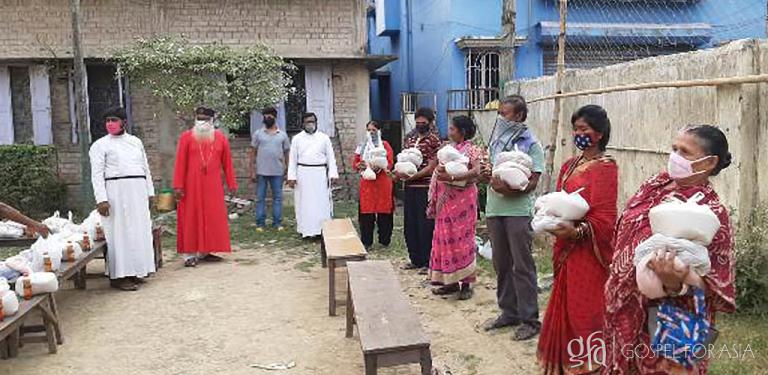 Hunger, Starvation Amidst COVID 19 Crisis
To prevent the spread of the coronavirus, many countries imposed a nationwide lockdown. Families already trapped in poverty, including Jarbai's, could not work, and no work meant no food. Millions went to bed hungry, night after night.
The threat of starvation, mingled with the threat of COVID-19, left cities, villages and communities in fear. However, Gospel for Asia (GFA) workers across Asia did what they could to help combat this double threat of hunger and sickness.
After obtaining the necessary permission from local authorities, Gospel for Asia (GFA) workers in Jarbai's area sought families particularly at risk of hunger and brought them packets of food. Over the course of several weeks, these faithful workers divided, packaged and distributed thousands of pounds of dry goods, such as rice, potatoes, onions, dal, oil and soap, to families in need.
"My son works as a daily laborer and I catch fish and crabs from the river to sell, but due to the lockdown we cannot do this.," explained Jarbai. "The food items are a great help for me and my family. I am happy and thankful to [the church] from the bottom of my heart."
The Grateful and Thankful
Other recipients joined their voices with Jarbai's, adding their thanks.
"I am happy and thankful that [the church] stood beside me and provided food items for me and my family so we can be sustained during this lockdown," says 52-year-old Meherbai.
One man, Gajinder, turned down the food package, despite coming from a poor background. He told the workers to give it to a family worse off than him.
"I am happy that my [church] will stand and always be there to help the helpless," he said.
Read more stories of families blessed during the COVID-19 lockdown.
---
Learn more about how to help those in need amidst the COVID-19 pandemic, giving food and aid to Coronavirus victims.
Learn more about the need for Disaster Relief Work and how you can help our Compassion Services teams provide things like food, blankets, medicine and other emergency supplies to disaster-affected people and villages across Asia.
*Names of people and places may have been changed for privacy and security reasons. Images are Gospel for Asia stock photos used for representation purposes and are not the actual person/location, unless otherwise noted.
---