WILLS POINT, TX – Gospel for Asia (GFA World and affiliates like Gospel for Asia Canada) founded by Dr. K.P. Yohannan – Discussing Laija and her search for peace, and the Gospel for Asia women missionaries who shared friendship and the grace and love of Jesus.
Laija awoke with a start, confused by the strange events in her dream. Why had she been refused passage through the door that led other people to a better place? Her mind kept going back to what the man at the door had told her: "This is not for everyone, but only for a selected few."
Woman Lives Without Peace
Laija faithfully worshiped her family's gods and delighted to participate in the religious ceremonies, yet her life was devoid of peace. She and her husband raised seven children and watched several of them marry, but love did not reign in their home. Financial struggles created a tense atmosphere, and her family quarreled continually.
Laija had heard about Jesus' life and had visited worship services led by Gospel for Asia (GFA) missionaries, but like most people in her community, Laija had little room in her heart for anything other than her own beliefs.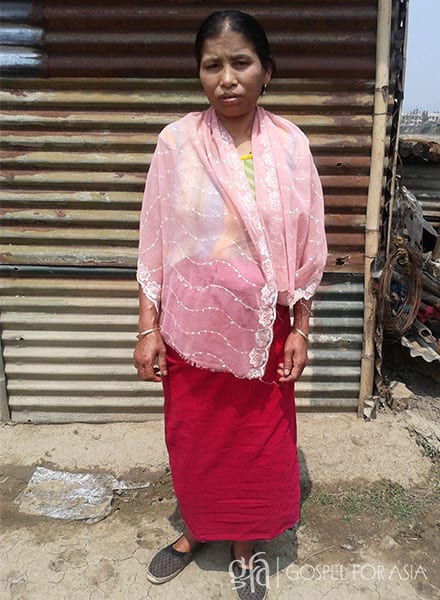 Wife Befriends Beacons of Hope
Then one day, Laija met Vivaan and Abeyma, the Gospel for Asia (GFA) women missionaries ministering in her area. Laija heard again about the love of Jesus and the transformation He freely offers, but the seeds of faith still fell on the roadway of her heart and found no good soil in which to grow.
Laija's friendship with the two missionaries did grow, however, and she soon confided in her new friends, explaining her family's problems and the thoughts of her heart.
"I do not know who to believe," she shared. "There is no peace in my life, and I am fed up with everything."
Vivaan and Abeyma prayed for Laija and visited her often to share words of encouragement. Laija recognized the grace of Jesus being lived out in her two friends, and an earnest hunger to experience that same grace developed in her heart. The two women's testimonies of God's hand in their lives inspired Laija, but although she understood the goodness of the Lord, her dedication to the gods she had worshiped for all of her 47 years made Laija hesitant to embrace Jesus.
Dream Bewilders, Explanation Illuminates
Then Laija had a dream. In her dream, she saw a long line of people waiting to pass through a door. When she asked what was happening and why so many people were standing in a line, someone in her dream replied, "Everyone is getting ready to go to a cool and better place because it is becoming hotter here."
"Oh, that is good," Laija responded. "I also want to go there."
But when Laija reached the door, a man stopped her and said, "This is not for everyone, but only for a selected few."
She woke up, bewildered by her dream and the rejection she experienced in it.
The next day, Laija visited her missionary friends and told them about her strange dream. While Abeyma listened to Laija, she remembered Jesus teaching in Matthew 7 that only those who do the will of His Father will enter the kingdom of heaven.
Abeyma and Vivaan prayed for their friend and spoke into Laija's life again by sharing passages from the Word of God. Gradually, Laija understood the meaning of her dream, and the many seeds that God had been sowing in her heart finally found good soil. She longed to know Jesus personally, so that day, she decided to follow Him.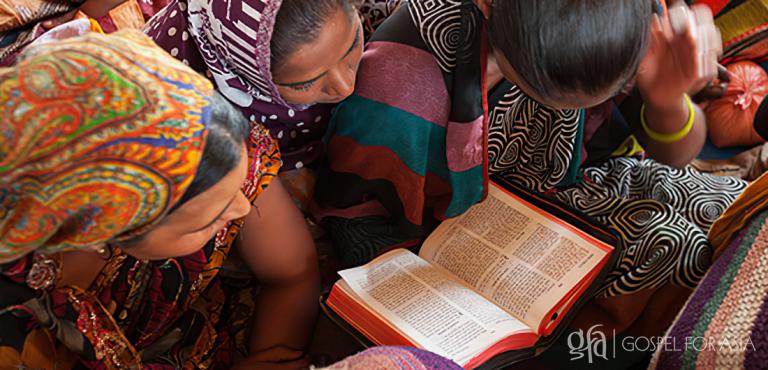 An overwhelming peace and joy immediately followed Laija's decision to embrace Jesus as her Savior. But her husband quickly tried to squelch her new hope.
Faith Holds Fast Under Opposition
"At this age, how can you be so serious about [following a different god]?" he demanded. "I do not believe a single word about whatever you are telling me. The sooner you take back your words, the better. I do not want to hear nonsense."
When Laija stood firm in her faith in Christ, her husband's aggression reached beyond verbal abuse. He began hitting her frequently, and when he observed her praying before eating her meal, he would take away her food and taunt her, telling Laija to ask her Jesus to give her food. Even Laija's children began mocking and disrespecting her.
Although her husband and children turned against her, Laija steadfastly clung to her hope in Christ. She knew Vivaan and Abeyma cared deeply for her, and she went to them often for comfort, prayer and encouragement.
"God gives me the strength," Laija said, grateful for the prayer support of her friends.
Today, even in her difficult situation, Laija holds fast to her Prince of Peace, and she prays her family may one day also experience the joy she found in Christ.

Share Seeds of Faith
Laija grew in her knowledge of Christ while her missionary friends shared from the Bible. The Word of God is living and active, and still transforming lives.
---
Learn more about the Sisters of Compassion, specialized Gospel for Asia women missionaries, who have hearts that ache for hurting women and those deemed as poor and needy.
*Names of people and places may have been changed for privacy and security reasons. Images are Gospel for Asia stock photos used for representation purposes and are not the actual person/location, unless otherwise noted.
---