WILLS POINT, TX – Gospel for Asia (GFA World and affiliates like Gospel for Asia Canada) founded by Dr. K.P. Yohannan – Discussing Rajalmati, the difficulties that poverty bring, and Gospel for Asia Bridge of Hope that brought an unexpected blessing amid an accident that put her life and education in jeopardy.
Cars, rickshaws, and bicycles whizzed by Rajalmati as she made her way home from school. The 16-year-old girl didn't mind walking through the maze of traffic to and from school every day, even when she saw her friends riding on bicycles or in cars.
Rajalmati's parents tried their best to provide for her education, but they couldn't afford to give her a bike. Rajalmati was grateful to be able to walk. Then, one afternoon, even that was temporarily taken away from her. In a moment's flash, a car flew by, and white-hot pain seared through Rajalmati's legs.
Not Letting Her Troubles Overwhelm Her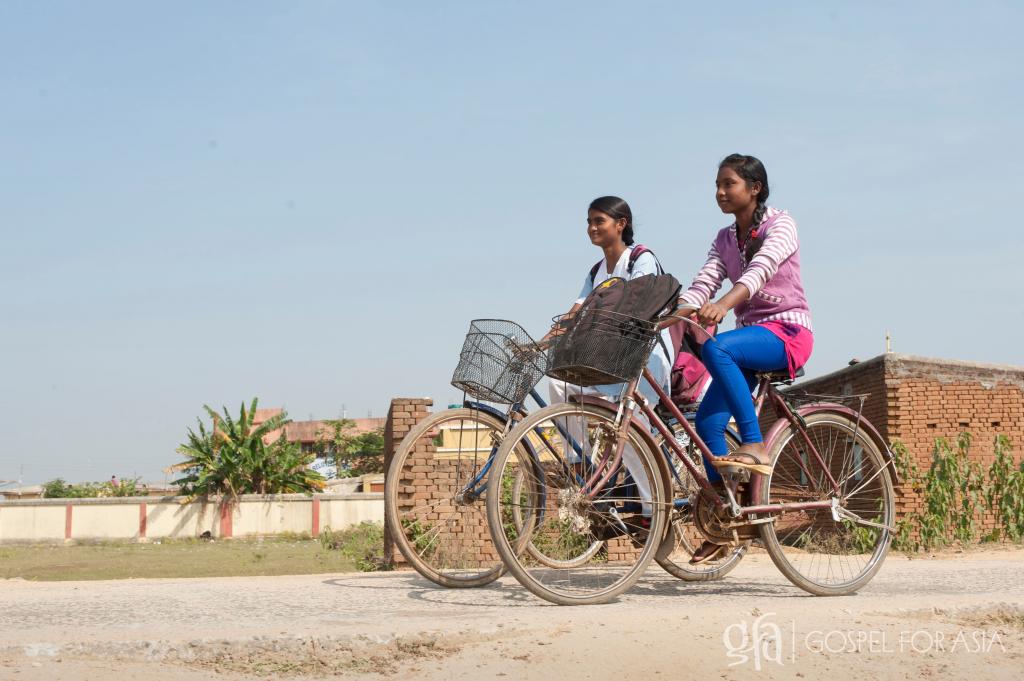 Rajalmati had been hit by a car. With her legs injured, she couldn't walk, and there was no way her parents could afford the medical procedure to quickly mend the damage to her legs. For a time, the young teenager feared for her future—would her legs heal? Would she be able to continue going to school? But Rajalmati didn't give into discouragement; instead she decided she would face her current challenges.
Two years earlier, a friend had given Rajalmati a notebook she had gotten at a Gospel for Asia (GFA) Bridge of Hope center. An advertisement on the back explained how Bridge of Hope and other ministries served people in need. She found the phone number for GFA's Bridge of Hope Program and picked up the phone. Taking a deep breath, Rajalmati hoped whoever answered could offer help.
Given a Bicycle, Given a Chance – Blessing from GFA Bridge of Hope
A few weeks later, with Rajalmati's legs slowly healing, she sat at a Gospel for Asia (GFA) gift distribution with 35 other girls her age, waiting to hear their names called. One by one, each young woman walked up to receive a bicycle. Rajalmati's phone call had helped make this event possible. After she told Gospel for Asia workers about her situation, they began an inquiry into the transportation needs of young women attending school or college in Rajalmati's area.
"I never imagined that Gospel for Asia (GFA) workers would provide a bicycle for me," Rajalmati said. "I am happier to know that because of my one call other needy sisters also got bicycles."
Rajalmati's parents were also very thankful for the bicycle.
"We did not have enough money to buy a cycle for her," Rajalmati's mother told Gospel for Asia (GFA) workers. "But thank you … for your concern for the needy in the society."
When Rajalmati's legs healed, she was able to travel much more easily with her new bicycle to school. Now, Rajalmati wasn't just grateful to walk, she was grateful she can ride.
---
Read how a bicycle helped another young woman gain an education.
*Names of people and places may have been changed for privacy and security reasons. Images are Gospel for Asia stock photos used for representation purposes and are not the actual person/location, unless otherwise noted.
---
Source: Gospel for Asia Filed Reports, Girl's Accident Brings Unexpected Blessing
Learn more about how generosity can change lives. Through Gospel for Asia (GFA World and it's affiliates like Gospel for Asia Canada) and its Christmas Gift Catalog, gifts like pigs, bicycles and sewing machines break the cycle of poverty and show Christ's love to impoverished families in Asia. One gift can have a far-reaching impact, touching families and rippling out to transform entire communities.
Learn more about the GFA national workers who carry a burning desire for people to know the love of God. Through their prayers, dedication and sacrificial love, thousands of men and women have found new life in Christ.
Learn more by reading these Special Reports from Gospel for Asia:
Click here, to read more blogs on Patheos from Gospel for Asia.
Learn more about Gospel for Asia: Facebook | YouTube | Instagram | LinkedIn | SourceWatch | Integrity | Lawsuit Update | 5 Distinctives | 6 Remarkable Facts | 10 Milestones | Media Room | Fighting Global Poverty | Endorsements | 40th Anniversary | Lawsuit Response |
Notable News about Gospel for Asia: FoxNews, ChristianPost, NYPost, MissionsBox