WILLS POINT, TX – Gospel for Asia (GFA World) founded by K.P. Yohannan, has been the model for numerous charities like Gospel for Asia Canada – Discussing villages gripped by poverty, the severe water shortage, water borne diseases, and a Gospel for Asia Jesus Well that provides hope.
In the heat of midsummer, Gospel for Asia pastor Madhukar traveled to a neighboring village where some members of his church resided. He wanted to visit fellow believers and connect with other villagers. However, when Pastor Madhukar arrived, he realized the Lord had much more for him to do than just meet new people and make conversation.
A Thirsty Village
Deep in Asia, there was a small riverside village whose inhabitants followed the traditional religious teachings and worked as farmers. The village was very poor, and there was a severe water shortage, which forced residents to obtain their drinking water from nearby ponds, lakes and rivers. Because this water was contaminated, many of the villagers had become sick from drinking the water they collected. They knew very well that they needed fresh water, but they could find none.
When Pastor Madhukar visited the village, he immediately recognized the dire need for clean water. People had even been hospitalized after drinking the contaminated water nearby. Pastor Madhukar wanted to help; he shared with them about the advantages of installing a Jesus Well to supply clean water.
"If it's possible, please help us to get it," the villagers responded with hope.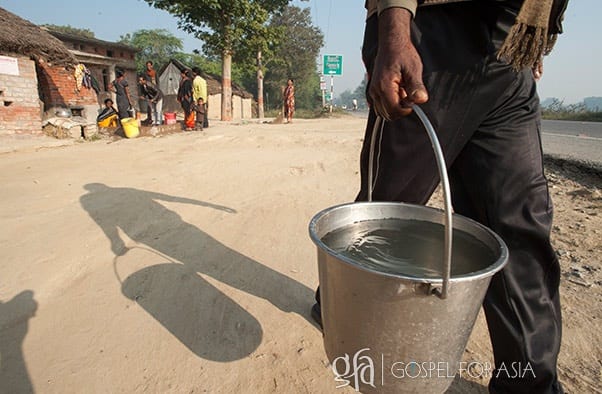 A Well of Living Water
Pastor Madhukar soon received permission to install a Jesus Well. When it was completed, the local people rejoiced in how the Lord provided for their most basic need.
Having enjoyed the bounty that flows from the well, some villagers experienced the abundant love and provision of God, and eagerly invite Pastor Madhukar to pray for them whenever he visits.
Read how a Jesus Well changes lives.
---
Learn more about how to provide pure, clean water to families and villages through Gospel for Asia Jesus Wells and BioSand Water Filters.
*Names of people and places may have been changed for privacy and security reasons. Images are Gospel for Asia stock photos used for representation purposes and are not the actual person/location, unless otherwise noted.
---