WILLS POINT, TX – Gospel for Asia (GFA World) founded by KP Yohannan, has been the model for numerous charities like Gospel for Asia Canada – Discussing Dayita, her family's struggle with poverty, & the Gospel for Asia gift distribution bringing the miracle of a brand-new sewing machine.
V
inaya sat with other believers during a prayer meeting, mulling over her family's problems. She knew Jesus cared about their needs—and that His power could change their situation. Finally, she opened her mouth and told her prayer group about her family's private financial issues.
Her husband, Rachit, lovingly provided for his family of seven the best he could, but daily labor jobs didn't put enough money in his pockets to ensure his family always had something to eat and his children received a good education. Their ambitious 17-year-old daughter, Dayita, thought of a way she could help provide financial relief, but she needed a certain tool to achieve her income-generating goals. With the family's lack of money, however, it seemed Dayita needed a miracle.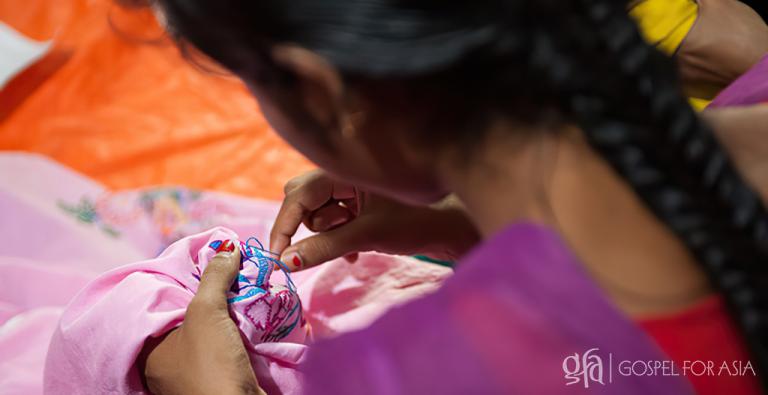 Teenage Girl Equips Herself for the Future
Dayita added beauty and hope to her family. The talkative, hardworking young woman made friends with other girls and earned respect in her community. Although her family struggled against poverty, Dayita's motivation enabled her to overcome hindrances and pursue learning. As a result, she discovered many talents. She learned to play the dholak, a two-headed hand-drum. She faithfully applied herself to her schoolwork and managed to enter 11th grade—something many low-income children in her nation struggle to achieve.
Alongside her academic studies, Dayita enrolled in tailoring classes. Over time, she developed talent in that skill, and a plan formed in her mind: If she could purchase a sewing machine, she could open a tailoring business to help support her family.
But the startup cost of such an endeavor brought her plans to a grinding halt. Before Dayita could earn a living, she needed money to buy a sewing machine, and she had none.
"Even though I knew how to stitch the clothes," Dayita recalls, "I did not have a machine because there was not enough money with us."
She occasionally borrowed a sewing machine from her friends, but that wasn't enough to make a living through tailoring. And Dayita could not be open with her friends about her family's financial concerns and her desperate need of a sewing machine.
The door seemed shut, but Dayita's dream lingered, especially as neighbors admired her handiwork and encouraged her to open a shop.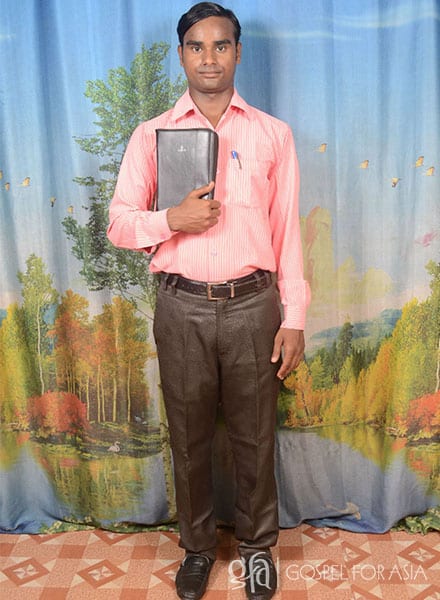 Effective Prayers of the Righteous
Dayita's parents, Rachit and Vinaya, actively participated in times of fellowship, prayer and worship led by 25-year-old Gospel for Asia pastor Vikranta. They had come to faith in Christ some time earlier, which meant they knew they could call to Jesus in the midst of their trials.
And that's what Vinaya did. During a small prayer meeting, she finally asked the group for prayer and shared about their financial struggles, Dayita's skill in sewing and the elusive sewing machine.
Pastor Vikranta understood well the power of prayer. During his wayward youth, Pastor Vikranta experienced healing from a deadly illness and deliverance from his addictions as a result of his parent's prayers. After listening to Vinaya's prayer request, Pastor Vikranta prayed with Vinaya, asking the same God who had saved him to make a way for Dayita to get a sewing machine.
Vinaya's faith joined with the faith of other believers, and soon, the answer to their prayer was set in motion—through Pastor Vikranta himself.
As a Gospel for Asia pastor, Vikranta has amazing opportunities to help people in his area. When he and other pastors like him see needs in the communities around them, they can inform their leaders about those needs. The pastors' efforts—and the generous support of Gospel for Asia friends around the globe—mean many of those needs are met. Sometimes a Jesus Well is drilled in a village lacking clean water or a tutoring center is opened for low-income children, or a Gospel for Asia gift distribution is organized to give families items that can help sustain their lives.
When Pastor Vikranta understood Dayita's family crucial need, his connection to the larger Body of Christ became the channel through which God provided Dayita's miracle.
"The effective, fervent prayer of a righteous man avails much."
—James 5:16
Sewing Machine Proves Invaluable
When a Gospel for Asia gift distribution event took place in Pastor Vikranta's area, Dayita took home a brand-new sewing machine. Finally equipped with her own sewing machine, Dayita informed her friends, neighbors and community that she was accepting clients. She set to work, and before long her sewing machine sat nestled among stacks of colorful garments.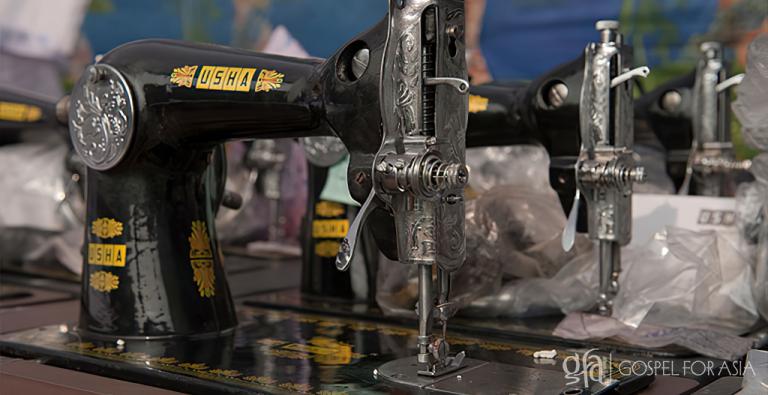 Dayita's income grew. The part-time work she did in between her studies brought in about 1,000 rupees, which was equivalent to $16 (USD), per month. An extra 1,000 rupees significantly eased the family's financial strain. Many in the developed world may view that amount as insignificant, but for the 736 million people living on less than $1.90 per day (about $57.80 per month), Dayita's $16 amounted to more than a quarter of a month's wages.
God's provision touched the hearts of the entire family. They started having prayer meetings in their home, which their relatives and neighbors attended as well. Pastor Vikranta visited the family weekly to encourage them in the Lord, and together, they grew stronger in Christ.
Rachit and Vinaya rejoiced over their hardworking daughter's desire and ability to contribute to the family income.
"After getting the sewing machine from the church, Dayita is earning and supporting the family. It is because of God's grace," Rachit testifies, grateful for God's provision.
Dayita witnessed God's personal handiwork in her life, and she dove deeper into fellowship with Him. Her involvement with church activities grew, and she committed to tithe from her precious earnings. Her ambition of opening a full tailoring shop after completing her studies is possible now. Even as she waits for that day, Dayita says, "Today, I am able to stand on my feet and support my family."
Send the Answer to Another Prayer
God answered Vinaya and Dayita's prayer through the generosity of the Body of Christ. Others like her who are wrestling with poverty are asking God to meet their needs—and for many, a sewing machine is the perfect answer.
Tailoring provides a steady income for a family and helps start them on a path to increased quality of life. Sewing from home is especially valuable to women in Asia, who commonly face dangers to their person or their reputation when working away from home.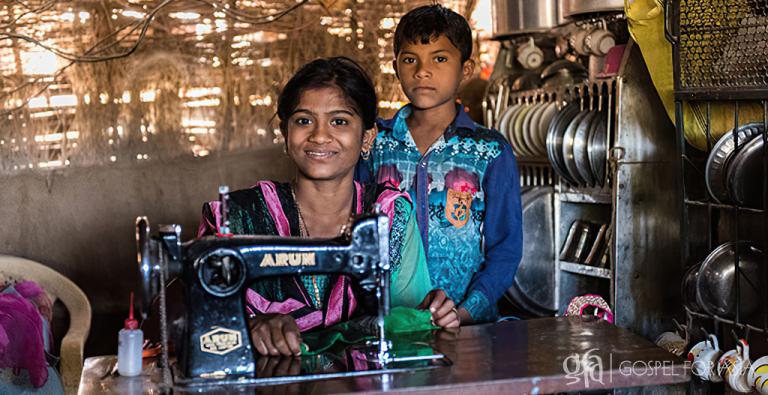 Your gift today to help provide sewing machines for families like Vinaya's will give them a livelihood with dignity and stability, as well as testify of God's loving power. Whose prayer will God answer through you?
---
Learn more about how generosity can change lives. Through Gospel for Asia and its Christmas Gift Catalog, gifts like pigs, bicycles and sewing machines break the cycle of poverty and show Christ's love to impoverished families in Asia. One gift can have a far-reaching impact, touching families and rippling out to transform entire communities.
*Names of people and places may have been changed for privacy and security reasons. Images are Gospel for Asia stock photos used for representation purposes and are not the actual person/location, unless otherwise noted.
---