WILLS POINT, TX – Gospel for Asia (GFA World) founded by K.P. Yohannan, has been the model for numerous charities like Gospel for Asia Canada, to help the poor and deprived worldwide – Discussing Sezia and her family, desperate for helping hands – physically, financially and emotionally – and the life transforming hope and healing used by God through Gospel for Asia Bridge of Hope Center.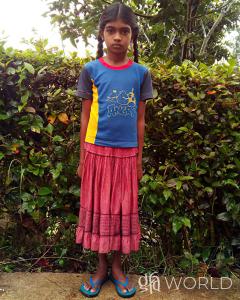 Sezia and her sister returned to their small tea-estate house tired, hungry and soaking wet. After their father had walked out on the family, they were left with only their mother's meager income from working in the tea fields. Unable to afford bus fare, the girls walked two-and-a-half miles to their school, often fighting rain and cold winds.
After drying herself and checking on her sickly younger sister Kachina, who was born with a hole in her heart, 10-year-old Sezia went to the kitchen to reheat the small amount of food their mother left for them on the clay stove and to boil some water for tea, as there was no money to buy powdered milk. Sezia wiped her tired eyes as she sat down to her dinner, knowing the meager fare would not stop the hunger pangs from following her to school the next morning.
Her young heart was heavy with the burdens of her family: from her father's reckless, cruel, adulterous behavior to her sister's worrisome health condition. Sezia and her family were desperate for help and support—physically, financially and emotionally.
Gospel for Asia Helping Hands, a Listening Ear
One Saturday, Gospel for Asia (GFA) worker Adahy visited Sezia, her sisters, and her mother, who was home sick that day. Adahy shared words of hope and encouragement with the family and told them about the love of Jesus. He listened intently to the family's sad story as Sezia's mother, Riko, poured out her heart's pain. Touched by Riko's obvious agony, Adahy prayed for God's blessing and protection for the family, and that God would heal Kachina of her heart problem.
Before leaving, Brother Adahy told Riko about the Bridge of Hope center near their home, which would provide free tuition for school and would help tremendously to ease the financial burdens of the family.
Hopeful New Beginnings
The next day, Sezia eagerly went with her mother to the Bridge of Hope center, where staff welcomed them and enrolled Sezia immediately. Sezia began her studies the next day, with all her materials provided free of charge by the center. Though at first she struggled, Sezia picked up on her lessons quickly and improved in her studies, thanks to the excellent care provided by the Bridge of Hope teachers.
Sezia also joined Brother Adaya in praying for her young sister's complete healing. Two months later, Kachina began eating more and showing signs of improved health; her breathing difficulty had ceased, and she was growing! Sezia was overjoyed to see this improvement in her younger sister and was encouraged to know God had heard her innocent prayers.
Sezia is filled with gratitude for Bridge of Hope, and to God, for providing for her family's needs.
"I was sad before going to the Bridge of Hope center that I could not study well, and that my mother could not afford to pay for our education," Sezia said. "I am now studying in grade 6 and have gotten good results for my grade 5 exam, which is because of God's help and the guidance of the Bridge of Hope center teachers. … I thank Jesus and the Bridge of Hope center teachers for loving me and giving me a good education."
---
Read how Bridge of Hope helped Bhagya in both school and life.
*Names of people and places may have been changed for privacy and security reasons. Images are Gospel for Asia World stock photos used for representation purposes and are not the actual person/location, unless otherwise noted.
---