WILLS POINT, TX – Gospel for Asia (GFA World) founded by K.P. Yohannan, has been the model for numerous charities like Gospel for Asia Canada, to help the poor and deprived worldwide – Discussing the GFA Church and Gospel For Asia Sisters of Compassion that launched slum ministry to bring help and compassion to those in need.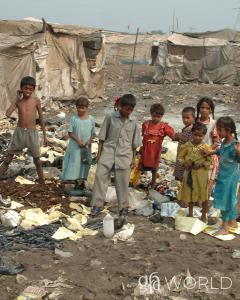 People living in slums often struggle to find food and maintain good health. Most of the men are daily laborers, making just enough money to survive, and many wrestle with alcohol and drug addictions. Children often endure illiteracy and malnourishment.
The millions of people residing in slums are at greater risk for starvation and disease.[1] Many of these individuals do not receive proper care, nutrition or attention. But through ministries like Gospel for Asia (GFA), such people are treated as what they are: beloved children of God.
Nourishment for the Needy
One day, a local Gospel for Asia (GFA) church and Sisters of Compassion organized a special program to distribute food packets and vitamin supplements to 500 slum residents in the area. This event was the start of GFA's slum ministry in this area, enabling both current and future residents to have access to essential health and hygiene supplies and loving, supportive friends. Special guests such as Pabla, a local official, and Dr. Abelard, an orthopedic surgeon and medical school professor, provided advice, prayer and encouragement before the distribution.
Seeing the compassion and care emanating from those leading the event, Pabla said, "The heartbeat of the church is similar to our government for the welfare of the state."
Dr. Abelard provided health and hygiene tips, which brought much joy and excitement to the attendees.
In addition to receiving food packets and vitamin-A supplements, attendees also received the invaluable gifts of compassion and kindness. Quanah, a lame man who attended the event, expressed his heartfelt gratitude for the Sisters of Compassion and the care they showed him and the other people living in the slum.
"This is the first time I have experienced the love of people in my life," Quanah said. "Now I understand that there are people who love the poor and needy."
Many others voiced their thankfulness and asked for prayer.
Through events like these, as well as everyday love and care, the Sisters of Compassion are helping some of the most downtrodden people. And for individuals living in the slums, a caring word and compassionate friend are just as nourishing and needed as food packets and vitamin supplements.
---
Read how the Sisters of Compassion helped Ganitha emerge out of her trials and into triumph.
*Names of people and places may have been changed for privacy and security reasons. Images are Gospel for Asia World stock photos used for representation purposes and are not the actual person/location, unless otherwise noted.
[1] BMC International Health and Human Rights, Slum health: Diseases of neglected populations
---