WILLS POINT, TX – Gospel for Asia (GFA World) founded by K.P. Yohannan, which inspired numerous charities like Gospel for Asia Canada, to assist the poor and deprived worldwide – Discussing Karinya and her family, the devastation brought about by illness, loss and poverty, and the GFA World gift distribution of a mosquito net that brought relief and hope.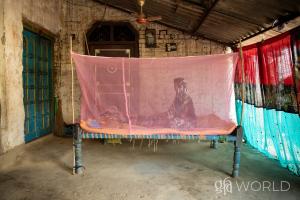 When their eldest son, Slavomir, was diagnosed with epilepsy, life changed drastically for Karinya and Dalibor. The parents devoted their time and finances to keeping their son alive. However, after years of battling the illness—and a period of peace from seizures—epilepsy eventually claimed Slavomir's life.
Karinya and Dalibor were devastated. The grief was all-consuming, and the various medical bills they had accumulated only added to their anxiety and left them financially devastated.
A New Challenge
During Slavomir's illness, Karinya and her family had met Gospel for Asia (GFA) pastor Bedrich, who spent many hours praying and fasting for Slavomir's healing. He rejoiced with the family when healing came; he welcomed Karinya to the local fellowship of believers; and he mourned Slavomir's passing after the young man experienced three years of healing. Pastor Bedrich had watched the family's resources dwindle as they did everything they could to nurse their son back to health.
Now, 14 years after Slavomir's death, the compassionate pastor prayed for the family as they continued to face another challenge: poverty. With their financial resources drained, the family of six could not afford even a single mosquito net, a basic necessity to protect themselves from the region's pests and the illnesses and diseases mosquitos carry.
Pastor Bedrich prayed fervently for a solution for the family's need. The answer came in the form of an idea. He decided to organize a mosquito net distribution for their village.
Through the distribution, 630 people, including Karinya and her family, received the gift of a mosquito net. Though it seemed such a simple gift, it provided great relief from the annoyance of the buzzing creatures and peace of mind with the layer of protection from the disease-carrying insects.
Saved by a Thin Net
For Karinya's family, the gift came at the perfect time. The very next night, Karinya and her son slept under the net's covering. Around 11 p.m., Karinya woke to use the bathroom. Before she got out of bed, however, she spotted a large snake lying next to her bed. Amazingly, nothing lay between Karinya and a deadly snake bite except the thin mosquito net.
Alarmed, she quickly alerted her husband, hoping the mosquito net continued to deter the snake's attack until Dalibor could remove the threatening reptile. The entire family soon awoke in a rush of activity. Karinya and her son waited with bated breath as the rest of the family killed the looming snake.
"If I had not received this mosquito net, me and my son would have lost our lives last night," Karinya stated.
Though their challenges have been many, Karinya is grateful for the assistance of the church in helping provide for her family's needs. She is especially grateful for the blessing of the thin netting that helped save her and her son's lives.
---
Read how the gift of a bicycle opened the door for Pastor Lanzo to befriend a man who lived six miles away.
*Names of people and places may have been changed for privacy and security reasons. Images are Gospel for Asia World stock photos used for representation purposes and are not the actual person/location, unless otherwise noted.
---