WILLS POINT, TX – GFA World (Gospel for Asia) founded by K.P. Yohannan, has been the model for numerous charities like GFA World Canada, to assist the poor and deprived worldwide, issued this first part of a Special Report on the unstoppable compassion force of national missionary workers.
Compassion Sweeps 'Forgotten Islands'
In what are known as the "forgotten islands" of South Asia, remote outposts dotted along the shoreline of the Indian Ocean, villagers still use oxen as a mode of transportation and wash themselves, their dirty clothes and their dishes in the same stagnant ponds they drink from.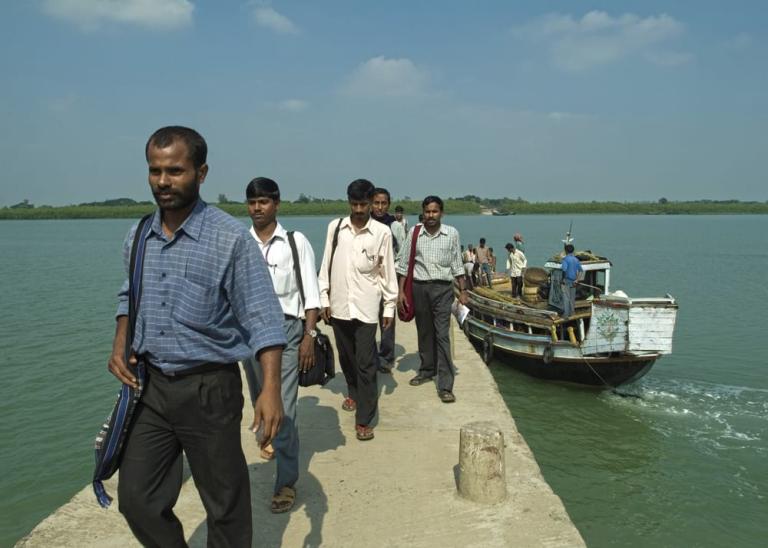 No clean water. No schools. No medical clinics. Life seems hopeless—and improvement seems impossible—for many of the "forgotten" people of these islands. But a team of young GFA World national workers was changing all that. Traveling on rickety boats from island to island, these committed young workers brought hope and good news to islanders on the brink of giving up.
"It is not we who have been doing ministry, but it is God who has been doing ministry through us," said group leader Taj, whose team earned the trust of hundreds of villagers as they prayed for the sick and showed these "hidden" people the love of God.
Their hands-on compassion and care has built strong bonds.
"You are my son," one elderly widow told a member of the team. "You are my mother," the young missionary replied.
When Gospel for Asia (GFA World) launched its child sponsorship program on several of the islands, the impact on children who'd never before had the chance to go to school before was staggering, resulting in a new birth of hope and purpose.
But Taj and his team weren't done yet. "I began to pray that we may have enough resources of water," Taj said.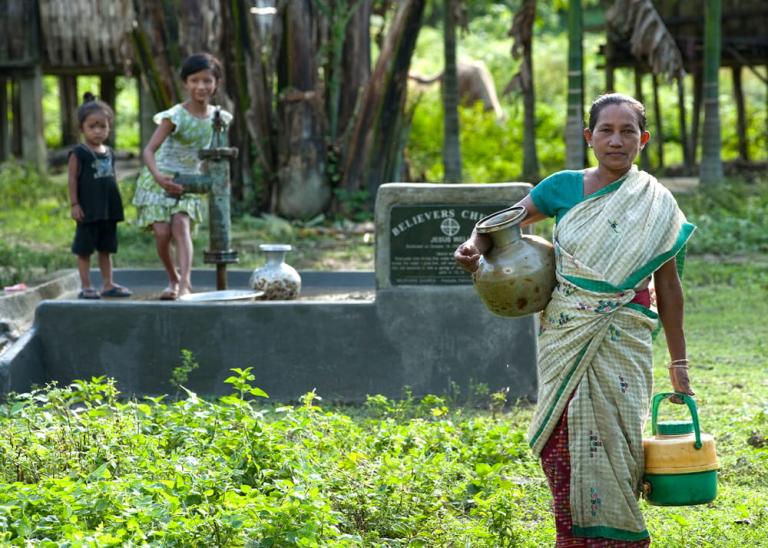 The answer to his prayers came: Teams drilled new Jesus Wells, bringing clean water for the first time to thousands of islanders who had only tasted water from filthy ponds, which were contaminated and often caused children to fall sick and even die.
In just two years, the commitment and perseverance of Taj and his team brought new hope and good news to dozens of islands, showering the love of God on everyone they met—including the boat drivers who ferried them from place to place.
Such perseverance is a hallmark of faith-filled national workers who have a deep interest in the well-being and health of their fellow countrymen, propelling them to great lengths to share the wholeness and inner peace they've discovered themselves.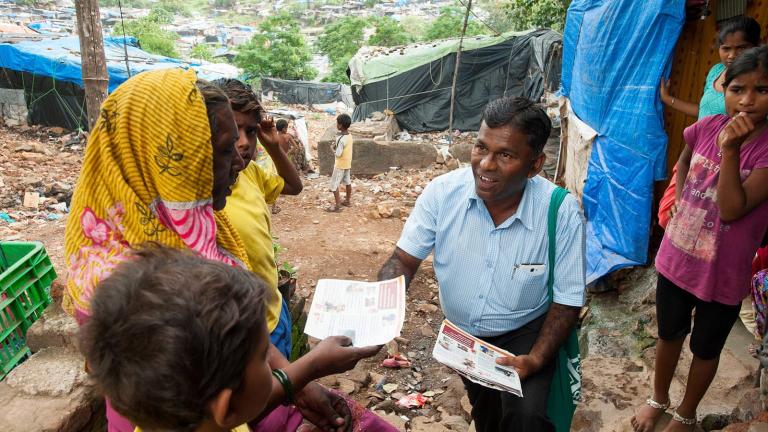 A Native of the Slums Brings Hope
Marty, an indigenous pastor, has dedicated many years to transforming life for the children in the sprawling South Asia slum he was born in. He recalls digging through the garbage as a boy, desperate to find scraps to relieve his hunger. When his alcoholic father died, Marty, who was still only a boy, became his family's provider.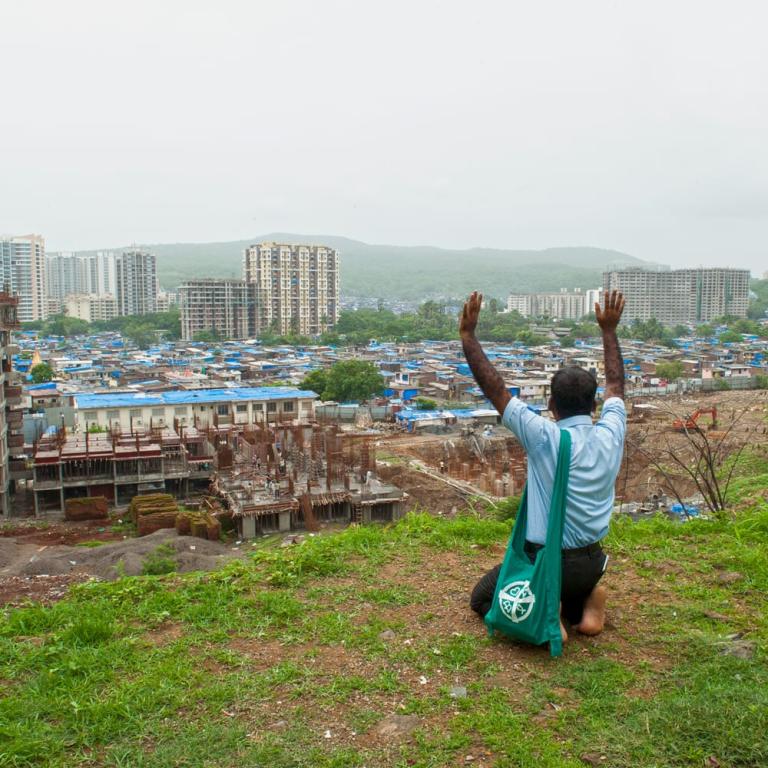 Having experienced the pain, struggles and addictions that plague children every day in the slums, Marty's eyes tear up as he describes his heartache for children wallowing in extreme poverty, sifting through the trash without hope—like he once did. That's why he and his wife, Prina, are so passionate about serving the slum dwellers.
"Most of these children's parents are my friends. We went to school together," Marty said. "But most of them dropped out. … They started indulging [in] wrong things. … Some of them are even dead. So I started thinking about their children. Why [don't] we do something for their children?"
Every morning, Marty goes on a neighborhood "prayer walk." He prays for each individual by name, and the people in the slum—who embrace him as one of their own—recognize there's something different about him, something almost heavenly.
"[He] is a great example for us," says one of his neighbors. "He does what Jesus would have done. Helping the poor and needy and also loving people … He is always willing to help people. … He knows the situation… He understands better than anyone else."
After serving his neighbors in the slum for 15 years, Marty's perseverance has turned gray skies into blue. He's launched two child sponsorship initiatives, turning others' despair into hope and his own tears into joy.
"Ever since my childhood, the pain and difficult situations and poverty—all those things," Marty says, "when I look back, [they] were … to make me strong and to trust and [have] faith in [God]."
"Pastor Marty … grew up in [this slum] and now is back serving with his family." says GFA World's Yohannan. "Serving here is not easy. … Pastor Marty and many other [national workers] are faithfully serving in the slums."
Across Asia, thousands upon thousands of national missionaries toil and labor every day, trekking miles on foot—often barefoot in extreme heat or cold—to bring hope and good news to their own people who struggle to see any purpose in their lives or reason to go on living.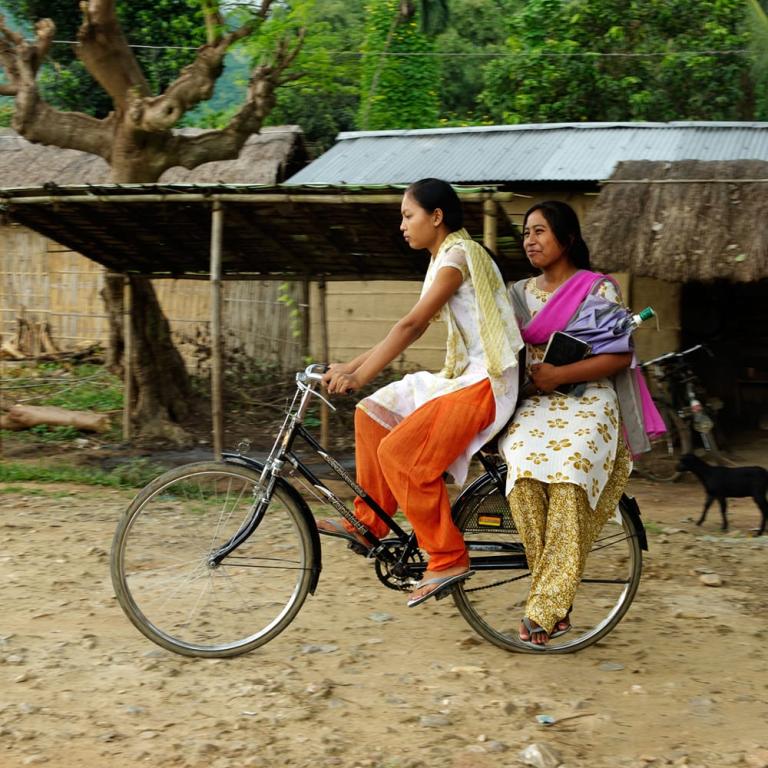 Inspired by Jesus' love for the poor, these workers press on. Even in the face of hunger, disease, dangerous journeys and other hardships, they refuse to give up.
To reach the remotest villages that are too far to reach by walking, national workers turn to pedal power.
In 2020, amidst the pandemic, hundreds of trained workers on bicycles—a compassion crew on wheels—ventured to remote villages across Asia. Working in conjunction with local authorities within pandemic restrictions, with the heart of Christ they provided help for people in desperate need.
Before the pandemic took hold, bicycles were already helping workers to make the most of their time. Rainer saw how he could help even more people, and he prayed for two years for a bicycle so he could encourage and help a cluster of villages nine miles from his home. Months passed with no sign of a bicycle, but Rainer refused to give up hope. Eventually, he got news that he would receive a bicycle, which was provided through generous donations of people in the West. Rainer cried tears of joy. Today, he rides to 10 villages too far away to visit on foot. His bicycle has even become the local "ambulance," transporting sick villagers to the nearest clinic. In short, Rainer and his bicycle have been a blessing beyond all expectations.
National & Non-National: A Beautiful Partnership
Rainer's story is a wonderful example of how missions-minded people all around the world can link their lives with the lives of national workers on the frontlines, bringing hope into places they could never go. By supporting and sponsoring a national missionary—perhaps by purchasing a bicycle for them, providing monthly financial support, or committing to pray for them—a beautiful partnership is formed, blessing everyone involved.
The unstoppable, never-give-up attitude of national workers like Rainer is a soul-searching challenge to all who desire to bring hope and love to their neighbors in their own communities, wherever they live—a challenge presented in Yohannan's new book, aptly titled Never Give Up.
"A day will come when all your family, friends, responsibilities, possessions, degrees, popularity, all of it will be gone," Yohannan writes. "It's just going to be you and Christ and nothing else. Let the decisions you make today be ones that will reflect well in the light of that moment."
"Let me ask you, when was the last time you actively went out of your way to show the love of Christ to someone, and then to talk to them about His love for them?"
"Do you sense a growing ache for those who do not know the love of Christ?"
"Do you feel a deeper burden to care for the suffering and needy… widows and orphans as He did?"
"The choice not to give up is mine. It is also yours."
As we ponder how to personally convey God's love in word and deed to those within our spheres of influence, we can also partner with a national missionary who is dedicated to being an unstoppable force for compassion in areas of the world we could never reach on our own. Our prayers and financial support of their commitment to bring practical help and hope to people desperately in need is one way we can never give up in the effort to share good news to a world in need of Christ's love.
---
Give to Support National Missionaries »
If this special report has touched your heart and you would like to help national workers show Jesus' love by meeting practical needs, then make a generous one time or monthly gift to support a national missionary in Asia or Africa.
---
Read the rest of this Gospel for Asia – Transforming Communities (GFA World) Special Report: National Workers: Unstoppable Compassion Force — Part 1, Part 2
---
About GFA World
GFA World (Gospel for Asia) is a leading faith-based global mission agency, helping national workers bring vital assistance and spiritual hope to millions across the world, especially in Asia and Africa, and sharing the love of God. In GFA World's latest yearly report, this included thousands of community development projects that benefit downtrodden families and their children, free medical camps conducted in more than 1,200 villages and remote communities, over 4,800 clean water wells drilled, over 12,000 water filters installed, income-generating Christmas gifts for more than 260,000 needy families, and teaching providing hope and encouragement available in 110 languages in 14 nations through radio ministry. GFA World has launched programs in Africa, starting with compassion projects in Rwanda. For all the latest news, visit our Press Room at https://press.gfa.org/news.
---
Read more blogs on GFA World, National Missionary Workers, and World Missions on Patheos from Gospel for Asia.
GFA's Statement About Coronavirus
Learn more by reading this Special Report from Gospel for Asia on the Lord's work in 2020 through GFA and the partnerships worldwide while following Him in His work in 16 nations, including Sri Lanka, Bangladesh and Nepal.
---
Learn more about Gospel for Asia: Facebook | YouTube | Instagram | LinkedIn | SourceWatch | Integrity | Lawsuit Update | 5 Distinctives | 6 Remarkable Facts | 10 Milestones | Media Room | Widows & Coronavirus | Endorsements | 40th Anniversary | Lawsuit Response | International Offices | Missionary and Child Sponsorship | Transforming Communities through God's Love
Notable News about Gospel for Asia: FoxNews, ChristianPost, NYPost, MissionsBox
Read what 25 Christian Leaders are affirming about GFA World.
This Special Report originally appeared on gfa.org.