WILLS POINT, TX – Gospel for Asia (GFA World) founded by K.P. Yohannan, has been the model for numerous charities like Gospel for Asia Canada, to help the poor and deprived worldwide, discussing Gaetane, her longing to read and write, and her dream fulfilled through a literacy class for women led by GFA World Sisters of Compassion workers.
Gaetane, 45, looked wistfully at her children, wishing so desperately she could help them with their homework. She constantly felt ashamed of her inability to read and write and dreamed of one day being able to read God's Word to her children. But Gaetane felt her desire was just that—a dream.
Longing to Read and Write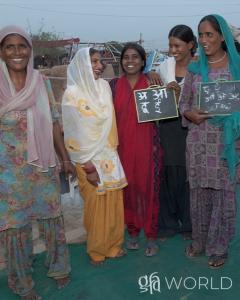 Gaetane and her husband worked hard as daily laborers in a village to provide for their family of six. Despite the little free time she had, Gaetane yearned to learn how to read and write. As a young girl, Gaetane was forced to drop out of school to bring in more income for her family, but she never stopped wanting to learn to read and write. The older she got, however, the more her dream felt like an impossibility.
A Dream Come True
One day, Gaetane met Raisie, Abarne, Pakuna and Abbatha, four Sisters of Compassion who were taking a community survey to see if there was interest and a need for a literacy class for women in the area. The Sisters explained to women in the community the importance of being able to read and write.
Gaetane was overjoyed when she learned about this class and eagerly took part in the survey, enrolling in the class along with eight other women. As the women met three days per week for two hours at a time, the Sisters of Compassion taught them with love and care, excited for them to develop their literacy skills.
By the end of the class, Gaetane was able to read and write the alphabet and her name! She was also given a small book that she began reading every day to practice her new reading skills.
Gaetane was thrilled to finally be able to read and write. She began actively serving in her church and reading the Holy Scriptures in the Women's Fellowship meetings she attended. Her shame over not being able to read and write was gone—replaced by joy and confidence in her newfound abilities. But the most rewarding aspect of Gaetane's new abilities was her ability to help her children. Her ultimate dream had been fulfilled at last!
Through the ministry of Gospel for Asia (GFA) workers, Gaetane and countless other women are learning to read and write, learning about God's love for them, and building confidence and hope for their futures.
---
Read how literacy classes changed Gabija's life.
*Names of people and places may have been changed for privacy and security reasons. Images are Gospel for Asia World stock photos used for representation purposes and are not the actual person/location, unless otherwise noted.
---