WILLS POINT, TX – Gospel for Asia (GFA World) founded by K.P. Yohannan, has been the model for numerous charities like Gospel for Asia Canada, to help the poor and deprived worldwide, discussing the 7.8 magnitude earthquake that hit Nepal in 2015, the devastation and tragedy it dealt, and the Gospel for Asia (GFA World) workers that brought relief, help and hope to the victims.
On April 25, 2015, a 7.8 magnitude earthquake hit Nepal, taking around 9,000 lives, injuring more than 23,000 people, and damaging or destroying more than 700,000 homes.[1] The disaster caused widespread devastation.
One village hit hard by this tragedy was in desperate need of food and supplies. Nearly all the houses had been destroyed. The residents' belongings, food, clothes and livestock—all essential to their livelihood—were buried, destroyed or damaged. To make matters worse, the road into the village was blocked by a landslide, making it nearly impossible for the villagers to access outside food or materials. They were in dire need of help and hope.
Delivering Hope, Supplies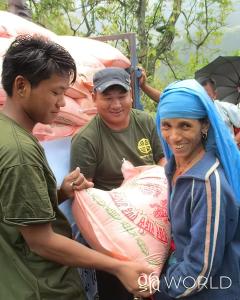 Gospel for Asia (GFA) pastor Manja knew the desperate needs of his fellow villagers and yearned to help them in their time of need. He organized a relief distribution in cooperation with the local church. The distribution workers distributed 11,352 pounds of rice and 378 pounds of salt to the disaster victims, which they received with gratitude and joy.
"Thank you for your support to us in our need," said 54-year-old recipient Radamés. "We are very happy to see you. Though we are not familiar with one another, you remembered us and helped us. Thank you again."
Balandis, another recipient, also expressed his gratitude to the relief team.
"Many, many thanks to you," Balandis said. "This is the best work. To help the needy people is holier work than any other work. I am [grateful] to you all."
The relief team also assisted Gaerwn, the oldest surviving villager, and their kindness touched his heart.
"Thank you so much for supporting us," Gaerwn said. "[Others] forgot us; you remembered us. May God bless you in each of your steps in life!"
Through the work and ministry of Pastor Manja and the local church, these village residents were able to experience God's love and care for them in their time of need. Though they felt forgotten after the tragedy of the earthquake, they were encouraged and uplifted by the support of the relief team, which brought both the help and the hope they so greatly needed.
---
Partner with GFA World and continue to help bring relief in the face of disasters like flooding and COVID-19.
Read how a flood's devastation led to a village's celebration.
[1] "M7.8 Nepal Earthquake, 2015 – A Small Push to Mt. Everest." USGS. https://www.usgs.gov/natural-hazards/earthquake-hazards/science/m78-nepal-earthquake-2015-a-small-push-mt-everest?qt-science_center_objects=0#qt-science_center_objects. October 1, 2016.
*Names of people and places may have been changed for privacy and security reasons. Images are Gospel for Asia World stock photos used for representation purposes and are not the actual person/location, unless otherwise noted.
---