It's fairly easy to find lists of all the US events and festival dates online, but it isn't always so easy to find such things for Australia. So, I did the work for you! If you know of anything you think should be added to this post, let me know in the comments.
Pagan Calendar
Following is a list of dates that may be of interest to the general Pagan community of Australia, including Sabbat dates, astronomical events such as meteor showers and even what physical events I know of that you can attend (not many though, sorry).
January 5 – Earth at perihelion, Earth is at its closest point to the sun
February 1/2 – Lammas/Lughnasadh, traditional fixed date
February 4 – Lammas/Lughnasadh, 2.27am AEDT, movable date*
March 20 – Autumn Equinox, 9.29pm AEDT
April 13-18 – ConFest, an alternative camping festival in NSW
April 22 – Lyrids Meteor Shower peaks, best after midnight
April 30/May 1 – Samhain, traditional fixed date
May 5 – Samhain, 5.28pm AEST, movable date*
May 5 – ETA Aquarids Meteor Shower peaks, best after midnight
May 6 – Witches Masquerade Ball for Samhain, Brisbane QLD
May 11 – The Rite of Her Sacred Fires, international annual ritual to Hekate
June 21 – Winter Solstice, 2.24pm AEST
July 4 – Earth at aphelion, Earth is at its furthest point from the sun
July 27-28 – Delta Aquarids Meteor Shower peaks (2016 story sorry), best after midnight
July 31/August 1 – Imbolc, traditional fixed date
August 7 – Imbolc, 5.40pm AEST, movable date*
August 8 – Partial Lunar Eclipse, visible from Australia
August 12-13 – Perseids Meteor Shower peaks, however it may only be visible from the northern most areas of Australia, if we're lucky.
August 22 – Seasonal Black Moon (3rd dark/new moon of 4 in a single season)
September 15-17 – Australian Wiccan Conference, NSW
September 23 – Spring Equinox, 6.02am AEST
October – Mount Franklin Pagan Gathering, no exact date for this yet, but it is usually around Beltane!
October 31 – Beltane, traditional fixed date
November 7 – Beltane, 4.25pm AEDT, movable date*
November 17-18 – Leonids meteor shower peaks, best after midnight
December 4 – Super Full Moon
December 14-15 – Geminids meteor shower peaks, best after midnight
December 22 – Summer Solstice, 3.28am AEDT
*Movable dates for the cross quarters are taken from Archeoastronomy. "Cross-Quarter moments are interpolated as the midway points between the Solstices and Equinoxes measured in degrees along the ecliptic. Former NASA scientist Rollin Gillespie uses this spatial method rather than simply splitting in half the time interval between a Solstice and an Equinox."
Lunar Phases in Australia
Below is an image listing the dates of the various lunar phases throughout the year, specifically Aussie dates and times. The Dark Moon is the astronomical new moon, and so is the same dates as you will often find listed for the New Moon – however the astro new moon is when the moon is not visible, so for ease of use is listed under Dark Moon. The Pagan New Moon (the first part of the waxing moon) isn't listed, just use a date 1-3 days after the dark moon.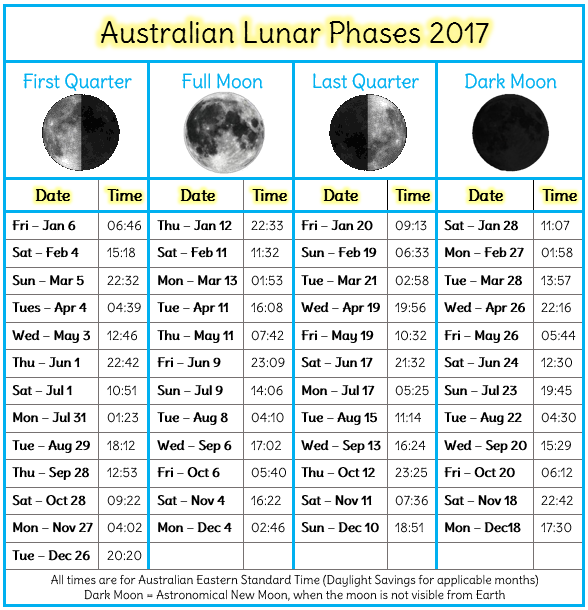 An Actual Calendar
I think it's partially because I am a homeschooler that I feel the need to create, well, everything – but also it's just part of my weirdness. So, as part of this post I am including a pdf of an actual calendar which includes the normal 8 Sabbat dates, the lunar phases, meteor showers and other astronomical events, and some normal Aussie holidays and significant dates. It's fairly basic, two months to an A4 page and nothing fancy. But maybe it will be handy.
Click here for the Aussie 2017 Pagany Calendar
Remember, if you think I need to add anything to this post, please let me know about it!