San Antonio-based Bible Study Fellowship (BSF), which produces materials for people interested in studying the Bible all over the world, has published beautiful artwork created by its members, to accompany its new lesson on Genesis.
Each piece of artwork accompanies weekly prayer guide lessons. The guides and materials are free.
The new study, beginning this fall, will go through Genesis in its entirety. Genesis is the first book of the Bible and the first book of the Torah. It is where we learn about the beginning of time, creation, and God's purpose for us on this earth.
Each piece of artwork begins a prayer guide, which follows the model of ACTS: adoration, confession, thanksgiving and supplication.
Adoration is the act of paying honor and worshipping the God of the Bible.
Confession is a formal acknowledgement or admission of our guilt and humbly requesting God's forgiveness.
Thanksgiving is a celebration of God's favor or kindness and expression of gratitude for all that he has done for us.
Supplication is an act or instance of humble prayer, entreaty or petition, asking God to intervene on our, or someone else's, behalf.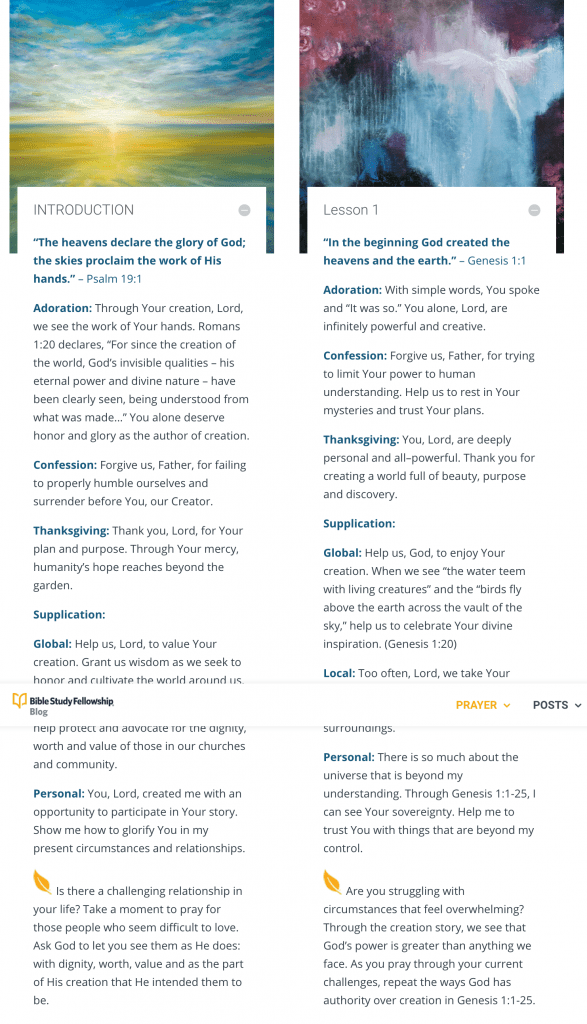 The drawings and paintings really are quite spectacular.

About the Genesis study, Suzanne Wells, BSF regional director, writes:
"Before smartphones. Before the internet. Before the printing press. Before the ease of accessibility. How did God's people share God's Word with one another?

"In ancient times, Scripture was made accessible to the world by men and women reading it aloud (Exodus 24:7, Deuteronomy 31:10-11, Joshua 8:34-35, 2 Kings 23:1-3, Nehemiah 8:3-8, Luke 4:16, 1 Timothy 4:13). Then, over time, individuals were called to translate Scripture. Others were called to teach Scripture. Parents were called to talk about the commands of Scripture with their children, (Deuteronomy 6:4-9; 11:18-21). Christians in the first and second centuries quoted portions of Scripture in their written letters and carried copies of Scripture with them on their travels.

"In other words, throughout history, Scripture – both the Old Testament and New – has broken into the known world through ordinary people, living ordinary, everyday lives.

"This year, BSFers around the globe have an extraordinary opportunity to join in this same movement. Through BSF's Helping One Another strategy, we are calling all BSFers to spread the truth of God's Word to new people, places and populations."
People interested in joining BSF or learning more about the artwork accompanying each lesson can go to their website. All of their information is free. A new gallery about the artwork will be posted soon, BSF says.