Kevin Miller

Despite dwelling on hell for far longer than most would recommend, filmmaker Kevin Miller maintains an optimistic outlook on life—and death.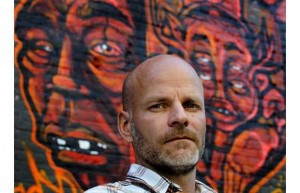 Originally from Foam Lake, Saskatchewan, Kevin always dreamed of being in the movie business but never actually believed he'd get there. So he's as surprised as anyone to go onto imdb.com and find all of those credits listed under his name.
Some of Kevin's most recent projects include Hellbound?, spOILed, Sex+Money and With God On Our Side—not to mention a brief stint portraying Lex Luthor on Smallville.
Kevin's work has taken him to over a dozen countries across five continents. He's done everything from spelunking under the streets of Moscow to interviewing war-criminals-at-large in the dusty, fly-infested markets of Sierra Leone.
In addition to making films, Kevin teaches screenwriting at a number of film schools and conferences across North America and around the world.
Kevin is fascinated by theology; philosophy, film and meta-theories that seek to explain everything from storytelling to the origin of evil. Kevin's key influences include Rene Girard, Ernest Becker, Joseph Campbell, Charles Darwin, Ernest Hemingway, Werner Herzog, Walt Disney, George Lucas, James Cameron, Paul Thomas Anderson, Darren Aronofsky and anyone else bold enough to rewrite the rules in pursuit of a vision only they can see.
When he's not on the road, Kevin can be found hanging out with his wife and four children and occasionally sneaking away to play hockey, hike, snowshoe—or write his own bio in the third person.