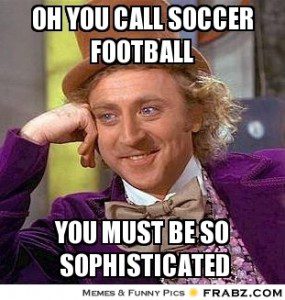 In my entire life, I have never watched an American football game (my friends make fun of me when I say that, but, really, it's the best way to differentiate it from the football that is played using one's foot and with an actual ball: Fútbol. "Olé!), nor have I ever participated in the national religious ritual known as Watching The Superbowl. My American football references are limited to what I learned from watching Friday Night Lights, the excellent documentary about a nearly all-Muslim high school team from Michigan, Fordson, and a few lines from that song Jim McMahon and the rest of Da Bears rapped when I was a kid that time they won a Superbowl game (Match? Series? It's a big mystery to me).
I can and have watched nearly every sport in real life or on tv (though in the spirit of honesty, I did fall asleep the one time I attended a baseball game. Even the historic and gorgeous Wrigley Field could not sustain my attention during a dreadfully tedious game between the Cubs and the Padres), but I could never get into American football. Aside from being incredibly dangerous, I dislike how they stop the action seemingly every 10 seconds to regroup and can never wrap my head around the rules of the game. Considering I CAN wrap my head around the labyrinthine rules of figure skating judging and its newish point system, I have deduced that the problem obviously isn't with me, but is with how football points (goals?) are counted.
Anyway, all that is not to say that I was never aware of the galactic import of the Annual Watching The Superbowl religious ceremony; I just chose not to partake of it. Of course, I always heard about the commercials and the half-time shows – usually when there was an especially clever commercial or an egregiously outrageous musical act, like the infamous Janet Jackson & Justin Timberlake "wardrobe malfunction" (again, I'm a figure skating fan. I know about wardrobe malfunctions. What Janet and Justin did? That was planned. And consequently kind of boring). Last night (otherwise known as "Superbowl Sunday" to some adherents), I settled in to watch Downton Abbey and the tantalizing season finale of the most excellent Sherlock on my local PBS station. Before heading to bed, I noticed my Twitter feed roiling with comments about a Coke commercial and the racist social media backlash to it.
http://www.youtube.com/watch?v=A8iM73E6JP8
This morning, the story dominated all my social media feeds even more than the final score (and who even won the bowl? match? series?) or the untimely and tragic passing of Philip Seymour Hoffman. People were mad. Apparently, some of my fellow Americans were upset because parts of the song were sung in languages other than English. Others were upset because of the racial and religious diversity shown in the clip. #BoycottCoke went viral on Twitter – unfortunately for racists, the heads of PepsiCo are people of color; an Indian woman and a Sudanese Muslim man. Of course, some of my fellow Americans also mistakenly believe that America, The Beautiful is our national anthem, but I can't do anything about that.
Thus began the backlash to the backlash; many Americans of all backgrounds extolled the commercial's celebration of America's diversity. Then, there was the social justice backlash to the diversity-is-awesome backlash of the original racist backlash. Many people – myself included – felt the need to remind others that while the commercial is a beautiful celebration of diversity, it is also the product of a highly calculated corporate strategy designed to increase their bottom line. Also, let's not forget Coca-Cola's role in violently suppressing union activity.
To be clear, I loved the commercial even though I won't buy what they're selling. I also loved the Cheerios commercial with the interracial family and the World's Cutest Kid. I appreciate that in 2014, Corporate America's bottom line tells them that their consumers are diverse and appreciate seeing diversity represented. And, let's remind ourselves that English is not the official language of our country. The normative American isn't white. Our country is becoming more and more ethnically, racially, linguistically and religiously diverse – and we should see that as a good thing. Some countries might struggle with embracing diversity, but the beauty of America is that we were always an idea. And where there were societal & cultural limitations on who got to participate in the American experiment, there were always people who had the moral fortitude to work tirelessly to form a more perfect union.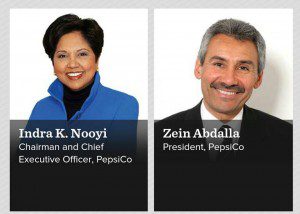 The multilingual nature of Coke's America the Beautiful is what made the commercial for me. I'm not blind to the havoc that Coca-Cola wrought on many communities around the world. I'm not ignorant of Corporate America's bottom line. Nor am I naive about America's struggles with truly living up to the egalitarian ideals spelled out in the Constitution. But I can and do enjoy any commercial that celebrates America in all her diversity. And my own bottom line is this: pop (I'm a Midwesterner) is terrible for you! Why anyone would want to consume a beverage that is known to cut through rust is beyond me. So I'll just raise a glass of water and say "three cheers" to a diverse and beautiful America.
PS – The Olympics start this weekend. Who's excited? (I am; the answer is me: I'm very excited!)