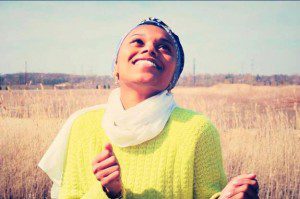 Last week, an anonymous British Muslim group, The Honesty Policy, released a video of diverse Muslims in London clapping, dancing, shimmying, laughing and smiling in their own version of Pharrell's viral hit, Happy. Unsurprisingly, there was a social media backlash to the video (which has since reached more than a million views on YouTube and garnered much mainstream media attention) among some sectors of the Muslim community. My colleague Dilshad Ali, who authors Patheos's The Muslimah Next Door, wrote about the video and the social media responses (including news about a fabricated message from Dr. Timothy Winters, a religious scholar featured in the video).
Others have written about the appropriateness of Muslims making a video to music produced by a man who participated in Robin Thicke's Blurred Lines – a song I personally find to be strongly objectionable – which has been described as a "rape anthem." Still others have dissected the objections raised about the video and what it means to participate in these kinds of social media viral videos. I read many of these pieces and shared my own opinions with friends and acquaintances alike. This video ignited honest, vigorous discussion around questions of cultural authenticity, modesty and faith-based activism. I found myself supporting the objectives of the video on an intellectual level.
Then, the day after the British video went viral,  I happened to visit a dear friend of mine who was recently diagnosed with breast cancer. As we sat down to watch it with her mother and brother, lunching on some truly spectacular Mexican cuisine, sheer joy began to permeate her home. Her mother, a vivacious Egyptian
tante
, was laughing and snapping her fingers with the video. It was the first time I'd seen Auntie smile that day. The infectious song and silly antics of the folks in the Happy video made us all smile and laugh that afternoon. Though initially I'd supported the effort intellectually, the video began to speak to me on an emotional level.
So, when I was approached to participate in a Chicago version of this viral sensation, I immediately signed on. Why not participate in something that will help put a smile on someone's face? Over the course of 36 hours this weekend, our intrepid producer Rayyan Najeeb coordinated dozens of people into photo shoots yielding hours and hours of footage. He drove all over the city and suburbs, getting a diverse group of Muslims – young & old; converts & borns; immigrants & indigenous; Black, White, Asian, Native American, Latino, Arab – and friends of Chicago's Muslim communities, to share their happiness with the world. After a terrible winter walloping this year, Chicagoans came out of the woodwork, finally enjoying warm, sunny days, basking in our public parks and lakefront, being in community with each other and even grooving to a bit of jazz. I hope you enjoy watching our video as much as we enjoyed making it!