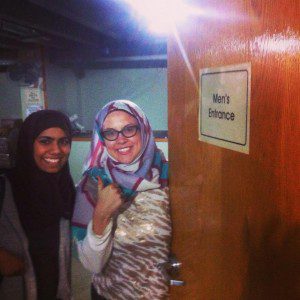 Interfaith group tours a local mosque; allows Muslim women to see  neighborhood mosque in a new light
February 2015*
Al-Burkakee – Zainab Mohamed has a direct view of the the shining gold dome and white minaret of the 2-story Sayyida Aisha Mosque from the window of her office in a gleaming downtown high rise. Mohamed often drives by the mosque during her 45-minute commute home, but she is not a regular.
Soon after she moved to Al-Burkakee for her job as the Managing Director of a start-up that develops free educational software for children in the developing world, the 29 year-old Mohamed attempted to offer her evening prayer at Sayyida Aisha Mosque.
"After I parked my car, I walked in through the main entrance – I didn't realize it was the Brothers' door – and immediately an uncle ushered me downstairs to the ladies section. Never again." Mohamed, who left a prestigious architecture career to found her start up, looks away pensively, toward the direction of the mosque. She shakes her unveiled head sadly.
"It's not that the women's section is filthy. It is just creepy, you know? Dark and cold. I actually had to get an uncle to unlock the door to the basement for me. So, I don't go there, even though it's one of the biggest mosques in Al-Burkakee."
Her friend Dr. Asma Baker, a 32 year old pediatrician at Al-Burkakee General Hospital, grew up in near-by suburban Las Medinas. She is fashionable in a green turban-style hijab and long lilac skirt. Dr. Baker chimes in, "Yeah, if I'm in the area and need to pray, I usually pop into Uncle Sam's Falafel & Shawarma To Go. Sameer, the owner, is really great. He has a prayer rug and lets me pray there all the time. And if he's watching Arabic music videos on Rotana, he'll switch to Al- Jazeera."
"And he always gives us a free baklava afterward!" Mohamed laughs girlishly.
The women met 6 months ago at the local Boys and Girls Club, where they both volunteer as math and science tutors. They soon became good friends.
"Asma is the one who told me about praying at Uncle Sam's and also about Interfaith Al-Burkakee," Mohamed said.
Interfaith Annual Faith Communities Tour
According to a recent Pew Poll, Al-Burkakee is the most religiously diverse city in Hottistan. Every year, Interfaith Al-Burkakee organizes a tour of local churches, synagogues, mosques, gurdwaras, and temples. Mohamed tells me that she joined Interfaith Al-Burkakee organization a few months after that experience at the mosque. Both women were excited about this year's tour, but were apprehensive about how their interfaith friends would react upon seeing the women's space.
"When I saw that Sayyida Aisha was on the #AlburkakeeInterfaithTour I just thought, 'Oh no! What will Rachel and Anusha say when they see the women's space?' I even thought of suggesting that the group visit the Muslim Association of America instead. It's all the way out in the suburbs, and the women pray in a mezzanine floor with a glass balcony, but at least it's nice," Dr. Baker said.
But their fears were unfounded. The mixed-gender interfaith group was welcomed by the mosque's administration. Though the non-Muslim women were given shawls to cover their hair, the entire group was given a tour of the mosque's main facilities. The mosque was a hit with the interfaith group.
"It's truly stunning on the inside! I hadn't known that there was such a fancy chandelier in the main prayer hall! And the main wudu (ablution) area is phenomenal; the faucets are automatic because it's an environmentally friendly mosque and the water is actually warm!" Dr. Baker exclaimed.
"Yeah, the interfaith group loved that it's an environmentally friendly mosque. The cups and plates they used to serve us mint tea and baklava from Uncle Sam's were reusable," Mohamed interrupted.
"And the uncle who met the group were so nice; he let Zainab and me offer our midday prayers in the prayer hall, which was massive. I can't tell you how amazing it was to hear the call to prayer echo all around me. The forest green and gold carpet was clean and soft, too. I remember saving my allowance when I was a kid so I can give zakat (charity). I donated to the mosque and also to a Bosnian orphanage. I'm glad my money was put to good use right here in Al-Burkakee," Dr. Baker reminisced.
"Yeah, it's gorgeous. The marble is imported from overseas – it's actually the same material that's at the Grand Mosque in Mecca, Saudi Arabia. And when we were praying, it was so quiet. After I ended my prayer, I noticed a stunning beam of light shining through the window, creating a sparkling rainbow on the walls which are adorned with Quranic verses in Arabic calligraphy. It was the first time I felt sakina (serenity) praying in a mosque," Mohamed adds.
Long-time Al-Burkakee resident, Yusuf "Joe" Khan is the interfaith liason at Sayyida Aisha. In a phone interview he said, "Of course, sisters may come, if dressed appropriately. Of course there's a space for women at the mosque, but they might have to use the back stairs and go through the men's open wudu area to get to the office. There they can ask for the key to the multi-purpose room. Of course we welcome all our neighbors to come visit our mosque and learn about Islam."
Mohamed and Baker enjoyed their visit so much, they have begun planning the #Ramadan2015InterfaithMosqueTour. They are hopeful that they will be able to visit at least 7 of greater Al-Burkakee's  11 area mosques this summer, along with their Christian, Jewish, Hindu, Baha'i and Sikh friends.
"I honestly didn't expect to have such a pleasant experience at Sayyida Aisha. I can't wait to visit Nur of Al-Burkakee, which is right by my apartment this summer. I just have to make sure Rachel and Anusha are free to come with me that day," Mohamed laughs, dabbing a tear from her eye.
*In case it's not obvious yet, this is a satirical post, and is in response to this recent piece on women's mosques.