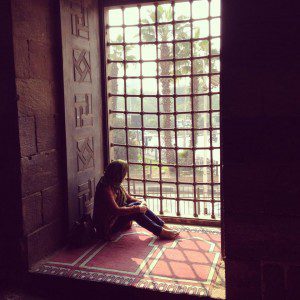 Humid Midwest days and warm starry nights. Fireworks, late night ice cream, water balloon fights at community iftar picnics. The promise of spending the second day of Eid at Six Flags with our friends. Chasing firebugs at twilight. My earliest Ramadan memories are pure summer. Since school is out, my sister and I tag along with our parents to the special nightly prayers at the mosque, even though we are too young to fast. My community is small enough to accommodate men, women, and children in the designated prayer hall, a circular and non-partitioned space featuring lush green carpeting and a truly spectacular chandelier.
I don't know that that by the time I take fasting and prayer seriously, women would be spending their Ramadan evenings in the mosque basement. So, I don't value this time in the musalla so much. Because Ramadan is basically a summer holiday: eating great food with family, hanging out with dear friends, and listening to old-school Yusuf Islam songs for kids in our light blue Oldsmobile during the 10-minute ride to the mosque every night. I hear that he'd been a rock star in an ancient time before I was born, but I know him as a British Uncle whose songs teach me the five pillars of faith and the Arabic ABCs. A most excellent Ramadan soundtrack.
Winter Ramadans are so very high school: yearbook club and mid-term exams. Deciding whether to mark "English" or "Political Science" on my college applications and learning about a major called "International Relations." Putting off driving practice until the summer, even though I'd already turned 15 and then 16 and then 17. I attend an all-girls Islamic high school that is housed in the mosque. Changing out of our uniforms and going to someone's house for the afternoon. Intense dance sessions featuring Hakim and Amro Diab during iftar parties (hey, everyone needs cardio, especially after a large meal of maqlouba and stuffed grape leaves).
Back to the mosque for a night of prayers. Taraweeh in the lower level of the mosque, in the all-purpose room. A Symphony of Screaming Shorties. A Cacophony of Crying Children. I become intolerant of the distracting toddlers and pride myself for thinking of these alliterative proto-hashtags. "Why can't these women and their kids just stay home?" I seethe uncharitably. I look up to the heavens for patience. Hundreds of pastel-colored paper Chains for Charity decorate the flat ceiling tiles. My Student Council is raising money for Bosnian refugee children during Ramadan (10 cents a link). Imam ends prayer every night with a lengthy prayer for strength and succor to the people of Bosnia and Chechnya, Palestine and Iraq, Somalia and Sudan, Kashmir and Afghanistan. I am ashamed.
Ramadan has always meant community to me. As the daughter of immigrants, I have an instinctively global understanding of community. The Islamic concept of
Ummah,
a global sisterhood/brotherhood of Muslims calls to me. As I mature, I extend my idea of global community to each and every one of God's creation. One of the most
spiritually satisfying Ramadans
I ever experience includes praying at different mosques throughout the month, deepening relationships with new friends, and worshiping God on the Night of Power at Lake Michigan on the campus of Chicago's Adler Planetarium.
But when I was a child, realistically, that community was found in the mosque my family attended. As an adult, I am comfortable finding fellow kindred spirits outside of the mosque, including in online spaces. But there is something about Ramadan that calls for a greater connection to others, to the nightly prayers, the community iftars, the communal prayers for peace and justice. These days I am only fully mosqued during Ramadan, but I believe that reflecting on our relationships with community – the good, the bad, and the ugly – can be an incredible boost to our spiritual growth this month.
To that end, I am curating a special Ramadan series, "My Mosque, My Story" right here on Hindtrospectives. Every single day throughout the month, Muslim women from around the world will share their Ramadan mosque experiences. They will deconstruct what community means and offer stories of isolation and anxiety, as well as grace and beauty. This group of writers represent nearly a dozen countries. We are Sunni and Shia and Ahmadi Muslims. We are expectant and new mothers. We are graduate students, home makers, and medical doctors. We are mosqued and unmosqued. We are multiracial, multi-generational and multi-linguistic. We are converts and we have been raised in the faith. We are poets, day dreamers, and travelers. And we are all so much more. Each woman has her own story. Collectively, this is our narrative.
Ramadan Kareem to you and your families! Do enjoy this very rare clip of the song that was the soundtrack of my childhood: