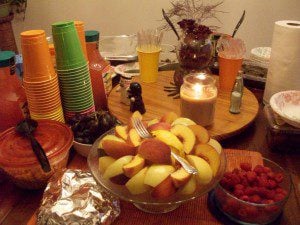 Ramadan is almost upon us, but some of my friends are a little ambivalent. They are excited about the spiritual benefits of this blessed month, but as convert women, have often felt isolation in Ramadan. This apprehension has been expressed by women from all backgrounds: those who are new to the faith to those who have been Muslim for years; the married ones and the single ones; the young and the young at heart.
Their feeling of apprehension during this blessed month is on us: those of us born and raised in the faith, with families and communities, with long-cherished Ramadan rituals. Those of us who are quick to hug a new convert after her shahada at the mosque, take down her number, and never call. This Ramadan, let's do better. Let's open up our hearts, homes, and mosques. Here are some ideas:
I'm just one person, what can I do?

Call local mosques to introduce you to convert women in your area
Listen to what she want and try to offer it
Invite her to join your family iftars or prepare food for her

Offer to drive her to Taraweeh and introduce her to your friends
Invite her to join you and your friends for qiyams and suhoor
Make Ramadan crafts with and buy Eid presents for her children
Check in throughout the month regardless of how long she has been Muslim
Host a potluck iftar and ask her to bring food from her own culture(s)
Be a Quran Buddy to support her Ramadan reading goals
 Include her in your family's Eid celebrations
What should I ask my mosque to do?

Inform women who have converted at your mosque of your Ramadan programs
Designate a team of women volunteers to be Ramadan Buddies for them
Update your website with clear information about women's prayer spaces
If providing daily iftars, designate a space and provide food for women converts
Provide a packet for new converts with an English Quran and prayer clothes
Design Quran reading & tafsir circles for convert women
Develop fun, educational programming for their children
Host a Ramadan info session for their non-Muslim families and friends
Invite converts to join Ramadan community service and interfaith events
Make sure their children have presents on Eid
Feel free to add more suggestions in the comments