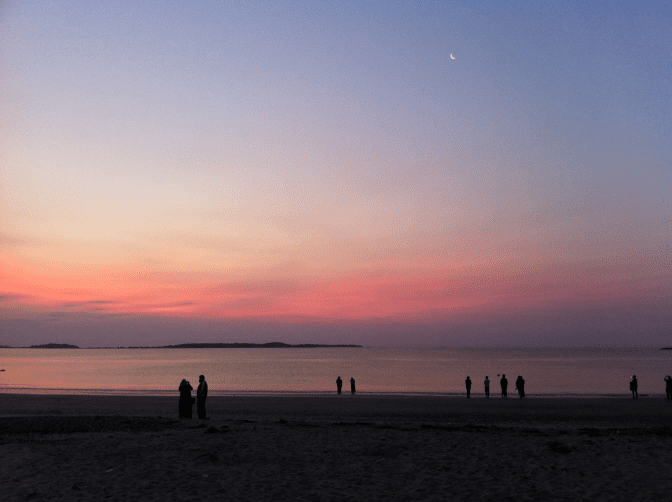 This is Day 26 of Hindtrospectives' #MyMosqueMyStory series for Ramadan 2015
By Asma Soltani
This summer is special for me for two reasons: firstly, it's the first time I will spend a long time away from my family. A long way away, on another continent to be precise: the United States. Secondly, it's Ramadhan!
Normally, during Ramadhan my family breaks bread together more often than outside the month. We all enjoy the warmth, joy and magic of an iftaar together, something that does not happen as often during regular days.
On hearing I had been accepted to study in Boston, the opportunity was exciting but it came also with anticipation. A million questions were knocking into each other in my head: will I find a place to have iftaar with other Muslims? Are there regular iftaars for students? Does the mosque in Boston have a decent space for women so that taraweeh is a mind and soul feeding moment, rather than a painful experience?
I am mainly mosqued only during Ramdhan as my mosque in Paris is a bit too far to attend prayers on a regular basis. I grew up in a practicing Tunisian family, part of a larger community sharing a Tunisian background. During the holy month of Ramadhan, several families would gather at one of the houses and cook iftaar together, then join ranks to pray taraweeh either at the same house or at the masjid. If we were praying congregation at the family guest house we would have no physical partition between men and women.
I arrived in Boston during the first week of Ramadhan and had my first experience of iftaar in America at an event organized by MIT students. A wonderful evening! In the following days I attended iftaars organized by several different Islamic student societies namely from Harvard, the University of Boston, and Northeastern University. I came to realize how international and mixed the Muslim community in the city was. I did not experience the feeling of being "a foreigner" as I anticipated; I was a student among other students, all coming from diverse countries including the US , all gathered around the same faith and rites.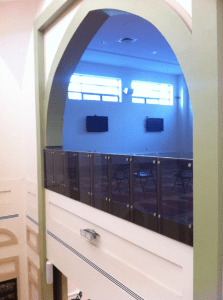 My first encounter when going to taraweeh in Boston for the first time was that the Islamic Centre. As I stepped in and joined the congregation I felt all my fears lift: A welcoming and spacious women prayer area was available. It was actually not one space but five dedicated rooms where women could pray: four different spacious rooms upstairs from where the imam could easily be seen, and a main room where the men prayed, and where the women are welcome to pray as well with no physical partition or barrier. This, to me reflected the way a mosque should be: women should be free to pray either just behind the men's congregation as it was during the time of the Prophet's (pbuh) or in their own space if they feel more comfortable, having the choice to switch between the two options whenever they wish. Upstairs, a room was dedicated to children where they could play and run all over the place as much as they wanted without disturbing anybody's prayers.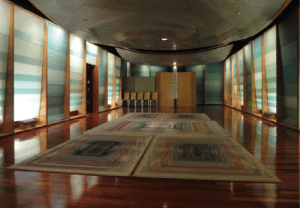 Discovering that each university has a prayer space for Muslim students was quite new to me, since in France religion and religious practices are strictly retained in the private space. As, for many historical and political reasons, religion is considered not only as something personal but rather seen as a threat which could disrupt coexistence. Though I found that in the US, the freedom for Muslim students to practice inside US colleges produced the exact opposite outcome. Muslim students can practice their faith in their "natural" environment i.e. as a student, and it allows them to feel that their college strengthens a sense of belonging to a larger community and American society.
In fact it goes way beyond the Muslims feeling included: non-Muslims are welcome to share the iftaar with their fellow students at the end of the day, and it becomes a two-way road where young Americans of all faiths can meet and exchange, and learn about each other's background, faith and, more importantly, core values. It is in this very setting that the foundations of a better living, one of being together, are naturally and firmly rooted in shared values. My dearest wish is that my fellow French citizens come to realize this and hopefully our society can operate in this desperately needed mindset shift.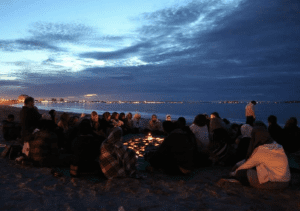 In the blink of an eye, I had arrived at the last ten days of the month. The highlight of my stay happened just yesterday night as a group of young professionals (Boston Young Muslim Professionals) organized a Qiyam and Fajr prayer at the beach. I experienced the most beautiful Qiyam listening to the Imam's voice with the melodious and soothing ocean waves in the background. We sat in a circle around a "candle bonfire" and recited ma'thurat (morning supplications) while watching the sunrise.
I met more and more beautiful souls, creating strong bonds for which Ramadhan acts as a catalyst. I almost feel at home in a country I arrived at less than two weeks ago.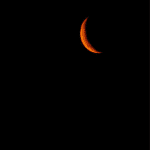 Asma is a 5th year medical student in Paris, doing a rotation at Harvard Medical School (Boston, MA). She holds a PhD in Neurosciences from the University of Paris Descartes (Paris, France) and is a member of Initiative Dialogue, a programme run by the NGO Initiatives of Change promoting dialogue among French citizens, particularly from different faiths. You may reach her by Facebook and email.