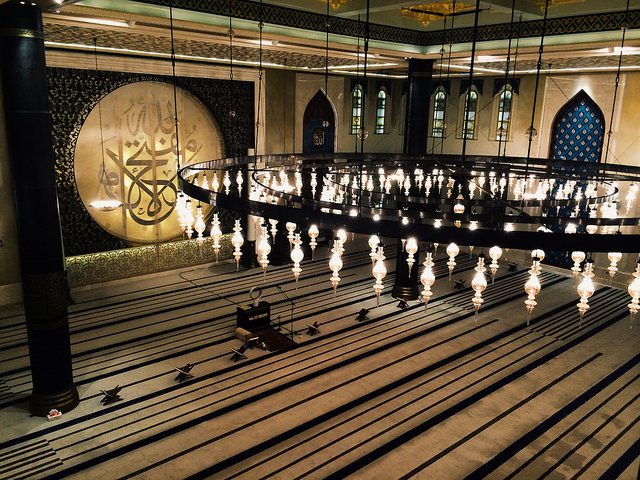 This is Day 23 of Hindtrospectives' #MyMosqueMyStory series for Ramadan 2015
By Amina Ebrahim
The mosque I used to attend in Cape Town while growing up always made accommodation available for the elderly. The accommodation came in two forms: a female prayer space downstairs for those who could not climb up the stairs to the ladies section and plenty of chairs scattered all over the different prayer spaces. I've always looked at the facilities as accommodation for the frail or elderly, but at 8 months pregnant this Ramadan, my perspective has changed.
Our personal obligations to God are doubled (literally) by the trust we carry in our wombs. The physical ritual of prayer is something I believe the baby can feel when you move around in different positions. Visiting the mosque during late pregnancy is a very physical experience. Your body weighs you down, it's uncomfortable to move and there is just plain exhaustion. There is nothing like a kick in the ribs while you are praying to remind you that you are praying for two.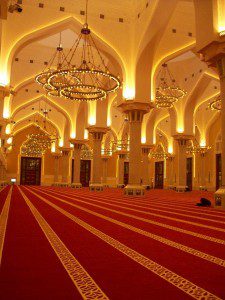 This year we are spending Ramadan in the very hot city of Doha. The city has an abundance of mosques ranging from the smaller neighbourhood masaajid to the large popular state mosque and the recently opened mosque at the Qatar Faculty of Islamic Sciences. One is spoilt for choice.
We chose to pray in a private space this year where some
hufaadh
from South Africa are leading the taraweeh prayer. The majority of those attending form part of the great South African community in Doha. Ladies simply stand behind the men with no barrier or partition.
Taraweeh was hard on the first day but I drank loads of water between prayers. Within a few days I got accustomed to the levels of energy required for taraweeh and the length of the prayers. On days I wasn't able to find time to rest before Iftaar, it wouldn't be feasible to attend. While I didn't pressure myself to attend, taraweeh in congregations does give me a sense of Ramadan at a time when it is physically not advised for me to fast.
Taking into account my energy levels, I have looked to the many other ways to participate in Ramadan and perform Ibadah requiring less physical effort: Reciting and listening to the Quran and tafsir, listening or attending lectures, and charity. Giving away possessions we have collected over the years might also be part of the nesting period of pregnancy 😉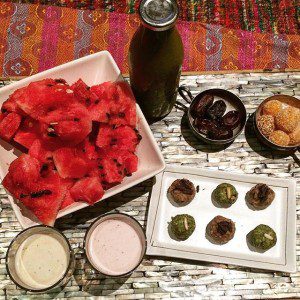 I've had to give greater thought to eating for two this Ramadan. It has me motivated to ensure that I am nourished by some healthy choices at a time when culturally we eat the unhealthiest foods. We've placed a lot of our focus on healthy eating this year: salads, fruits, fresh juice and occasionally participating in #RawRamadan.
My perspective has changed since I have become one of those ladies requiring a chair in the mosque for the long night prayers. It is something I am kind of shy about as I never imagined a time I would need it until I was 'old'. Two things I have learnt about praying while seated: firstly, the chair needs to be sturdy and comfortable with sufficient back support and secondly, I really miss placing my forehead on the ground and supplicating to our Creator. Something I have previously taken for granted.
Ramadan for two might not be an easy feat, depending on how far along you in your pregnancy, but there are certainly ways in which to make it special for you and your baby.
Amina is a South African living and working in Qatar. She is soon-to-be a first time mom. You can find her on Twitter and Facebook.