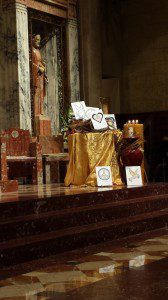 *These remarks were given on November 22 at the annual Thanksgiving Interfaith Prayer service hosted by the Community of Congregations
Thank you St. Giles Parish and the Community of Congregations for the invitation to speak at your annual interfaith Thanksgiving service. Thank you to all of you who are joining us in this cold November night.
I am humbled to stand in front of all of you tonight to offer a few short words. On this day last year, police shot dead 12 year old Tamir Rice as he was playing with a toy gun in a park, in Ohio, a state that has open carry laws. Tonight, I remember Tamir and hold him and his family in my prayers.
Tonight, I remember Michael Brown, Eric Garner, Walter Scott, Freddie Gray, Sandra Bland, Samuel Dubose, Renisha McBride, Chicago's own Rekia Boyd and Laquan McDonald. Tonight, I remember the 9 worshipers in Charleston who were killed in their own church by a stranger they welcomed into their midst. I remember them all and hold them in my prayers.
Tonight I remember Beirut, Paris, Mali, Nigeria, Israel, Cameroon. Tonight I remember the victims, the survivors, the families and hold them in my prayers. Tonight I remember the people of Afghanistan, Colombia, Iraq, Palestine, Ukraine, Syria and Yemen and hold them in my prayers. Victims of wars are not collateral damage; like the victims of the Paris attacks, they had names, families, dreams and fears, loves and lives.
Every life is sacred, every murder is a tragedy. The Talmud and the Holy Quran teach that if you save one life, it will be as if you saved an entire universe. Conversely, if you take one life, it is as if you murdered an entire universe. A French life is as sacred as a Lebanese life, which is as sacred as a Nigerian life, which is as sacred as a Syrian life, which is as sacred as an American life. And I remember them all and hold them all in my prayers.
We live in very uncertain times. We are living in a time of fear of the stranger, a time when the needy are reviled and rebuked. I am reminded of these verses from Matthew 25, which many of you may be familiar with:
For I was hungry and you gave me something to eat, I was thirsty and you gave me something to drink, I was a stranger and you invited me in. I needed clothes and you clothed me, I was sick and you looked after me, I was in prison and you came to visit me.' "Then the righteous will answer him, 'Lord, when did we see you hungry and feed you, or thirsty and give you something to drink? When did we see you a stranger and invite you in, or needing clothes and clothe you? When did we see you sick or in prison and go to visit you?' "The King will reply, 'Truly I tell you, whatever you did for one of the least of these brothers and sisters of mine, you did for me.'
The holiday season in the West is starting. This week, Americans will celebrate Thanksgiving, a holiday that honors a moment in our history when European refugees were shown hospitality and good neighborliness by this country's indigenous people. Next month, our Jewish sisters & brothers will celebrate Hannukkah, a story of resilience and redemption. Many of our African American sisters and brothers will celebrate Kwanzaa, reconnecting with a beloved African heritage.
Christians will celebrate the birth of Jesus, may God's Peace be upon him. Many homes and town squares will be lit up with scenes from the Nativity. Thanksgiving and Christmastime underscore our shared religious, civic, and secular values of hospitality to the stranger, of protecting the poor, of easing the distressed. And it is immoral that politicians are now cynically manipulating the fears of a terrified public to refuse refuge to those who are truly in need.
More than half of US Governors have stated their decisions to suspend resettling Syrian refugees in their states, including Illinois' own Governor Rauner. Our House of Representatives voted on Thursday to suspend the Syrian refugee resettlement program. European governments, already skittish from the political ramifications of absorbing hundreds of thousands of refugees, have begun to close off their borders to refugees and asylum-seekers.
The same refugees who have fled Syria to escape the same kind of terror inflicted on Paris. The same refugees who have already been screened and vetted in order to stay in refugee camps in Turkey, or Jordan, or Lebanon. The same refugees who will undergo further security checks by American government officials before being put on a plane to be resettled in the US.
Tonight I remember the two Syrian refugee families I met at an early Thanksgiving dinner on Friday; Fatima & Fadi and their young two sons. Fatima, who lost her brother and father in the same month to Assad government bombs. Fadi who is supporting his family by working the overnight shift at a Target.
I remember single mother Mayada and her four childrenMayada who's struggling to physically heal from shrapnel wounds in her body, and emotionally heal while holding her family together in a new country without a husband. Widad, her 14 year old daughter who would barely talk and never smile when they arrived 9 months ago, is today giving testimonials of her family's resilience to members of Congress.
These are the stories of the Syrian refugees that some in their fear want to rebuke.
We live in uncertain times, but everywhere, we see light piercing the darkness.
"By the morning sunshine!
And by the night as it falls still.
Your Lord has not deserted you and never has He abhorred you.
And most surely, the last life to come will be better for you than the first.
And most surely your Lord shall give you of His bounty and you shall become well-pleased.
Has He not found you an orphan and sheltered you?
And found you astray and guided you?
And found you needy and enriched you?
Then as for the orphan, you shall not suppress him.
And as for the beggar, you shall not rebuke him.
And as for the grace of your Lord, you shall gratefully proclaim it!"
Humanity is not lost. Kindness is everywhere and it is shining brightly. This is a beloved chapter of the Quran for me, because it reminds each of us to look at the blessings in our lives and to pay those blessings forward. It acknowledges the difficulty of life, but also the beauty and meaning in serving others, especially the most marginalized and reviled in our communities.
Christian thinker Dr. Cornell West reminds us that justice is what love looks like in public. If that is the case, then while there have been countless instances of fear and injustice, we as a country are beginning to take some steps toward justice and love. The idea that #BlackLivesMatter has taken root and will not be cut down. Law enforcement, universities, and communities across the country are beginning to engage in honest conversations about how to break the poisonous cycle of racism, mistrust, fear, and violence. Americans are working together to form a more perfect union, slowly, yet surely.
This week there have been many instances of backlash against Muslims and those mistaken for Muslim. Someone photoshopped a photo of a Canadian Sikh teenager and claimed he is an ISIS terrorist. An Ethiopian Christian Uber driver was assaulted by his passenger, who also shouted anti-Muslim slurs. A Muslim mom wearing hijab, was beaten up by two men in Ontario, when she went to pick up her children from school. "You terrorist, you don't belong here!" they shouted.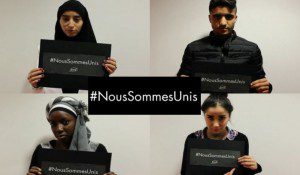 Against the backdrop of this darkness, communities have united in the spirit of interfaith cooperation against racism.
French mourners shut down fascists
attempting to hijack a peaceful memorial.
Muslim and Jewish religious leaders
mourned together in Paris and united against hatred. Cities – including Chicago – are
offering sanctuary to Syrian refugees
, often in defiance of their governors. In Ontario,
synagogues are offering their spaces
 to members of a Muslim congregation whose mosque was burned to the ground by arsonists and Muslims raised over $100,000 to
repair a Hindu temple
that was vandalized in response to the Paris attacks.
And Americans of moral conscience did not stay silent in the wake of Donald Trump's suggestion of the creation of a database and national IDs for US citizens who are Muslim. Jewish groups like Bend the Arc and the US Holocaust Museum rebuked, in the strongest terms possible, Trump's idea, standing shoulder to shoulder with their Muslim fellow citizens. Joshua Stanton, a colleague of mine and a young Jewish rabbi responded, "Register me, too."
Japanese Americans, who have intimate personal histories of demonization, discrimination and internment have not remained silent. George Takei, who lived for four years in a US internment camp with his family, wrote to the Mayor of Roanoke, VA, "There never was any proven incident of espionage or sabotage from the suspected "enemies" then, just as there has been no act of terrorism from any of the 1,854 Syrian refugees the US already has accepted. We were judged based on who we looked like, and that is about as un-American as it gets."
And down in Texas, young Jack Swanson, a 7 year old boy had saving up for an iPad. When he heard that the local mosque had been vandalized, he was so upset and wanted to show his love to his Muslim neighbors and help them fix their mosque. So he emptied his piggy bank and donated his life savings of $20 in pennies, dimes and nickels. A few days later, he got a very early Christmas present from the American Muslim community: a brand new iPad with thanks and love.
Out beyond the ideas of right doing and wrong doing there is a field. I will meet you there.
We pray for peace, but we must make peace in our every day lives. I remember the teaching of The Prophet Muhammad, may God's peace be upon him said these words upon emigrating to Madinah after persecution in Mecca. Words which were meant for both the refugees from Mecca as well as those who offered them sanctuary in Madinah.
'O people! Spread [the greetings of] peace, feed the poor, keep ties of relations and pray at night whilst others sleep, you shall enter Paradise in peace ' [Al-Tirmidhi, no.2485]
A few short words encapsulating a universe of teaching. The Prophet taught that in order to be in God's company in Paradise, people must greet others by praying for God's peace to be with them, by feeding those less fortunate, by connecting with their own families, and by praying at night. Promoting peace by feeding the hungry really does not need further explanation. Promoting peace by connecting with your family is important – the lesson here is that by connecting with your family, your heart will expand and your love for your family will multiply so much so that you will begin to love the stranger, too. And by praying at night while others are asleep, we are reminded that everyone needs to practice self care, to unplug from your daily stress, to just reconnect. For people of faith, this means, reconnecting with God; for others, it means to recenter your priorities before taking on new challenges.
A note here about the phrasing of this teaching. The Prophet Muhammad begins by saying "O people," not "O Muslims," or "O people of faith." This is critical because Muslims are taught that everyone in society – regardless of faith – has the opportunity and responsibility to promote peace. You don't need Islam or any religion, to promote peace; you just need to be a person of moral conscience.
The Paris attacks have shown us the best and worst of humanity. The response to Black Lives Matter have shown us the best and worst of humanity. They have shown us that diversity can create strong civil societies, where ordinary people care for each other. Societies where ordinary people hear echoes of their own story in the stories of other. Societies where the hateful message of fascists and violent extremists can never take root because ordinary people stand up for each other and build extraordinary strength communities.
Tonight, I remember Jack Swanson, Rabbi Josh Stanton, George Takei and hold them in my prayers. I remember the Jewish synagogues offering space, the Sikh social justice activists, the Muslim charity-givers, the Christian churches offering refuge to the homeless, the American cities offering sanctuary to the refugees and I hold them in my prayers. I hold the Community of Congregations and the members of St. Giles Parish in my prayers.
I will close with these words from the poem Outwitted by Edwin Markham:
They drew a line that shut me out.


Heretic, rebel – a thing to flout.
But, love and I had the wit to win.
We drew a circle and brought them in.