I was traveling abroad last week when President Obama visited the Islamic Society of Baltimore. This was not his first visit to an American mosque, but it was the first during his presidency*. I finally had the chance to watch his full speech and read some commentary about the mosque visit. I rounded up a list of opinions, articles, interviews, and multimedia of the President's visit that I've shared below.
Barack Hussein Obama is a man who was smeared as "a Muslim" from the early days of his Presidential campaign even while addressing racially charged remarks by his Christian pastor and spiritual adviser. He's a man who's had to endure long-standing controversy over his citizeship and 43% of Republicans still believe that he is a Muslim. Frankly, I'm not surprised that he's stayed away from visiting US mosques for much of the duration of his presidency.
So what made him visit a mosque now? Well, I'm sure the over the top Islamophobia expressed by the entire field of Republican presidential candidates had something to do with it. Indeed, Obama spent a substantial amount of time assuring American Muslims that we belong in the US as equal citizens, thanking American Muslims for our active citizenship and contributions in building the country, and giving props to our young people. He reminded the viewing audience that Muslims have been part of America since before it was founded, and he chided Hollywood for their tendency to cast Muslim characters as terrorists.
But Obama also used his time at the mosque to lecture the Muslim audience about religious intolerance, anti-Semitism in France, and to stress the government's Countering Violent Extremism efforts – while also saying that the relationship between America and her Muslim citizens must not be a securitized one. As you might imagine, the visit was controversial and the resulting commentary was robust. Watch his speech and dive into the discussion below:
https://www.youtube.com/watch?v=MXRDocvDAK8
Religious Freedom Keeps Us Strong (President Barack Obama)
Diverse Muslim Responses
Just A Day At The Masjid With Obama
Mosque Visit is What "True Islam" Is
Muslim and American: Voices From the White House
Speech Missed American Families Victimized by State Violence
Speech to Muslims Provides Comforting Words, But Little Else
Thank You Obama For Your Mosque Speech
Un-mosquing Obama's First US Mosque Visit
Visit Came Late, But Still Means A lot
Visit Demonstrates Tacit Acceptance of a Form of Gender Apartheid
We Welcome Obama's Words – Now We need Action
What Muslim Americans Have to Say
What Obama's Mosque Visit Means to Me
On The Campaign Trail
Jeb: Important for the President to Lead in This Regard
Marco Rubio is Very Upset Obama Went to a Mosque
Trump: Obama Apologized to Muslims in Mosque Visit
Media Commentary
Bloodthirsty Terrorists & Duplicitous Spies: Does TV Have a Muslim Problem?
Charlie Rose Interview With Farhana Khera on Mosque Visit
Muslims Dismiss Mosque Visit as #TooLateObama
Obama Uses Mosque Visit to Call for Well-Rounded Muslim Characters on TV
Review of Speech With Imam Saafir Rabb II
The Smear Campaign Against the Islamic Society of Baltimore
Why Obama's Mosque Visit Was Criticized in a Way Bush's Wasn't
Photo Gallery of President Obama's Mosque Visit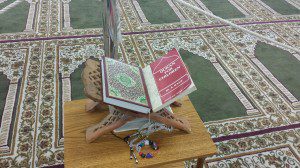 A Black History Month Reimagining
And finally, Precious Rasheeda Muhammad asks us to imagine, "What if President Obama had visited an African American mosque?" Read the full story here.
(Reprinted with permission from the author, Precious Rasheeda Muhammad. The excerpt is part of a planned children's book, a collaboration between Muhammad and Anika Sabree.)
The president could clearly see, from the position where he stood, everyone in the entire room and everyone in the entire room could clearly see him. That sea of African American Muslim faces looking intently at him unnerved him a bit. He felt some indefinable sadness that he had not seized a moment like this earlier in his presidency.

"It feels like community in here today!"

The depth of excitement in his voice surprised even him. He thought he might have even sounded a little like a preacher, warming up.

Something about the way he said it, as if he was half surprised, half relieved, but fully at home, caused laughter to fill the room. It continued for a long time. It continued until it became so infectious that Sister Clara caught one of the Secret Service detail, a young white man, struggling to stifle a broadening smile.

"It's okay, brother," she said. "I won't tell."

And he laughed out loud then, too, first kind of self consciously and then what-the-heck-full-on.
*This was not Obama's first visit to a US mosque; indeed I once met him at a candidates' forum in 2004 when he was running against for the US Senate against Maryland transplant Alan Keyes (Illinoisans and political wonks might enjoy this trip down memory lane) at a local Chicago-area mosque.