It's been an emotional roller coaster of a week for American Muslims. This weekend, the 15th anniversary of the 9/11 terror attacks overlapped with the Day of Arafah, the culmination of the annual Hajj pilgrimage and the holiest day of the Muslim calendar.
Monday, millions of Muslims across the country awoke on the holiday of Eid-ul-Adha, to news of a Florida mosque being burnt down in a case of suspected arson. The floodgates opened and news of anti-Muslim bigotry began to make waves among American Muslim activists.
The two New York mothers who were attacked, along with their babies. The Scottish tourist who was set on fire. The polls showing that 76% of Republicans think Muslims don't belong in this country and support Trump's proposed ban on Muslims. An anti-Muslim armed militia managed to intimidate a Georgia county's Board of Commissioners into cancelling a scheduled meeting on zoning for a new proposed mosque in the area. And news came from the United Kingdom of a pregnant woman who was kicked so hard in a racist attack, that her child subsequently died.
American Muslims have been preoccupied lately with simply existing in the age of Trump.
It is understandable that because we are in crisis mode, our focus has been on dismantling the Islamophobia that is creating a dam of fear in our communities. Even with all this pressure we're enduring, many Muslim leaders and activists – exemplifying the teachings of our faith – are hearing the call of our Indigenous sisters and brothers, and standing in solidarity with Standing Rock.
"The world is beautiful and verdant, and verily God, be He exalted, has made you His stewards in it, and He sees how you acquit yourselves." – Sahih Muslim
In the western plains, hundreds of tribes are gathered to protect the Missouri River from the The Dakota Access oil pipeline. The Company responded by unleashing dogs and macing the non-violent protesters, and the US Government stepped in to temporarily halt the construction of the pipeline.
The story of a powerful corporation taking over lands they don't own with no consultation of the native inhabitants of that land, in order to profit the fossil fuel industry with little regard to how it might effect the environment, is a story too familiar to Muslims in America and across the world.
Muslims believe that humanity was created to be a worshiper of God and God's "vicegerent on earth." The role of vicegerent means that all people – not only Muslims or people of faith – are tasked with preserving the environment and protecting all living and non-living beings on this planet. Muslims, too, believe in honoring commitments between nations and the sacredness of upholding treaties. That is why so many of us are standing with the Water Protectors at Standing Rock, who themselves began their action with a prayer walk by the youth of that nation.
Dale Gutierrez, the founder of La Alianza and a Muslim Xicano of Yaqui descent, has been organizing actions in Nebraska, and collaborating with a network of activists in Winnebago, Ponca, Omaha, and Lakota tribes to raise awareness and halt the DAPL. In the "first demonstration back in August, we had 500 people – which is good for Omaha. We stopped traffic and ultimately headed up to the USACE office; it was the first action in the city to take place, there's been quite a bit more since then." Gutierrez will be heading to Standing Rock later this month to coordinate efforts in person.
The Acting Coordinator of the Interfaith Community for Palestinian Rights, Haithem El-Zabri, is based in Austin, Texas, 1300 miles from North Dakota. He left for Standing Rock this weekend in solidarity with the tribes, telling me:
As a Muslim, it is heavy on my heart to see such abuse continue against an indigenous people that has been largely wiped out and, in addition to risking a source of water to an estimated 18 million human beings and countless other living beings.

As a Palestinian, I identify very strongly with indigenous struggles, as what has befallen my people is a replica of European colonization of the Americas and genocide of its indigenous peoples. The genocide, the abuse of the environment, the breaking of treaties, the violence… it is no different from what Palestinians see on a daily basis from Israel. Our causes are connected and we face the same forces that are the source of the US government's aggressive interventions abroad, all intended to exploit the world's resources for the benefit of the corporations and at the expense of the people. And all this without regard to the consequences to our planet, environment, and both human and non-human life.

So when I saw the scenes coming out of Standing Rock, I knew I had to be there. When I heard the calls coming out from there for people to join in solidarity, I knew I had to be there. When I saw my people in these tribes, my heart was there already. I feel it is my duty as a Palestinian, as an American, as a Muslim, as a conscientious human being, to stand with my native sisters and brothers in their righteous struggle, and in fact with any oppressed people and together face injustice. This is for our planet, our water, our environment, our future, our children, and not least for human rights and the dignity of our indigenous sisters and brothers. I want them to know that Palestine stands with them. I want to carry their message across 1,300 miles from Texas to North Dakota.
Even those who cannot leave their homes are actively in solidarity with Standing Rock. In a prayer commemorating the Day of Arafah, the renowned American Imam Zaid Shakir, directly linked the day's atonement fast for liberation to the struggle at Standing Rock to preserve water, which is life.  Dr. Hatem Bazian, a Palestinian-American academic and activist, writes clearly of the connection of American and Israeli settler-colonialism in an impassioned pledge of solidarity with the Standing Rock Sioux Tribe.
Journalist Dilshad Ali, of the Muslimah Next Door blog and editor of the Patheos Muslim channel gets personal on why she stands with Standing Rock, "I'm from North Dakota and have been following this story closely and support the Standing Rock Sioux nation fully. That is Sioux country over there. That's my childhood." And academic Dr. Shabana Mir writes, "I'm sharing stories with a particular interest because of my ties to Oklahoma and my Native American students and friends there, as well as [being] an anthropologist with a commitment to public anthropology."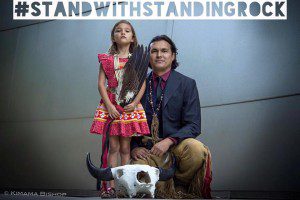 Earlier this year, a positive story about the history of Muslims in America made it's way through my newsfeed. A reporter had learned of the existence of a tiny North Dakota mosque, built in 1929 by Lebanese and Syrian immigrants. It is a modest building, and not really in use now. The descendants of those immigrants are taking care of it as a marker for the cemetery where their ancestors are interred. I'm not sure whether those early immigrants had a relationship with the local Indigenous tribes; what I do know is that many immigrant-descended Muslims often forget that they and their families are thriving in colonized lands. History is important to preserve, but let's not relegate Native Americans to the dustbins of history. They are here now, they are alive now, and they are calling for our solidarity and support now.
So what more can we do to stand in solidarity with Standing Rock? Activist El-Zabri says it best, "Those who can't [come in person] can support in a number of different ways, including raising awareness about the issue, mobilizing their communities, participating in local donation drives, caravans, rallies, and other local actions, calling government officials, media, and Energy Transfer Partners, to voice your opinion and let them realize the magnitude of public opposition to their action, online actions and donations, prayers, and thoughts… everything helps! This is our struggle; all of us."
To that end, several of us have started a Launch Good appeal to Support Standing Rock. We are asking people to financially support the Water Protectors, to uplift the voices of our Native American sisters and brothers, to learn about the history of the Standing Rock Sioux tribe and to join the movement to stop the Dakota Access oil pipeline. I am standing with Standing Rock – won't you join me?