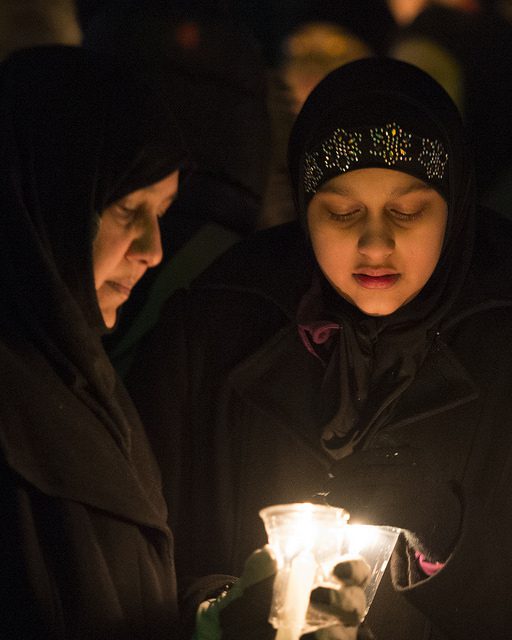 Had a Muslim guy entered a church or synagogue and shot up the place, murdering 6 worshipers as they prayed and injuring more, anywhere in the Western world, we would still be talking about it. It would dominate the nightly news for weeks. Profile pictures would be changed into the fleur de lis or the maple leaf. We would declare #NousSommesQuebecCity. We would would hold vigils in solidarity with the victims and survivors.
We would know their names.
Ibrahima Barry. Mamadou Tanou Barry. Khaled Belkacemi. Abdelkrim Hassane. Azzedine Soufiane. Aboubaker Thabti.
May God accept their souls with Beauty and give comfort to their families and loved ones.  Ameen.
We would also know the name of the alleged killer. Where he was raised and to what religious or political ideology he ascribed. Talking heads would analyze his every Facebook "like" and Twitter update to find evidence of radicalization. Muslim declarations of, "Not in my name!" or "We condemn terrorism!" would fall on deaf ears.
Days ago, a white nationalist entered a Quebec City mosque, peppering the sanctuary with bullets. He killed six men and injured more, while they stood in prayer. There seems to be a muted outcry in response. Perhaps it is because many activists are dealing with the crises generated by the US President's "Muslim Ban." Perhaps it is because the media has often ignored or downplayed white nationalist terrorism (which was on full display when Fox News claimed a Muslim worshiper was one of the suspects). Perhaps it's a mix of both.
In today's blog, I curate some information to help shed light on the fatal shooting that claimed six lives.
Sanctuary, Defiled
Shot in the back as they prayed
Who were the victims?
10 Minutes of terror: Survivors tell their stories
Mosque reopens with shooting aftermath on full display
My Canadian Sanctuary: What the mosque means to me
Challenging Bigotry
Mothering in a time of terror
How do Canadians resist intolerance?
An attack on Canadian Muslims is an attack on Canada
"We need to stop this Islamophobia," a friend speaks out
Canadians ask: What radicalized alleged Quebec City gunman?
Haters of Islam have been emboldened by rhetoric
The bigotry that armed the mosque attacker
Narrative, Framed
Shooter is a radical white nationalist
Fox News retracts tweet implying shooter was Muslim
Shooter was White, just in case you forgot
Trump tweets about terror, but says nothing about the Quebec City attack on Muslims
Had Muslim gunman killed, half the world would have Canadian profile pictures