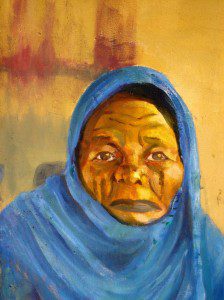 When my parents registered me for kindergarten, my father stopped at the race question. How can we "check the box that applies," when we don't fit into any boxes? He wondered aloud why the school wanted to track their students by race, and they assured him it was not for nefarious purposes. Dad decided we should mark "Other," because none of the options seemed to precisely reflect our identities.
That was when the administrator asked him what language we spoke at home. Upon learning we speak Arabic, he told my father that we should mark the "White" box, keeping in in line with the US Census's classification. Roaring with laughter and ironically touching the impressive Afro he's had since the mid-1970s, my father said, "We're from Africa; we're not White!" Then, we selected the "African-American" and "Other" boxes.
Sudanese-American journalist Isma'il Kushkush similarly does not beat around the bush when defining his identity. As a young man applying to college in liberal, multi-cultural California, he likewise bristled at the choices offered: One box African. One box White (including Middle Eastern). One box Other. And in true Sudanese fashion, he marked them all. At the start of his TedxTalk on Sudanese identities, he tells his audience:
We here in Sudan find three words that shape our identity: African, Arab, Sudanese. We debate about it. And people ask us, 'Are you African or are you Arab?' When someone asks me this question, I usually say, 'Do you want a short answer, or do you want a long answer?'
Navigating ethnic, linguistic, and tribal heritages in Sudan is complex and has long been politicized, but there are many artists and activists who are choosing to celebrate its diversity. And in the diaspora, Sudanese identities can be fraught and are often flattened into a single narrative. Black or Arab. African or Middle Eastern. Muslim or Christian. Immigrant who is technically, but not culturally, African American. There is often little room in the Western paradigm to explore the nuances and diversity of Sudanese identities.
So this February, I am calling for expats, repats, those with multiply-hyphenated identities, and those in the global Sudanese diaspora, to participate in a Black History Month Hindtrospectives series that will interrogate and explore Sudanese ethnic, linguistic, cultural, spiritual, and racial relationships with Blackness. Let's dive deep into the #BiladOfTheBlacks, rock out to #ZoulSoul, and celebrate #MiheiraAndMahalia via essay, poetry, art, video, and photography.
Entries must be submitted to hmakkispeaking@gmail.com by January 22, 2016
If submitting an essay, your word count must be 750-1000

Photos must be your own, or have explicit permission to publish
Or use photos with "no known copyright restrictions" from sites like Flickr
*Rofaida Makki is a Saudi-born, Sudanese-trained, and UK-based mom and artist. She is also my first cousin. Learn more about her work here.