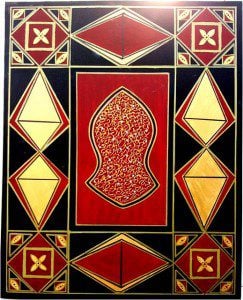 Millions of Muslims around the world are celebrating the Mawlid this weekend, commemorating  the birthday of our beloved Prophet Muhammad (PBUH). Muslims celebrate our Prophet's birthday by fasting, reciting Quran, learning more about his character and life, and often attending communal gatherings where songs and poetry are recited in his honor.
Every year, I compile a list of praise songs and share with my readers.  I try not to share the same poem twice (unless it's a classic), so if your favorite is missing, see if I've linked it in 2013, 2014, or 2015. Also, please note that the final page will have versions of some global favorites. Share yours in the comments!
Before we dive into poetry, song, and chants, it is worthwhile to listen to this sermon by Imam Suhaib Webb about how to handle disagreements around celebrating the birthday of the Prophet Muhammad (PBUH). He stresses that "while celebrating the Mawlid is debatable, our unity and adab when we differ is not."
In a Mosque for a Mawlid
Let's begin with some contemporary poetry. Khaliff Watkins*, a Philadelphia-based modern-day griot recently penned this beautiful ode to the Mawlid celebration he joined this week:
in a mosque for mawlid

in a circle
dark skinned men
black sudanese nubians and egyptians
their recitation is beautiful
around the circle irish american men
catholic school intonations
or presbyterian inflection voices
quaker crisp or hippy gentle
uncle with a white full beard like a cloud
honeycombed hat's mirrors'
sparkle as he reads flawless arabic

in a hyderabadi accent
and the turkish man with the sharp
Allahümme…
ya hüüüüüü!
and the nigerian man stands up
one hand fixing his indigo sarong
and the other in the air

sallallahu ala sayyidina….!

in carnatic microtones trembling
in tamil
or blue notes so deep
earth wind fire
water and ether are evaporating
off vocal chords
of the brother with the black panthers smile

and three ashkenazi men are keeping the beat
one man from switzerland rocking like a metronome
one giant kuwaiti chuckles from his belly
as his daughter gives a caramel kiss
and the old syrian gentleman

in the french tam and three-piece suit
perfectly parsing passages of tonight's panegyric
like a nizar qabbani poem

only there's
pumpkin pie and banana pudding
placed out by seven-year-olds
eager not to spill them
then whisked back
to aunties waiting with pie racks
by the dessert table

as the speakers sound the call to prayer

and men standing in a circle hugging
or handshakes like a gang of lovers

celebrate
the birthday of their beloved.
*Khaliff Watkins is a writer, documentary filmmaker, and world traveler fascinated by questions of culture, faith and identity.
Next, let's travel to Africa and hear from her Sufis, singers, and poets.