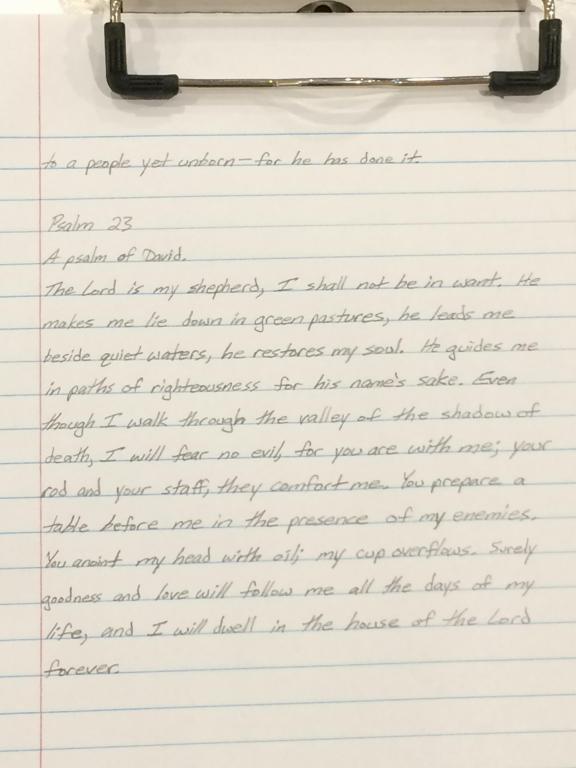 Psalm 23 is often recited at funerals. Why? In part because it speaks of walking through "the valley of the shadow of death." But what does this phrase mean?
This poetic phrase addresses in part our times of life in which we endure hardship. The "valley" was known as a low point in Israel, the area between two hills or higher elevations. To exit the valley required a climb, perhaps even a difficult struggle to reach a preferred destination.
In addition, the "shadow of death" is used to accentuate the situation of this particular valley. The valley is not simply a low point, but also a place of darkness and the end of life.
The psalmist realized even in the most extreme circumstances he did not need to fear the evil he faced. Why not? "for you are with me." The presence of God overpowered any negative.
Our self-obsessed culture focuses on the "power within us" and depending on our own strength to conquer life's challenges. While hard work is noble, it is insufficient.
Instead, the Lord calls us to experience his presence. With it, we gain his strength. This strength changes our perception of life's problems. Whether a physical storm or personal challenge, we need not fear, but rather focus on the one with us who can rescue us in any situation.
I recently wrote out Psalm 23 for the second time. As I did, I remembered this is not the only place God calls us to focus on his presence with us. Two other occasions immediately came to mind.
The Lord Your God Will Be with You Wherever You Go
First, Joshua 1:9 finds God telling Joshua,
"Have I not commanded you? Be strong and courageous. Do not be afraid; do not be discouraged, for the Lord your God will be with you wherever you go."
Joshua was to have bold confidence because God was with him.
I Am with You Always
Second, Jesus used similar words in his final challenge to his disciples. The end of Great Commission notes, "…and surely I am with you always, even until the end of the age" (Matthew 28:20).
The disciples could take the message of Jesus to the ends of the because Jesus would still be with them. He would no longer walk with them in person, but would work through them by the power of the Holy Spirit.
If more of us who follow Jesus would remember his presence in us today, how would this change our lives? Our families? Our communities? Our nation? Our world?
Psalm 23 reminds us the power is in us as followers of Christ. However, it's not our power, but his power that leads us to move forward in faith.
+++
Dillon Burroughs is the author and coauthor of numerous books and blogs about his experiences of handwriting the Bible at the Holy Writ Project on Patheos.com. Find out more about Dillon at Facebook or Twitter.