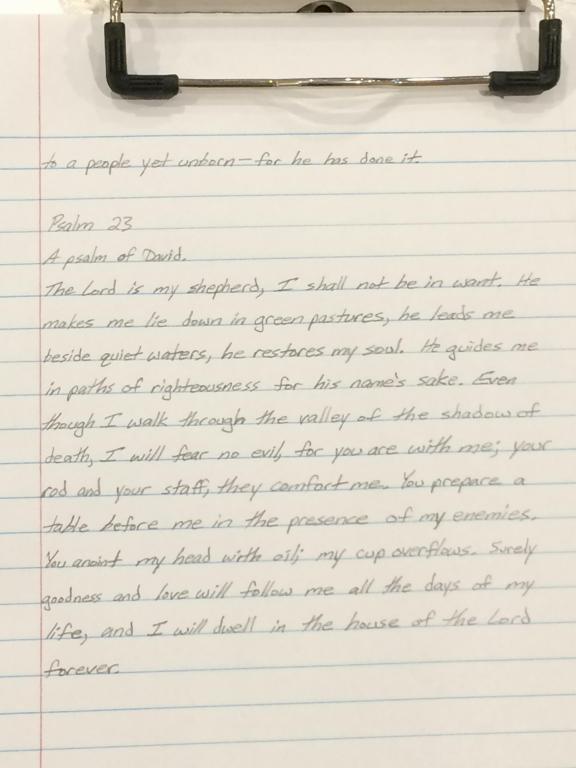 I recently started counting the remaining chapters until I would complete handwriting the Bible for the second time. The total was 334! Though there were only six books of the Old Testament to go, the number of chapters still outnumbers the entire New Testament (with only 260 chapters).
Though I had made much progress, there seemed to be no end in sight.
Sound familiar?
Life often feels like we are making progress toward a moving target. The closer we think we are, the more space remains until we reach our goal. For some, maybe the goal is finding love and getting married. For others, a career move or promotion continues to elude them. Still others struggle with an uncompleted degree.
The good news is God sees and knows our situation. Even better, he enjoys walking with us through the journey rather than waiting for us at the end.
There is a classic Christian poem called "Footprints" where the author describes walking along the beach with God, leaving two sets of footprints in the sand. As some points, there was only one set of footprints. When the author asked God why he left during those times, God replied he did not leave. Instead, those were the times God carried the person through times when they could not walk on their own.
Though touching, the reality is even stronger. We do not have the strength to make progress through life on our own. Not even a single step! God is clear that apart from him we can do nothing. Yet with God all things are possible. He is always carrying us, whether we realize it or not.
How can we keep moving forward when there seems to be no end? Scripture offers three rays of hope.
First, Remember God Is with You
Paul wrote that if God is for us, who can be against us? When we realize God is with us at all moments, we can find strength when we have none.
Even when we do not feel like God is near, he is with us. It is not our feelings that matter regarding God's presence, but the fact that God is near that can help us in times of weakness.
Second, Know God Is for You
When we draw near to God, he will draw near to us (James 4:8). Unless we are walking in ways contrary to his will and teachings, we can live confident God supports who we are and what we are doing.
Many people struggle with viewing God as a father. For those who have lacked an earthly father or have had a negative experience with a dad, the idea of God as our dad fails to resonate. But God is a loving father. He cares for us as his own children. He created us and continues to care for us every breath of every day.
Third, Realize God Goes Before You
One of our greatest fears is the unknown of the future. We fail to pursue big dreams and goals because we are uncertain of the outcome. But God is not only with us; he also walks ahead of us. He already knows the dangers we will face and has the power to walk us through the challenges ahead.
A powerful biblical example is found in the exodus. God commanded Moses to part the Red Sea. The sea divided for God's people to cross. God had made a way, but the way was still scary.
Image being one of the people who had to walk between these two walls of water. Any moment, the water could shift and end your life. Yet God had gone before and made a path where no path had previously existed.
God may not part a sea in your life, but he is actively walking ahead of us, making paths where he wants us to trust him and make progress in faith.
As you consider the path God would have you take today, remember God is with you, is for you, and goes before you. His presence will sustain you through the darkest moments of life, offering hope during life's most difficult situations.
+++
Dillon Burroughs is the author and coauthor of numerous books and blogs about his experiences of handwriting the Bible at the Holy Writ Project on Patheos.com. Find out more about Dillon at Facebook or Twitter.