Within hours of the bombings in Boston, Thomas Campbell, the art director of the Metropolitan Museum of Art in New York, called Malcolm Rogers, the director of the Museum of Fine Arts in Boston, to offer us three paintings. What an odd gesture, I thought when I first heard of it. How exactly is some old art going to help?
Then I saw the pieces.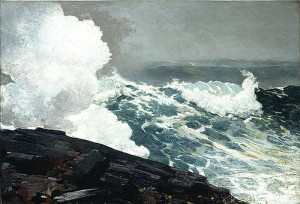 I saw the three paintings first while touring the MFA with Zach, Ezra, several homeschooled friends, and Jake, our favorite art educator. He asked the kids to read the paintings, from left to right.
"That's a storm!" one of the kids exclaimed about the the Winslow Homer painting Northeaster of a storm along the Maine coastline.
"How does it make you feel?" Jake asked.
"Afraid."
"Terrified."
"Sad?" wondered one child.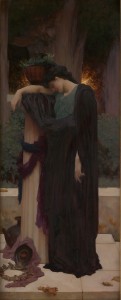 "What about this next painting? What's going on?" he asked of Lachrymae by Frederic, Lord Leighton.
"That lady is sad."
"Why?"
"Someone died?"
"The colors are sad too."
Jake told the kids that lachymae meant tears in Greek. He showed them elements of the painting that were used in Greek expressions of mourning.
"And this last one? What's this about?" he asked of The Monet Family in their Garden at Argenteuil.
"A picnic!"
"Yes. It's painted by a man named Manet. And the people are the family of another famous painter, Monet. Why do you think our director chose this painting?"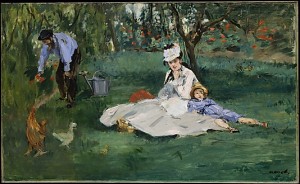 "Because they are friends?"
"Yes."
"And it shows how like New York is friends with us?"
The kids enthusiastically shared how the paintings made them feel, and how those paintings helped them understand the bombings and how the bombings made them feel. The kids got it. And hearing them, I got it.

We react to life's blows with displays of both grief and hope, and painters react on canvas. Maybe most of us make art in response to loss. Roadside memorials, video montages, elaborate masses with incense and organ music, and tattoos like those that sprang up all over town after the bombings.
When we share that art with others, we help them make sense of what happened. We share it with others and we don't feel alone anymore.
So I was wrong. Those three paintings did help.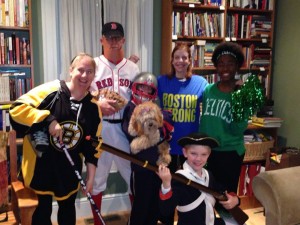 Fast forward six months to Halloween. Every year, our family dresses up in themed costumes, chosen to reflect what's going on in our lives at the time. This year was the year my father died, the year two young men from Nafisa's school terrorized our city and blew up friends of our friends, and the year that Nafisa's father succumbed once again to drugs. But this year was also the year that our city stood up tall in bravery and love, the year that my friends and family loved on me when I was bereft, and the year that Nafisa's father entered longterm rehab. My city, and my family, lived through the storms, we mourned, and we found solace and joy with friends. We are Boston Strong.
We don't have the resources of the Met, or the talent of Manet, and it didn't seem wise to get the children tattoos. But everyone can pay tribute to their fallen in some way. The Met did it with paintings. Last night the Red Sox did that with their bats. And tonight we did it with our Halloween costumes.
Boston Strong!