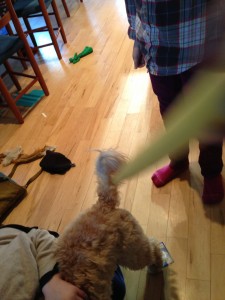 I don't know what I had in mind when I started this month of blogging every day about what we do for homeschooling. But it wasn't this. I'm completely bored, and we're only on day four. The first year of homeschooling, I wrote every day about what we were doing, and it was helpful to me, incredibly helpful. What's changed?
Oh well, I'm nothing if not a woman of my word. So on we go!
Today, four kids from our Monday class spent the day with us. They're going to start doing this every week. It helps their mothers so that they can work. And the boys and I do better when we have friends around. All six kids spent the day working on the various projects that are due in two weeks. (I'm afraid that I'll be writing the same thing every day until then.)
There were several sweet hours where kids were spread out reading, working on computers, cutting and gluing, and oohing and aching over each other's work. Shayla helped Sasha translate words into Spanish, and Ezra showed Henry how to start a PowerPoint presentation. Most of them took a break from what they were doing to help Ezra stage pictures of Hazel, our dog, for his folktale about why dogs wag their tails. (That's what that ridiculous picture is all about.) They took breaks to play football and eat cookies. And in the middle of the day, when, despite the fact that everyone was lovely, I couldn't stand to be home anymore, we went to Whole Foods for lunch. They ate pizza and I did the shopping. In the afternoon, we watched a video about Great Zimbabwe that they are all supposed to watch for next week. And that was it. Another day. Another post.