Do we have guardian angels—personal angels who walk in tandem with us, hover alongside, and go where we go? While there may not be evidence to support the idea that there is one personalized angel assigned to us, we do undoubtedly have angels in our lives.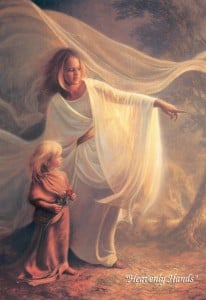 Angels are closer than we may often realize and we are not often aware of the extent to which they affect our lives for good. I hope you'll stick with me while I explain some things that are often not explained in some faiths, but have been revealed by the Lord Himself about angels–and why they have special interest in you or I.
Full transcript and video of Angels Around Us.

Bible Verse: "The angel of the LORD encamps around those who fear him, and he delivers them" (Psalm 34:7).
Faith Quote: "Angels are of the same race as men. They are, in fact, men who have passed from the rudimental state to the higher spheres of progressive being. Some have died and risen again to life, and are consequently possessed of a divine, human body of flesh and bones, immortal and eternal. They eat, drink, sing and converse like other men. Some of them hold the keys of Apostleship and Priesthood, by which they teach, instruct, bless, and perform miracles and many mighty works. Translated men, like Enoch, Elijah, John the Apostle, and three of the Apostles of the Western Hemisphere, are also like angels. They are ministers, both to men upon the earth, and to the world of spirits. They pass from one world to another with more ease, and in less time than we pass from one city to another. They have not a single attribute which man has not. But their attributes are more matured, or more developed, than the attributes of men in this present sphere of existence" (P. Pratt)
Additional audio episodes of I Believe Podcast.
Find us on: Or call: 185KNOWGOD1
Twitter Facebook Google+ YouTube Subscribe on Itunes ibelievepodcast.com