Are you missing a parent or grandparent who has passed on beyond the veil of mortality to the spirit world? This truth about angels is compelling and joyous: Listen to this episode of I Believe: Angels Around Us and read the full transcript. Below, a few words of intro.
We live in the presence of angels, yet we're often so unaware of their interest in us. Not mythological mysterious beings. Pure spirits who are messengers of God.
Angels are real unembodied spirits who live in our presence, solicitous for our welfare. They care about us, are aware of our thoughts and actions.
Do they hover alongside us?
How do they minister?
What is their real nature and origin?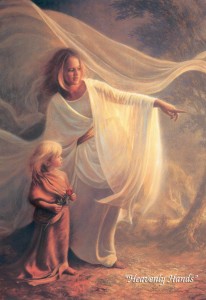 There is more revealed about angels that is often discussed about them. And there are some misperceptions about angels as well that often prevail.
In this episode of IBelievePodcast: Expressions of Faith: Angels Around Us, I've answered some Frequently Asked Questions about Angels, hoping to shed additional light on the actuality of angels, their nature, their nearness in our lives given us through the gospel of Jesus Christ in its fullness.
Bible Verse: Psalm 91:11 "He shall give His angels charge over you, to keep you in all your ways."
Faith Quote:
"Surely those who have passed beyond can see more clearly through the veil back here than is possible for us to see them from our sphere of action." I think that if we move and had our being in the presence of Heavenly messengers [angels] and of Heavenly beings we are not separated from them, we cannot forget them, we do not cease to love them we always hold them in our hearts and memory and thus we are associated and united with them through ties we cannot break. Those who have been faithful and have gone beyond can see us better than we can see them" (J. F. Smith).
Additional Episodes of I Believe Podcast:
What is the Purpose and Meaning of Life?
Karen's Story: Coming to Know God: Part 1
Find us on:                                                                               Or call: 185KNOWGOD1
Twitter Facebook Google+ YouTube Subscribe on Itunes ibelievepodcast.com