Welcome to I Believe Podcast! This brief audio message is titled, "Peace Be Still," with host, Karen Trifiletti.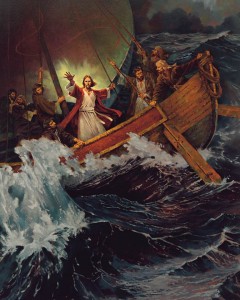 How do we avail ourselves of the Savior's peace when anxiety seems to be an epidemic and worry and stress seem to be buzz-words or indicators of 'a lot going on' in our lives? Or when it rises unexpectedly?
We might masquerade our angst, thinking it's something else–bad hair day, bad month, PMS, 7-year itch, health issues, when it's really stress-related, part of spiritual warfare–and curable through Christ. Instead of turning to others, we can turn to the Great Physician, the Prince of Peace.
Hope you'll be refreshed by this quick spiritual message, however stressed you may feel today.
Find the I Believe Thirst Quencher Transcript here.
Bible Verse: "May the Lord of peace Himself continually grant you peace in every circumstance. The grace of our Lord Jesus Christ be with you" (New Testament: 2 Thessalonians 3:16, 18).
Faith Quote:
Be still and cool in thy own mind and spirit from thy own thoughts. Be still awhile from thy own thoughts, searching, seeking desires and imaginations, and be stayed in the principle of God in thee, that it may raise thy mind up to God, and stay it upon God, and thou will find strength from Him and find Him to be a God at hand, a present help in time of trouble and of need" (George Fox).
Find us on:                                                                               Or call: 185KNOWGOD1
Twitter Facebook Google+ YouTube Subscribe on Itunes ibelievepodcast.com