You may not really understand what the Bible is all about, or what the gospel and your own life have to do with one another. In this cast, we'll talk simply about what the gospel is, and how it relates to your own personal, in-the-moment life as you work, recreate, engage with friends, think through your mission and purpose, and plan for your future. It impacts everything you do. It is all-encompassing. Without the gospel, you're navigating mortality with blinders on.
Please find the I Believe Podcast Video Transcript here.
The Gospel of Jesus Christ: Plan for Our Development, Happiness & Salvation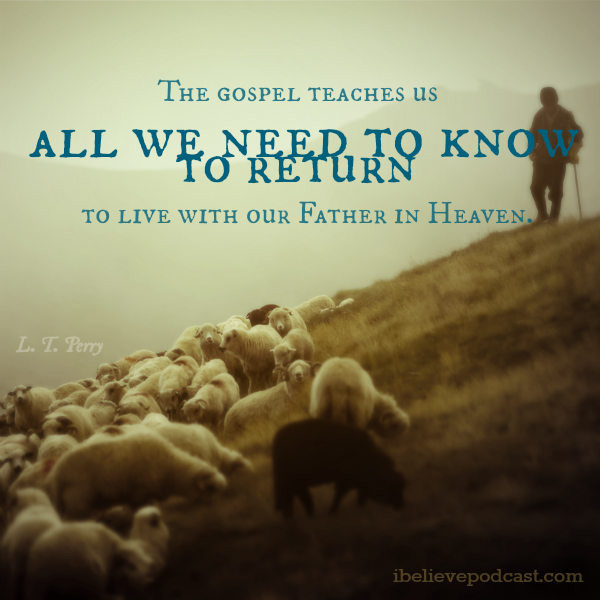 Simply put, the gospel is the plan for your happiness and mine. It's God's perfect plan for the growth of His children—our whole spiritual, emotional, intellectual, eternal development as God's children. In the fullest sense, the gospel of Jesus Christ is the plan of salvation and happiness, established by the Father, and which we ourselves joyfully approved in a pre-earth meeting, to enable his spirit children (Christ and each of us included) to advance and progress and become like Him.
I hope you'll join me for the video discussion and engage the conversation. I'd love to hear from you, wherever you are on your spiritual journey.
Scripture Verse: "For I am not ashamed of the gospel of Christ: for it is the power of God unto salvation to everyone that believeth" (Romans 1:16).
Faith Quote: Eternal life is not a name that has reference only to the unending duration of a future life; immortality is to live forever in the resurrected state, and by the grace of God all men will gain this unending continuance of life. But only those who obey the fulness of the gospel law will inherit eternal life. … It is 'the greatest of all the gifts of God … , for it is the kind, status, type, and quality of life that God himself enjoys. Thus those who gain eternal life receive exaltation; they are sons of God, joint-heirs with Christ, members of the Church of the Firstborn; they overcome all things, have all power, and receive the fulness of the Father" (B. R. McConkie, 1966, 237).
Find us on: Or call: 185KNOWGOD1
Twitter Facebook Google+ YouTube Subscribe on Itunes ibelievepodcast.com
Additional Episodes of I Believe Podcast: